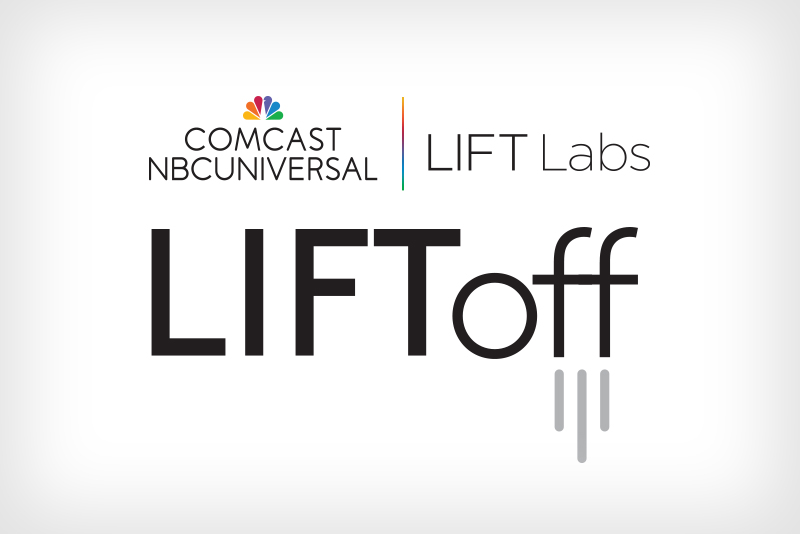 The new program provides an opportunity for founders to test offerings with teams across the enterprise.
Startup founders have a new way to partner with Comcast NBCUniversal. Called LIFToff, the program connects enterprise-ready startups with business leaders and decision-makers for potential partnership deals. 
Throughout the year, LIFT Labs will issue challenges connected to strategic focus areas and innovation priorities at Comcast NBCUniversal and accept applications from startups worldwide. After careful evaluation, finalists will receive exposure to top executives and decision-makers to explore business development opportunities. Results include proof of concept deals, paid pilot programs, or commercial agreements with one of Comcast NBCUniversal's business units. 
Unlike a startup accelerator requiring a considerable time commitment, LIFToff is a structured series of product pitches and meetings focused on business development. The goal is to let founders do what they do best — run their companies —  while LIFT Labs helps them navigate and secure partnerships.
Laura Plunkett, Senior Director of Startup Partnerships for Comcast NBCUniversal's Startup Engagement team, calls the program a unique opportunity for startups to get exposure within Comcast NBCUniversal, receive feedback on their offerings, and possibly strike a game-changing deal. 
"Decision-makers at Comcast NBCUniversal are ready to learn about startups' business models, and ask probing questions as potential customers," said Plunkett. "Not only is LIFToff a chance to secure a commercial agreement, but it's also an opportunity to get valuable feedback on how better to develop your offering or sales strategy for enterprise-level clients in the future."
LIFToff Challenges
The LIFToff Accessibility Challenge launched in mid-2020. LIFT Labs partnered with the Accessibility team at Comcast NBCUniversal to research the opportunities in the field then made a call for startups delivering unique accessibility solutions to this challenge: disabled individuals want easy-to-use technology that keeps them connected, safe, and informed. It led to hundreds of applications and some difficult decisions for an expert panel of judges. After six finalists pitched a potential collaboration with Comcast NBCUniversal, leaders at the company selected Cue Audio and Invisicare for proof of concept partnerships.
The latest challenge is the LIFToff Smart, Sustainable Environments Challenge. An internal team made up of sustainability, IoT, and smart cities experts determined that the challenge should focus on the problem that population growth and urbanization strain on natural resources. To combat that problem, the teams searched for startups creating sustainable communities — improving work and life for residents, businesses, and visitors in mixed-use spaces. The five finalists pitched company leaders in mid-January and the teams selected to move on to the POC phase will be announced soon.
Who Should Apply
LIFToff is searching for mature startups ready to work with enterprise clients — ideally at scale. Perhaps they've already partnered with Global 2000 companies and are production-ready. Applicants should also have funding and investment indicating market validation, either by reputable venture capitalists or their business-sustaining revenue. Technologies should be ready for production-scale implementation and meet strict requirements for privacy and data security.
Expanding Our Offerings
LIFToff is the next step in broadening startup engagement between Comcast NBCUniversal and talented entrepreneurs. LIFT Labs already offers opportunities for earlier stage companies. Each year, it conducts the Comcast NBCUniversal LIFT Labs Accelerator, powered by Techstars, giving companies 13 weeks of mentorship from senior executives and helping them refine pitches to investors and clients. 
Throughout the year, LIFT Labs hosts events for startups at all stages — featuring best-selling authors, successful founders, and business experts offering advice on storytelling, business building, and gaining investment capital. Plus, they continually search for tech-focused connectivity, media, entertainment, and sports startups and hold office hours with founders to learn more about their businesses. 
With LIFToff, enterprise-ready startups have an offering that's just for them.
"Later-stage companies have already refined their pitches to clients and partners, they've demonstrated traction with enterprise clients, and have investors that demand focused execution," said Plunkett. "That's why, in this program, we keep the programming to a minimum and offer a streamlined way to engage with Comcast NBCUniversal and pitch senior executives to hopefully land a deal. It's a win-win."

 
To read more inspiring startup stories and to stay connected to Comcast NBCUniversal LIFT Labs, sign up for our newsletter and follow us on Twitter.