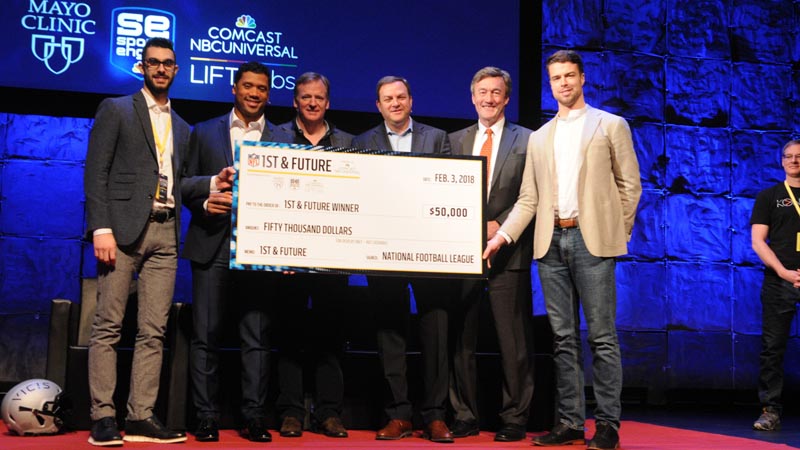 Comcast NBCUniversal proudly sponsored the National Football League's 2018 1st & Future startup competition. Since 2013, the NFL has hosted the competition designed to spur advancements in athlete safety and performance.
One of this year's three winners, Curv, is a software application that uses advanced AI to assess and share young athletes' performance.
—
As more sports teams accept that success goes beyond Xs and Os, many have turned to intricate analytics and data to understand athletic performance and fitness. A whole industry of athletic wearables that accumulate these metrics has blossomed and become near universal for elite sports teams across the world.
These wearable devices, however, remain expensive and out-of-reach for the average consumer.
Shea Balish, PhD, a prestigious Banting Fellow at the University of Toronto, and expert on athletics, kinesiology, and sports psychology, saw an opportunity to disrupt the athletic performance industry by scrapping the need for wearables altogether.
In 2016, Balish founded Curv, an app that uses mobile video to analyze athletic performance, recognize areas of skill improvement, and identify potential injuries. Curv gives everyday athletes – specifically youth athletes – advanced AI tech and 3D modeling to understand, track, and share their prowess.
Curv's video tool captures and assesses users running, shooting, pitching, and performing other sporting movements. Users add the data to a public profile that can be linked to their team so coaches, mentors, and recruiters can follow their progress.
"We want to meaningfully change youth sports and democratize athletic development," Balish said. "It doesn't matter who or where you are, you can have access to powerful computer vision tools."
"Our platform is a toolbox that creates accurate, objective signals for athletic quality. Recruiters can know the data is real," Balish said.
Balish, a native of Lockeport, Nova Scotia, has dedicated his career to studying sports, especially young athletes. Lockeport, a small fishing village with just over 500 residents, is an infamously sport-obsessed town, especially for basketball, and Balish has been hooked his whole life.
"The primary motivation to play sports is the journey to realize one's potential," Balish said. "That's why humans are so excited about it. For youth athletes, especially, it's a lot about self-presentation and understanding themselves."
Curv empowers these young athletes by giving them ownership of their data.
"When we were testing the app, a lot of them were saying building their athletic profile was a lot like building a player on a video game," Balish said.
From the beginning, Balish has set out to make Curv a B2C product that is accessible and affordable for all young athletes. The app uses a freemium model that charges premium users just $10 per month – far below the steep price of both wearable technology and elite sports performance specialists.
Curv plans to partner with top sports academies, organizations, and teams to connect athletes with their current – and potentially future – teams.
"We're very customer-focused," Balish said. "There's a lot of transition in youth sport and we want users to be able to hold on to their profiles."
In Toronto, Balish is part of a remarkable confluence of AI leaders from around the world. Uber, Facebook, and a myriad of other companies have established groundbreaking facilities in Canada's largest city. The sheer abundance of AI in Toronto means Balish has to compete with top firms for talent, but it also gives the Curv team access to unprecedented technology and resources.
"It's the epicenter of the AI revolution," he said.
The NFL, Comcast NBCUniversal LIFT Labs, NBC Sports, and SportsEngine look to continue to play a role in fostering startups with the potential to change how people play and watch sports.
"Each of the 1st & Future winners demonstrates the innovative spirit of entrepreneurship that we value at Comcast NBCUniversal," said Sam Schwartz, Chief Business Development Officer at Comcast Cable. "We are proud to participate in this important event to help support these entrepreneurs."
The NFL 1st & Future victory is just the latest success for Balish and Curv. The app has found support from NextAI, the world's premier AI accelerator, and has established partnerships with Baseball Academies of Texas and Major League Baseball's Kansas City Royals. Since winning the NFL challenge, Balish has been in touch with a number of the league's players.
The string of accomplishments has Balish optimistic for the future of Curv in athletics and beyond.
"We're an early stage company that still has a lot of work to do, but we want Curv to be an indispensable platform for building better, healthier athletes."
To read more inspiring startup stories and to stay connected to Comcast NBCUniversal LIFT Labs, sign up for our newsletter and follow us on Twitter.