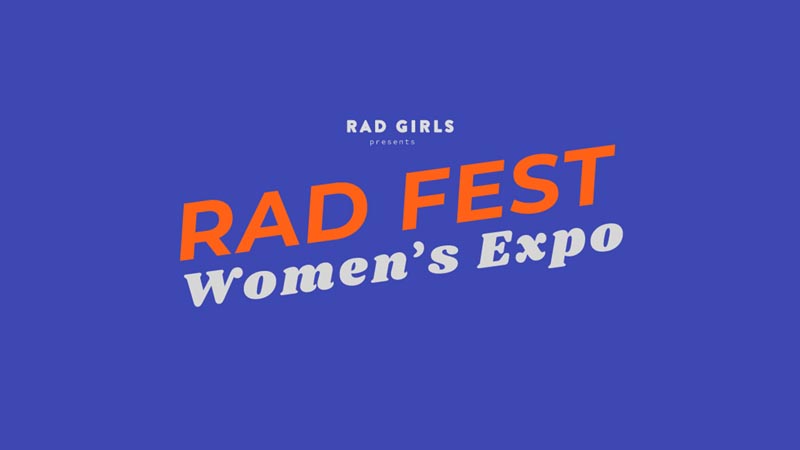 The first-ever Rad Fest Women's Expo will be held on Thursday, March 22 at the 421 N. 7th building in Philadelphia's Callowhill neighborhood. The conference, co-sponsored by Comcast NBCUniversal LIFT Labs, celebrates women-led collaboration and empowerment across industries throughout the region.
"I wanted to create this space where women from all different backgrounds could come together and reenergize themselves and their careers," said Leah Kauffman, founder of Rad Girls, which is putting on the expo.
At just $10 per ticket for a busy day of renowned speakers and panels, Rad Fest hopes to create an accessible forum for diverse women to mobilize together. (Buy your tickets for Rad Fest Women's Expo today!)
"There are a lot of really great women's conferences out there, but young ladies looking for mentors – the audience who could use it the most – can't dish out hundreds of dollars for tickets," Kauffman said.
Kauffman founded Rad Girls in 2013 while working for Philadelphia Media Network. Her struggle to find female mentors led her to email local women leaders to meet for coffee, just to pick their brains and learn from their experiences.
"Something inside me clicked when I met with them," Kauffman said. "I realized I could be sharing these conversations with other women just like me, who are longing to connect with someone in a similar position."
Since its inception, Rad Girls has been hosting various meetups and the annual Rad Awards event to honor the raddest women in Philly in categories like Entrepreneur, Technologist, Artist, Connector, Storyteller, Activist, and more of the Year.
With Rad Fest, Kauffman hopes to harness the energy of Philadelphia's most ambitious women to benefit the entire city.
"I want people to come to Rad Fest and learn from the best," Kauffman said. "To see how the most powerful female founders in the area created their businesses or projects, mobilized a team around their vision, and overcame adversity to fulfill it.
"At Rad Fest, you're not sitting 500 rows away, watching [ROAR for Good co-founder and CEO] Yasmine Mustafa on a screen. You can get up close and personal with women in leadership, learn from them, and shake their hands."
The incredible lineup of Rad Fest speakers embodies Rad Girls' vision for diverse voices – both culturally and across industries – driving the future of Philadelphia. Speakers include Mustafa; Laurie Satran, Director of Digital at STARR Restaurants, Amber Hikes, Executive Director at the Office of LGBT Affairs for the City of Philadelphia; poet Jasmine Combs; and Tiffanie Stanard, founder and CEO of Stimulus.
Rad Fest's speakers were chosen by public submissions and reaching out to local women Kauffman admired.
"I wanted a combination of women in leadership from different backgrounds with different points of view," Kauffman said. "They might not agree on everything, but we can have these panel conversations to discuss those bigger issues."
Kauffman wants Rad Fest attendees to leave the expo feeling inspired and supported.
"We are powerful, and we can empower each other," she said. "I want everyone in the room to feel they can do anything in the world.
"It might sound really cheesy, but it's important – if I didn't have this community, I wouldn't be able to do something like this."
Rad Fest has gained support across Philadelphia, including Comcast NBCUniversal LIFT Labs.
"LIFT Labs absolutely aligns with what we're trying to do with Rad Girls and the expo. They offer that same support and inspiration to the community," Kauffman said.
Kauffman praised LIFT Labs' shared values of collaboration and development as the perfect recipe for a meaningful partnership.
"It's so important for women to share their experiences with each other, to make meaningful connections, and push each other forward," said Danielle Cohn, Executive Director of Entrepreneurial Engagement at Comcast NBCUniversal. "We're proud to help celebrate and inspire the female founders of Philadelphia."
Rad Girls hopes the expo is just the first of many more impactful symposiums in the city, including more niche and topical conferences and events. Kauffman wants Rad Girls to not only be a curator, but a platform and launchpad for new ideas.
"Everyone involved is passionate about Philadelphia and growing our community," she said. "Women are doing big, important, powerful things here."
Across cultures, industries, the gender spectrum, and communities, Rad Girls is ready to amplify the dynamism of local women.
To read more inspiring startup stories and to stay connected to Comcast NBCUniversal LIFT Labs, sign up for our newsletter and follow us on Twitter.