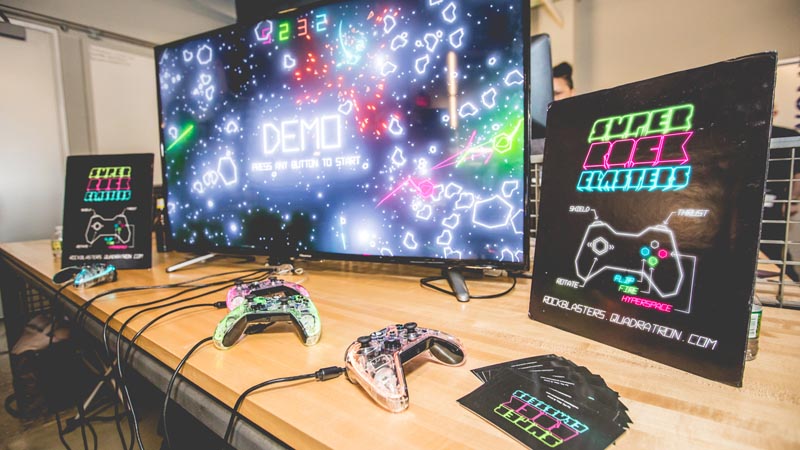 The annual week-long celebration of technology and innovation runs April 27 – May 5 and is packed with more than 100 events. Here are some of the ways founders can connect with tech and innovation leaders from Comcast NBCUniversal:
Friday, April 27
5:00pm – 10:00pm
PTW18 Kickoff Festival @ Schmidt's Commons
The eighth annual Philly Tech Week presented by Comcast NBCUniversal kicks off with an outdoor, family-friendly celebration and the LIFT Labs team will bring the Ping Pong tables! Come say hello and share your story over a friendly battle for bragging rights!
Tuesday, May 1
5:30pm – 8:00pm
Coded by Kids' CTO Roundtable: Rethinking the vision for education in Philadelphia to drive growth in the local tech industry at the Comcast Collaboration Studio
Though the workforce is growing in Philadelphia, the diversity is largely staying the same, as only 6% of tech employees identify themselves as Black or Hispanic. This affects not just the technology and companies we build, but also the city where we are dedicated to growing our businesses. Comcast's Dalila Wilson-Scott, Senior Vice President, Community Impact, will be among the leaders participating in a moderated discussion about diversity in tech.
6:00pm – 9:00pm
Philly Startup Leaders Entrepreneur Expo 2018 at The Franklin Institute
Philly Startup Leaders Entrepreneur Expo is the tech scene's largest annual showcase of innovation and technology startup companies and their founders, featuring more than 100 startups and 2,000 attendees. The LIFT Labs Pitch Elevator will be there for founders to create video content they can use to amplify their own startup stories. Be sure stop by and give us your best elevator pitch!
Wednesday, May 2
10:00am – 6:00pm
Dev Conference at Temple University, Alter Hall
Comcast's Fraser Stirling, Senior Vice President, Products and Hardware Management, will speak at 3:30pm during Dev Talks, an afternoon of high-level conversations around today's problem-solving tools and innovative solutions including AI & Machine Learning, blockchain and cryptocurrency.
5:00pm – 8:30pm
4th Annual Women in Tech Soiree @ Seer Interactive
The Women in Tech Soiree highlights the supportive programs of technology, innovation, and education for women and diverse groups in Philadelphia and brings together some of the most talented, savvy, and passionate women in the city. Ebony Lee, Senior Vice President, Strategic Development, Comcast, will participate on a panel intended to inspire the audience to promote connection, collaboration, and success.
Thursday, May 3
9:00am – 7:00pm
Introduced by Technical.ly at the Science History Institute
New for 2018! Introduced is a one-day conference that will incorporate programming, demos, networking, and personalized connections, introducing attendees to new content, ideas, companies, and more. Comcast experts will participate in the following panels:
9:00am – 9:45am
Making the Web Accessible for All: Alt Image Tags & Other Accessible Habits
This will be a series of three, 10-minute lightning talks including Comcast's Adina Halter, Senior Product Manager for Accessibility. Speakers will discuss why accessibility is something all companies need to consider and why it leads to better overall products and services for everyone. Adina will share specific examples and use cases, and the processes behind these decisions through her work at Comcast.
3:00pm – 4:00pm
Smart Cities: Public, Private and You
This panel discussion, featuring Ian Pilling, Head of Sales for Comcast's machineQ, will examine what a truly "smart" city looks like and the future of smart cities.
4:00 – 4:45pm
Failure to Launch: Lessons on Launching Great Products
What is the process of launching products? What are the challenges or surprising things that people may not think of when getting ready to launch a new product? These are the questions Matt Zelesko, Senior Vice President, Entertainment Products and Chief Software Officer, Comcast, and a panel of other experts will address. They'll offer specific examples of product launch campaigns and either failures/lessons learned or success stories, tips/tricks for other companies preparing for a launch.
6:00pm – 7:00pm
Closing Event: An Investor's View
Sam Schwartz, Chief Business Development Officer, Comcast will provide opening remarks for the final panel of the day featuring Josh Kopelman (First Round Capital), Arlan Hamilton (Backstage Capital), and Maya Baratz (Techstars/Managing Director of the Comcast NBCUniversal LIFT Labs Accelerator, powered by Techstars). This session will be moderated by Technical.ly Co-Founder and CEO, Chris Wink.
Friday, May 4
5:00pm – 8:00pm
#SGWomen: Startup Grind Fireside Chat featuring Danielle Cohn at 1776
May is Startup Grind's Female Leaders Month, sponsored by Comcast NBCUniversal LIFT Labs. Chapters across the world will host 100 female leaders for fireside chats. In Philadelphia, #SGWomen will feature Danielle Cohn, Executive Director, Entrepreneurial Engagement, Comcast NBCUniversal, for a fireside chat with 1776 Co-CEO Jen Maher. This is a can't miss event!
7:30pm – 10:30pm
PTW18 Signature Event at Reading Terminal Market
The Reading Terminal Market will open its doors to the Philly tech community. Celebrate with interactive demos, food and drink selections, and a closing party you won't want to miss.
The LIFT Labs team can't wait to see everyone throughout PTW18 to celebrate another year of amazing accomplishments from the Philly tech community. Follow us on Twitter @LIFT_Labs for all the latest info and updates about where we'll be during the week.
Here's complete view of all Philly Tech Week events.