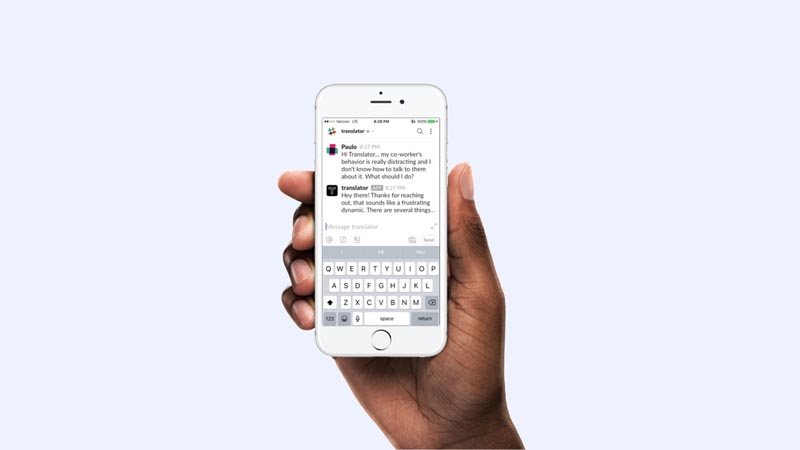 In support of Startup Grind's Female Leader Month, we are featuring female innovators and founders throughout the month of May. We are proud to share these stories about women who are disrupting industries and changing the world.
Despite being a successful B2B software CEO and entrepreneur, Natalie Egan says she immediately faced bias, discrimination and hatred when she came out as a transgender woman in October 2015.
Her experience led her to found Translator, an enterprise Diversity & Inclusion technology platform that helps employees develop respect, trust, tolerance, collaboration, and empathy while giving companies the data to measure their diversity and culture change initiatives––and as you may expect, interest in the product is growing rapidly!
LIFT Labs: Give us the Translator elevator pitch.
Natalie Egan: We're building innovative technologies to help companies scale their Diversity & Inclusion efforts. D&I should be data driven, just like every other function in a business, and there's just not a lot there. Long term we are building an empathy development app, but in the short term we have built a set of tools designed to help 3rd party D&I training companies enhance their workshop and training service deliverables. Translator is essentially an anonymous digital layer that sits on top of an existing, facilitated classroom training and then enables post event support.
LL: What led you to found Translator?  What's the inspiration behind it?
NE: Translator is my second major startup.  My first big company was PeopleLinx, which was a Philadelphia tech company. After I left PeopleLinx, my life was sort of flipped upside down for all kinds of other reasons and that's when I finally figured out my identity, my truth… when I figured out I was transgender. The experience of coming out as a transgender woman after living my life as a white man with privilege, access and resources was a huge shock – I can honestly say that I experienced bias, discrimination, and hatred for the first time in my life just two years ago. Talk about living in a bubble!
LL: What was that like?
NE: I became an instant minority, and one that's very poorly understood nor well accepted at all. It was really just a big wakeup call. I become woke and conscious to what most of the world has to deal with everyday. I never understood my privilege, or who I was or how I got to where I was in life – and simply put, I became obsessed with solving the problem of inequality. And the irony is that I'm building the same company that I built before, it's just a different subject matter.  Instead of teaching people social media guidance at scale (which is what we did at PeopleLinx), at Translator we're giving people realtime tools and resources to develop empathy and become a better version of themselves––at scale.
LL: Who are some other leaders who inspire you?
NE: There's a whole world of female warriors out there that inspire me so much every day for so many reasons. And it's not just in business, it's what they put up with and what they've been through just in life. One who comes to mind immediately, is Ursula Burns, who is just an incredible trailblazer, woman of color, who came from nothing. She started an internship at Xerox, unpaid, and 27 years later she became CEO at Xerox. That's just so inspirational for me and in a similar kind of vein of Sylvia Acevedo, the CEO of the Girl Scouts of America. She didn't come from much; got an engineering degree at Stanford in the early '80's and spent her professional life always being the "only one" in the room. She's just super inspirational and as a openly transgender business executive in the tech industry of all places I totally connect with that feeling of being the only one!
On a more personal level, there are two warrior women who really inspire me and for whom I am forever grateful for unconditionally taking me under their wing when I came out as a trans woman and moved to New York City. First is Kellee Khalil, Founder of Lover.ly and CEO of Engage Media Group. She just he's just so inspirational – one of those business women who somehow gets stronger no matter what happens. The other is Iman Oubou, the CEO of SWAAY Media, and she's just incredible too.  She's a former Miss New York and struggled in business as a result of being too gorgeous, which is something I would have never understood until I became "too" something to be taken seriously. So now she has started this new company called SWAAY, which is a online news and media portal for female entrepreneurs to get inspiration, learn, grow and connect.
LL: What's a lesson that you've learned through founding a company that's been the most impactful in your life or in your career?
NE: I don't want to use a cliché, but I really think that failure is critical. We live in a world where we fear failure, there is this really negative stigma and people don't talk about it and that it is bad. All innovation and all success is based on a foundation failure. It's part of the process — it should be encouraged and celebrated and more importantly, it should be expected.
LL: What's the top goal you want Translator to achieve in the next 12 months?
NE: We're looking to fully commercialize our v2 or beta product.  We launched two alphas last year and we got a lot of feedback that helped us really understand the potential of this product.  The next 12 months are about testing that thesis and while we're pretty lightweight right now as an organization, we've got some real firepower under the hood.  We'll probably look to do a fairly significant funding event towards the tail end of 12 months from now.
LL: What advice can you offer to future female leaders?
NE: Women have to take more risk. I think that part of the issue with the advancement of women in the workplace is that childhood, little girls are not encouraged to take risks the way boys are.  Having spent 40 years of my life disguised as a man, I have a unique insight on this. Boys are taught to try things and get knocked down and get back up but girls are taught not to even fall down. And ironically in my opinion, women generally work harder than men.  They're more endurance workers.  But they don't take the same risk that men are willing to take so they don't experience the same upside.  And while I know there's all kinds of reasons for that, we fundamentally need to start encouraging women of all ages to take more risks.
To read more inspiring startup stories and to stay connected to Comcast NBCUniversal LIFT Labs, sign up for our newsletter and follow us on Twitter.