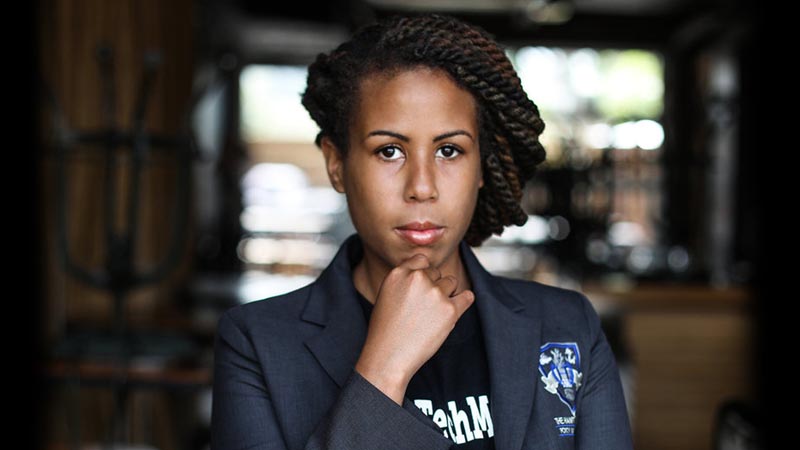 In support of Startup Grind's Female Leader Month, we are featuring female innovators and founders throughout the month of May. We are proud to share these stories about women who are disrupting industries and changing the world.
In 2012, Angel Rich left a lucrative career in the investment industry to found The Wealth Factory, providing users with financial literacy education through online gaming, adaptive testing and other means. Rich and The Wealth Factory publish Credit Stacker, one of the most successful mobile games that teaches lessons in financial literacy. The Wealth Factory's mission is to reduce poverty by providing equal access to quality, easy to understand financial literacy across the world.
LIFT Labs: Give me the Credit Stacker elevator pitch.
Angel Rich: Credit Stacker is the only mobile credit game available on Google Play and iOS. It is similar to Candy Crush, but instead of swapping candy, you swap around credit types to be able to pay off your debt and achieve a high credit score. We've been named the Best Financial Literacy Product in the Country by the White House, Department of Education and JP Morgan Chase, as well as one of the top 10 apps in the world on Google Play in 2017.
LL: What led you to found The Wealth Factory?
AR: I felt like there needed to be a game to allow people to live out their financial life
without the risk of them losing their money. Not just stocks. It needed to be everything: Life insurance, credit, banking – to completely walk them from birth to retirement. I was way ahead of the market at the time. In 2009, gamification wasn't even a word. My last year at Prudential, I went to Africa and, while there, I met a little boy and his only piece of clothing was a worn t-shirt. I realized that he would probably not have the opportunity to go to Wharton, let alone leave Kenya or Africa. I decided to quit my job and I founded The Wealth Factory.
LL: Who are some other leaders that inspire you?
AR: I am definitely inspired by Steve Jobs as well as Bill Gates. I'm really inspired by Warren Buffet, Richard Branson, Leonardo da Vinci, and Socrates. Of course, Oprah and Ava DuVernay. Ellen. I love Ellen. Steve Harvey. Michelle Obama.
LL: Why did you pick some of those? What are some characteristics that you think stand out that you say that those folks go to the top of the list?
AR: What I call 'guts and grits.' It's a combination of super high intelligence, but they could have chosen to use that intelligence for something else. Instead, they chose to use it for social impact and for the greater good of the world or to try to provide a higher level of thinking to the world in something that they were an expert in.
LL: What's one lesson that you've learned through founding the company that's been most impactful in your life or your career?
AR: Listen to others. Anyone can be great at being attentive to others and to listen to others and to be able to understand their needs. If you sit there and listen to a person long enough, they'll tell you their problem and their solution. Too often people are too busy trying to sell things to people instead of just listening to what their needs and their pain points are.
LL: What's the top goal for Credit Stacker in the next twelve months?
AR: If I'm being honest, our goal is to have Credit Stacker integrated into the Xfinity X1 platform as part of the Trivia games, so it's provided to all of the impoverished kids. We're the only financial literacy partner with HUD, which Comcast partners with through its Internet Essentials program.
LL: What's some advice you can offer to future female leaders?
AR: I think that the message that still needs to be heard is what I call, 'be a Trojan horse.' Allow people to underestimate you. Oftentimes, women and minorities pick the wrong moment to let people know who we are or expose our values. People need to allow people to have conversations in front of them and to use that information to their advantage when the time is right. We're in every organization and we control 85% of purchase decisions so we are in position to be able to take over the world at a snap of a finger. It's just merely a matter of us going in strategically and choosing the proper moment to expose our value.
LL: What else are you working on right now?
AR: We actually just got a TV show deal! It's going to be called The Making of Angel Rich. We're filming it over the summer along with a podcast that will be out over the summer as well. We also have a book, History of the Black Dollar, that's available on Amazon and we have the Angel Rich YouTube channel.
To read more inspiring startup stories and to stay connected to Comcast NBCUniversal LIFT Labs, sign up for our newsletter and follow us on Twitter.