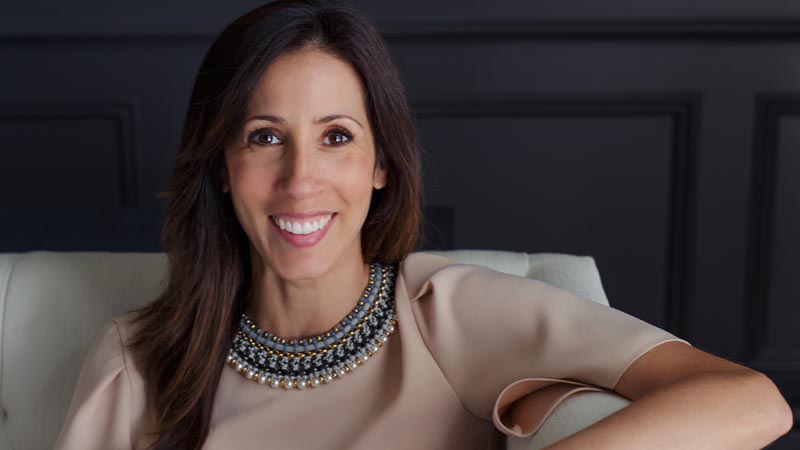 Photo: Erin Halper, Founder/CEO, The Upside
Leaving a career in corporate to seek self-made success has its ups and downs. We spoke to 16 women about what it's really like to give up the security of a 9-to-5 to become an entrepreneur.

With the shifting definition of success, more and more professionals are venturing away from traditional career paths in favor of building companies of their own. Amidst this entrepreneurial movement, women are particularly flourishing: Business Women reports that more than 1,200 new businesses are launched by women each day in the United States alone.
However, as empowering and fruitful as this decision may eventually be, leaving a stable paycheck is daunting, which is one reason many would-be founders may never take the leap.
"Everything is on the line when you are doing your own business and that shifts your mindset," says Evelyn Frison, Co-founder & Brand Director of Pivotte, a washable, packable, odor-resistant clothing line made in the USA. "It influences your sense of self, responsibility, success. It impacts your relationships, your financial state, and how you spend your time. The entrepreneurial life tests you in very different ways than working in the corporate world."
For many, the rewards of entrepreneurship still outweigh the risks. We talked to 16 women who left the corporate world behind to understand what motivates them, what advice they can offer, and how the journey changes everything.
WHAT MOTIVATED YOU TO LEAVE THE CORPORATE WORLD TO BECOME AN ENTREPRENEUR?

"I left because I wanted to redefine the future of work with women in mind because Corporate America was built decades ago at a time when men went to work and women stayed home." — Amy Nelson, CEO & Founder, The Riveter
"I left my full-time job because I could see that my brand was promising, but it would never reach its full potential without 120 percent dedication." — Evelyn Frison, Co-founder & Brand Director, Pivotte
"I wanted to work in a way that would help the creative process rather than crush it." — Jessica Greenwalt, Founder, Pixelkeet
"I was no longer passionate about the corporate life and potentially getting promoted. The idea of working for someone else seemed like a dead end." — Lauren Fortune, Founder & Editor in Chief, Global Garbs
FLEXIBILITY CAN SOMETIMES LEAD TO LACK OF STRUCTURE. HOW DO YOU REMAIN FOCUSED?
"Mindset is extremely important for entrepreneurs. Staying focused, positive and knowing your 'why' helps you get through the times of uncertainty." — Mary Clavieres, Founder & CEO, The Transitions Collective
"There are many more stressful days being an entrepreneur, but the rewards and the feeling of being fulfilled is unmatched because it's your passion. It's not someone else's project – it's something you created, are passionate about, and it's your professional and personal commitment." — Monika Bhasin, Founder & CEO, GLYD
"You have to, and will, get used to being in a state of constant uncertainty, but create your own certainty and you become good at it." — Vera Kutsenko, Founder, MNGO
"Instead of being motivated by a bonus or promotion, my motivation comes from the impact we have on our users and change that we are creating in the world, along with milestones achieved along the way." — Maria Yuan, Founder & CEO, IssueVoter
WHAT'S THE ULTIMATE PAY OFF TO THE LONG HOURS IT TAKES TO LIFT YOUR COMPANY OFF THE GROUND?
"For the first time in my life, I'm experiencing more freedom of time. I thrive on structure, but while working a 9 to 5, the structure didn't always work for my creativity." — Belma McCaffrey, CEO & Founder, Work Bigger
"I am fueled by more organic motivations – my actions have direct influence on the outcomes. If I succeed it is by my own (or my partners') hand and if I don't, it is only myself to have a conversation with about how to do better in the future." — Jes Osrow, Co-founder & COO, The Rise Journey
"I'm happier and motivated to keep climbing versus sitting at a desk and not feeling like I was living out my purpose." — Ivelyse Andino, CEO & Founder, Radical Health
"When I was working in the corporate world, I felt like I always had to ask for permission, whether it was asking for vacation days to spend time with my family to pursue new initiatives within the company or professional development opportunities. Now, I am my own boss so I take time off or make quick decisions when needed." — Tiffany Yu, CEO & Founder, Diversibility.
WHAT ADVICE DO YOU HAVE FOR OTHER CORPORATE WARRIORS WHO WANT TO BECOME ENTREPRENEURS?
"If you have an idea and you have a passion that's been tugging at you, it's worth the risk. You have much less to lose than you think you do!" — Erin Halper, Founder & CEO, The Upside
"Try out your interest in a risk-free setting first. Before I quit my corporate job, I volunteered with an organization called Startup Weekend, where I had the chance to learn about and test my out interests. It gave me the confidence and certainty that I wanted to focus my time and career on supporting women entrepreneurs." — Caroline Gutman, CEO, Nu Market
"Do not listen to people who tell you that you work too much. I think, especially with women, we are told that we work too hard or too much. Who tells a man that? (Not many people.) Get sleep and eat your veggies, yes. But it takes a lot of work to launch something and someone who has done it successfully will never tell you that you are working too much." — Kelly Ann Collins, CEO, Vult Lab
"Don't let your fear keep you in a situation where you feel stuck. I have plenty of friends and former colleagues that like to complain about their situation and stay complacent. Know you can do something to change that. Map it out, set a plan, and put the wheels in motion." — Stacie Sussman, Owner & Founder, SSR Digital Group
To read more inspiring startup stories and to stay connected to Comcast NBCUniversal LIFT Labs, sign up for our newsletter and follow us on Twitter.