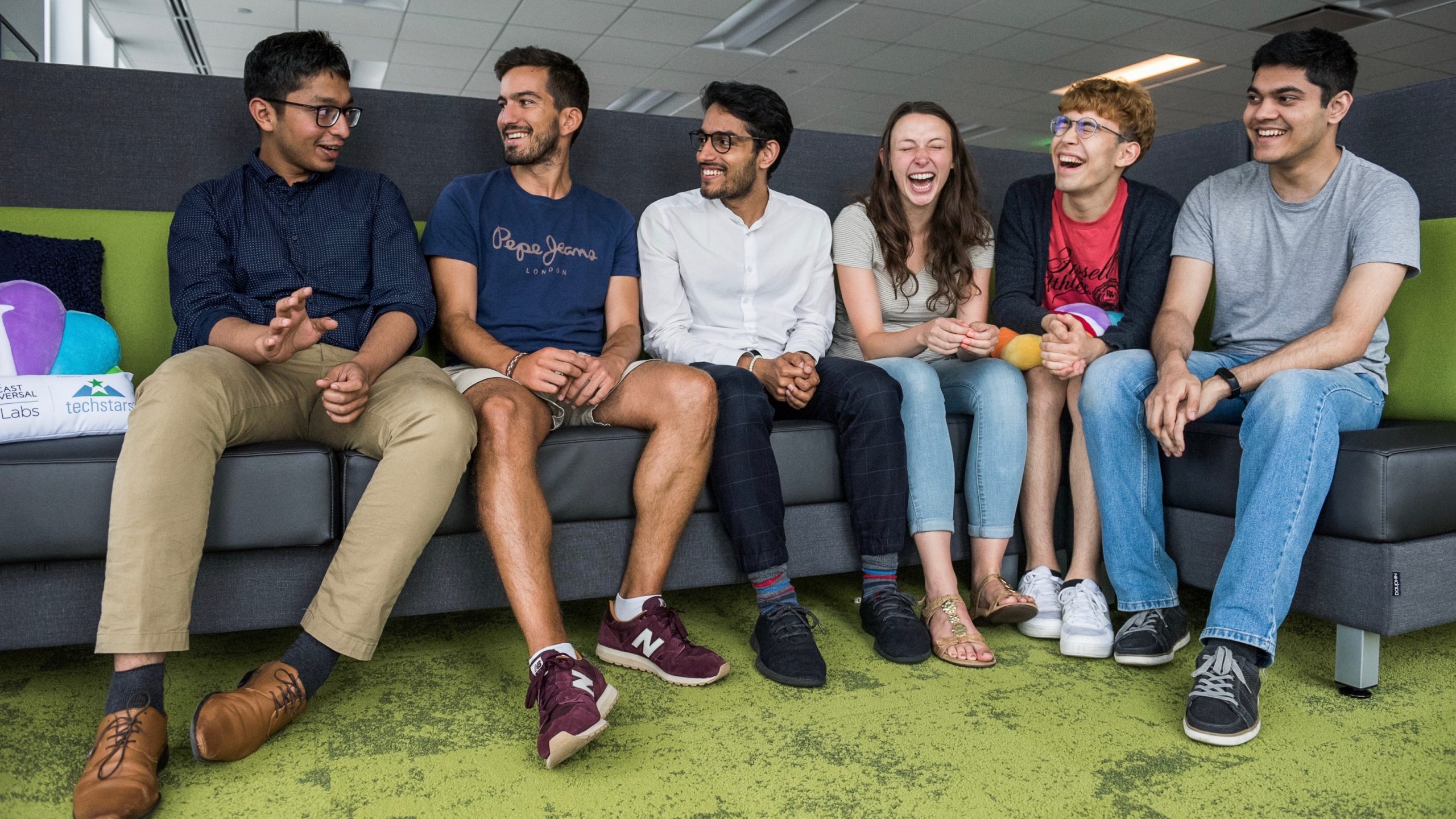 This series highlights each company in the 2018 class of the Comcast NBCUniversal Accelerator, powered by Techstars. The program kicked off in July and includes 10 companies from around the world building media, entertainment and connectivity companies.
Public speaking is scary. Even the most outgoing people can get anxious talking in front of a large group. In fact, nearly 26% of Americans fear public speaking — that's more than heights, needles, spiders, and even the fear of dying.
So, imagine what public speaking must be like for non-native English speakers, like Paritosh Gupta and Danish Dhamani, the co-founders of Orai. Back when they were roommates at Drexel University in Philadelphia, they tried to conquer their fears and become better public speakers. They tried a global public speaking club, but felt like they were just thrown into the fire before they were actually ready. They talked with private speech coaches, but found them to be cost prohibitive. There knew there had to be a better way — so they built it.
The result is Orai, an artificial intelligence speech coach that helps people improve their public speaking skills. Just begin speaking and the Orai app will measure your clarity, energy and speed. It'll count filler words such as "um" and "like." It analyzes pauses. It measures pace, seeing if you're in the sweet spot of 130 to 150 words per minute. Instantaneously, you get a personalized report in an easy-to-digest dashboard.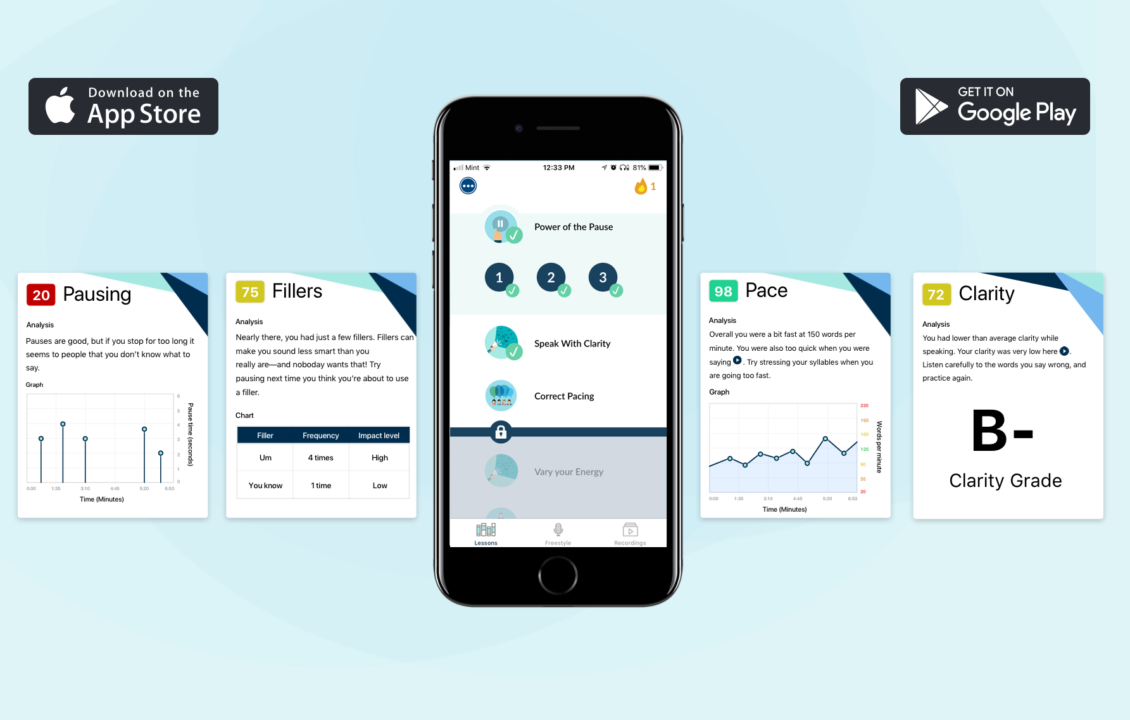 You can go "freestyle" or complete exercises targeted at specific areas of speech. Take the "Um Challenge" where you describe your favorite TV show for 30 seconds without unnecessarily saying "um" in between words. Complete the "Elevator Pitch" where you have 90 seconds to showcase your billion-dollar idea. Try your hand at "Tongue Twister" where you repeat words three times fast.
"It's like going to the gym. You can't become buff in one day. You have to continuously exercise," said Gupta.
Now, Orai is hoping to take the business to the next level by joining the Comcast NBCUniversal LIFT Labs Accelerator, powered by Techstars. During the 13-week program, they'll work from Comcast NBCUniversal's global headquarters while refining and testing their business models. They'll leverage one-on-one mentoring from experts across Comcast NBCUniversal's businesses as well as Techstars' mentors with deep industry, investment, and entrepreneurship experience.
Since its founding in May 2016, the Philly-based business has built a seven-person team and been featured in Fast Company, The Guardian, Wired and TechCrunch.
His "True North"
For Gupta, entrepreneurship was always his end goal.
"I knew that if I worked at a company after college, it would only be for a year to get experience. My goal was always to start my own company. I wanted to get my hands dirty."
His parents instilled that entrepreneurial spirit in him from a young age. His father, Paresh, opened his own grain processing plant in India and has been an invaluable resource for his son.
"He's my True North. He guides me through all the tough scenarios and situations that come with building my business," said Gupta.
Dad's advice must be paying off, because Orai is resonating with people around the world — as English continues to be the dominant language for international business.
"About 40% of our users are not in the U.S. We have a big user base in India, Singapore, Asia and Europe," he said. "People across the world are struggling with this. We're all connected and businesses across the world are increasingly using videoconferencing — meaning people are communicating more in English. That's a big hurdle for a lot of people."
Anybody can download the Orai app and start using it right away. But Gupta sees more upside return in enterprise packages offered to businesses training employees.
"Right now, companies are spending around $8 billion in communication coaching but they have no way to measure the impact. They don't know if the employee is actually improving. With Orai, you get scores and can easily track progress," said Gupta.
But, there's no way to replicate the butterflies in your stomach that you face in real life. It wasn't for lack of trying — the team initially created a virtual reality app that mimicked speaking in front of an audience. It's on the shelf for now but, "when that technology becomes ubiquitous, we can instantly add that as a feature," said Gupta.
For now, the team thinks that getting speakers as prepared as possible will lower fears and help them excel.
The ultimate goal is for Orai to be "synonymous with communication," said Gupta.
"Anybody who wants to run a meeting, wants to give a speech uses it. Just like you open the camera app to take a photo. If you have a speech, you open Orai and practice."
To read more inspiring startup stories and to stay connected to Comcast NBCUniversal LIFT Labs, sign up for our newsletter and follow us on Twitter.