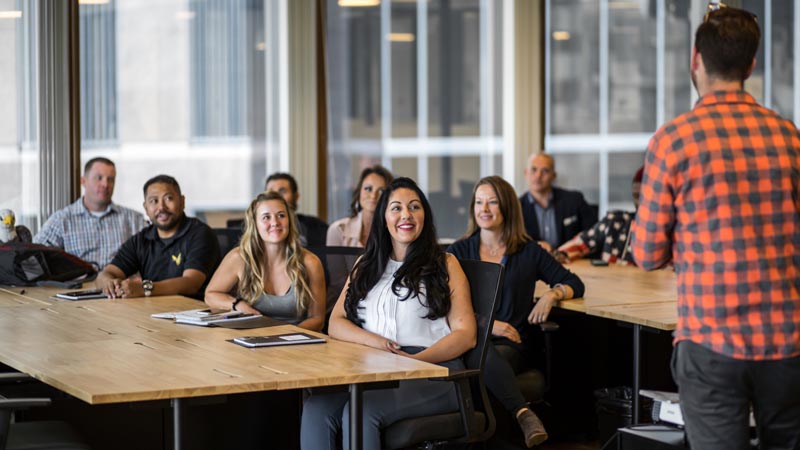 Originally Published by Bunker Labs
Bunker Labs is witnessing a recent surge in military veteran entrepreneurship. Comcast NBCUniversal is proud to support their mission to catalyze the entrepreneurial potential of the military experience to lead innovation in the American economy and to empower veterans. Below are just a few of the exciting veteran-owned companies coming out of Bunker Labs, a national network of veteran entrepreneurs dedicated to helping new veteran entrepreneurs start their own business.
Company: QWYKR
Veteran CEO: Don Rector
QWYKR is a mobile application that helps companies save money on employee expense reports by increasing transparency of their ground transportation costs through its ground transportation scheduling software.
Company: ID.me
Veteran CEO: Blake Hall
ID.me's Identity Gateway is designed to increase trust and efficiency in account opening and digital transactions.
Company: Rhumbix
Veteran CEO: Zach Scheel
Rhumbix provides a workforce telematics platform for construction, combining data entry in the field from smartphones with data analytics to improve labor productivity on project sites.
Company: Simple Disability
Veteran CEO: Ted Stearns
Simple Disability has developed the very first and only end-to-end digital platform for individual disability insurance.
Company: Tokken
Veteran CEO: Larmine Zarrad
Tokken is a technology platform that extends banking services to cash intensive, un-bankable businesses.
Company: Docio
Veteran CEO: Mike Potts
Docio is a real-time product portfolio intelligence and software development analytics solution, helping customers drive operational excellence to manage risk, accelerate growth, and deliver real business value through software.
Company: Efflux
Veteran CEO: Mike McNerney
Efflux is a scalable solution, designed to automate cyber intrusion analysis and investigation. The goal is to bring greater automation and efficiency to incident response.
Company: vThreat
Veteran CEO: Marcus Carey
vThreat allows organizations to find the systems most likely to be hacked and helps organizations mitigate the risk within the first 48 hours of discovery.
Company: Akouba
Veteran CEO: Chris Rentner
Akouba provides an online digital onboarding platform that enables financial institutions to lend money to small businesses simply, efficiently, and profitably through an omni-channel experience.