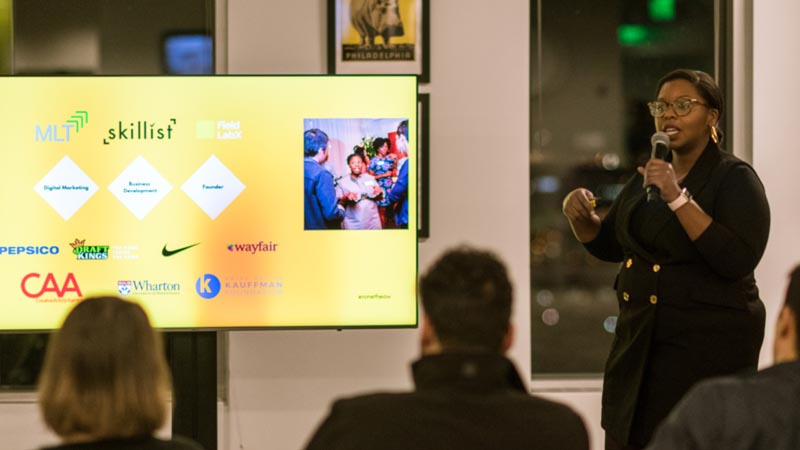 Philly Startup Leaders took over LIFT Labs for a three-night crash course on starting your entrepreneurial journey. Startup experts explained that it's crucial to fail forward, tell compelling stories and always hustle.
You've got this idea. You can't stop thinking about it. It burns in your brain while you're eating, driving, and trying to sleep at night. Deciding to actually build a company raises so many questions:
Is my idea really worth it?
Do I have a compelling story? Will I know how to tell it?
What if I fail?
To help answer these questions, Philly Startup Leaders brought Founders 101 to Comcast NBCUniversal LIFT Labs. This three-night series connected top startup founders with new entrepreneurs to help them validate their businesses and pursue their startup journeys.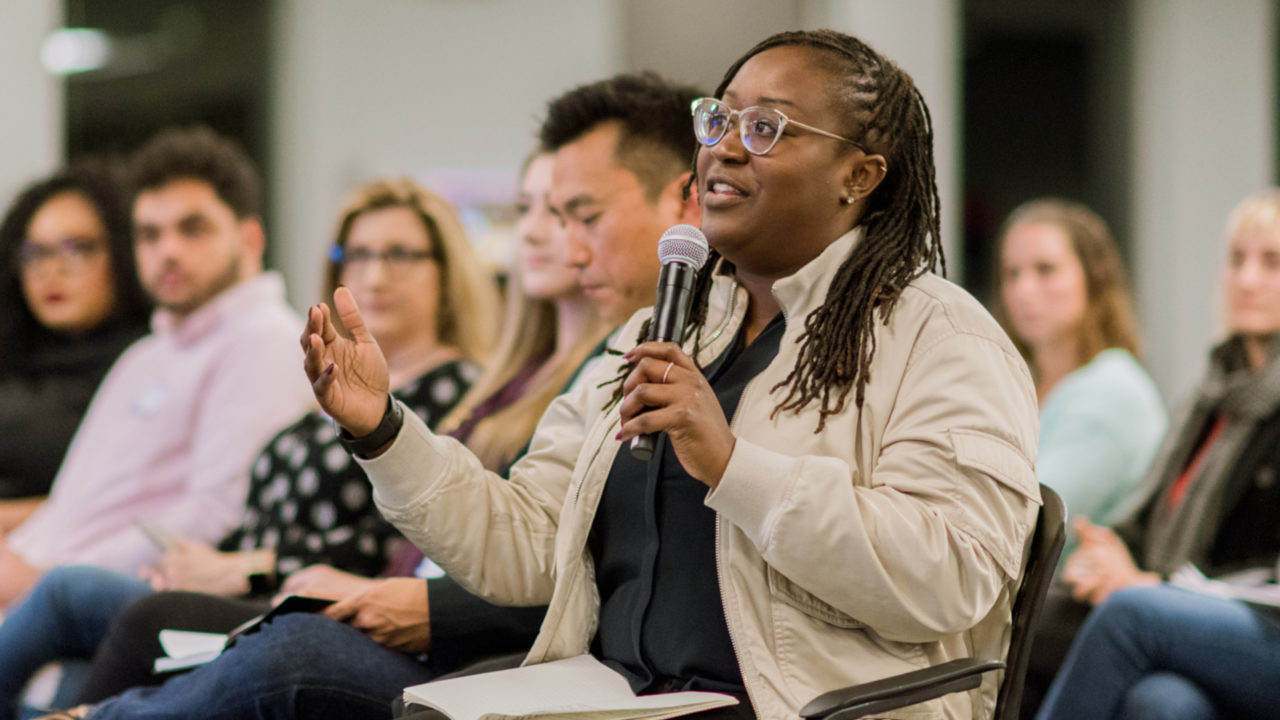 Here are eight crucial lessons from the event:
1. Don't Get Enamored with Your Original Idea
Alex Khorram, founder of Comcast's machineQ
It's human nature to fall in love with an idea — especially if you created a company around it. But, that common pitfall has put plenty of founders out of business. The most successful founders are open to pivoting their idea as time goes by.
That's according to Alex Khorram, head of machineQ, Comcast's Internet of things (IoT) unit which began as its own startup within Comcast. It has since grown into its own business unit within the company.
"It's okay to go through various versions of your business. You're not selling yourself out. You're not losing focus. It's important to constantly reevaluate why you're running your business," said Khorram. "Don't get enamored by your own business plan. Don't get enamored by who you think your customers are. Don't get enamored by what you think the idea is."
Not all startup founders can handle watching their original idea change over time, but the successful ones have thick skin and can course correct when needed.
2. Show Your Process and Be Vulnerable
Brendan Lowry, founder of Rory Creative
Most founders understandably want to position themselves as experts in their space and leaders of game-changing companies. That's especially true on social media. Brendan Lowry, on the other hand, recommends showing some vulnerability rather than always telling polished stories.
Lowry is an expert storyteller. His agency Rory Creative works with some of the biggest brands in Philadelphia and beyond, and his Peopledelphia Instagram account has more than 90,000 followers who watch his visual stories about Philadelphians every day.
Lowry frequently shows vulnerability on his own Instagram account, where he pulls back the curtain and shows the struggles that come with starting his own creative agency. In one recent series, Lowry wrote about a trip to Chicago to pitch one of his biggest potential clients yet. A few days later, he shared a post explaining that he didn't win the business.
"Being able to tell that story, being vulnerable and talking about that process actually drove me new business in the end. The people following me are human. And, if you're opening up to the challenges you're facing and why something didn't work, people feel that," said Lowry. "Humanizing myself and my agency helped me immensely with potential new clients."
3. Passion Trumps All
Ronethea Williams, founder of FieldLabX
We all have ideas — but is your idea worth investing your time, money, and effort? To answer that question, ask yourself another: are you so deeply passionate about your idea that you can't imagine life without pursuing it? If it's yes, then you're on to something.
"You're going to get denied from pitch competition after pitch competition. You're going to have investors laugh in your face, you're going to have so many obstacles, but you really have to have the right attitude and surround yourself with people who have the right attitude," said Ronethea Williams, founder of FieldLabX, an experiential education company that helps mid-career tech professionals become more innovative and empathetic leaders. She's also director of employer partnerships at Skillist, which connects untapped talent to in-demand jobs.
Passion is infectious and the most successful entrepreneurs can get talented people to buy into their vision even in the early stages. Even more crucial is to make sure those early hires have the ability to wear many hats to help your early-stage startup grow.
"With any early company," she said, "you need someone who's going to hustle and figure it out in the beginning."
4. Creating a Minimum Viable Product Doesn't Stop After Day 1
Jeanine Heck, VP of Artificial Intelligence at Comcast
In today's lean startup world, the Minimum Viable Product (MVP) concept has become gospel. The idea is simple: don't spend years building a product the public may reject. Instead, build only the bare minimum, see how potential users react to it, then start iterating based on that feedback.
Jeanine Heck is a pro when it comes to creating great products. She's the founding product lead for the X1 Voice Remote, which lets Comcast cable subscribers perform a number of operations by simply using their voice. It responds to commands like "show me funny movies" or "turn on closed captioning." But the first iteration of the remote was purposely built with only the most fundamental functionality.
"In our case, it was pretty much channel change and title search, but there were a ton of other features that people wanted. We had to hold them off while we built the basics first," she said.
Too often, founders aren't honest with themselves and build far more than a minimum viable product. They're understandably excited to build a product in their vision — but that's how they end up with shiny, complex products nobody wants.
"Even after you launch, you need to have an MVP 2 and an MVP 3 for each release. Your engineer's time is so precious so you have to be focusing on the right things," said Heck. "You always need to have an MVP mindset and it doesn't end on Day 1. Remember that you have an MVP for any new version you're putting out there."
5. Failure Comes in All Shapes and Sizes
Ofo Ezeugwu, Co-founder and CEO, WhoseYourLandlord
You business may be thriving but tough times are right around the corner. Just ask Ofo Ezeugwu, the co-founder and CEO of WhoseYourLandlord, a fast-growing site that empowers and informs the rental community with landlord reviews and neighborhood content.
The past year-and-a-half has been quite a rollercoaster. In September 2017, his company closed a $250,000 seed round. WhoseYourLandlord was recently named "the MVP of the landlord-review sites" by Apartment Therapy, and got mentions in the New York Post and New York Times. Ezeugwu even received the Young Professional of the Year award by the African American Chamber of Commerce and was named to the 2018 Innovators and Disruptors Awards by New York on Tech.
Despite the professional success, trouble soon followed.
In May, he was sued by a landlord (the case was later dropped). The following day, his co-founder resigned for personal reasons. Over the next three weeks, he would face the deaths of two close friends and his grandfather.
"A lot of the failure you're going to experience, you can't even control. But it's how you let it affect you that's going to determine whether you'll be successful or not long term," he shared.
Ezeugwu decided to use those tough times to propel him forward, calling his fallen friends and family members "angels" that look over him.
"No steps backward, only forward progress. Failure is not a step backward," said Ezeugwu. "An actor that goes to a bunch of auditions and finally gets a role wasn't failing at all those auditions, they were just honing and refining their skills. If you choose to look at it that way, you'll get better results."
6. Storytelling Starts with Constantly Asking Yourself "Why"
Victor Limjoco, Producer at NBC Nightly News
Storytelling is crucial to any business. It helps you get press mentions. It helps you pitch investors. It helps you get clients. Far too often, startup leaders are so focused on product and market fit that they put storytelling on the back burner. That's a mistake, says Victor Limjoco, Producer at NBC Nightly News with Lester Holt.
Limjoco knows a good story when he sees one. To help the entrepreneurs in the crowd tell their stories, he said to get personal and focus on "why." Why did they create their company? Why do they care so deeply? Why are they the right person to solve this problem?
"Keep on asking why, why, why, until you get to the root of your founder story," he said.
That led Limjoco to his next piece of advice — make your startup story short and sweet.
"Don't bury the lede. Who are you? What is the startup? What is your hook? I recommend that you pretend you have only one sentence for each of those three parts," he said. "Remember, less is more. Distill it down to a 30-second story, especially if you're talking to a journalist."
7. The Greatest Lows are Followed by the Greatest Highs
AJ Bruno, founder & CEO of QuotaPath
AJ Bruno knows failure well. That might seem like an odd statement about an entrepreneur who founded TrendKite, a wildly successful, six-year-old Austin company that helps brands and media companies generate, amplify, and measure the impact of their earned media. Now he's back in his hometown of Philadelphia with a new company, QuotaPath, as founder & CEO.
But it didn't come easy. From a major health scare (he's fine now) to missing early revenue goals, to a college startup that went belly up, Bruno knows entrepreneurship isn't smooth sailing.
How you respond to adversity is everything.
"Do you really sit down and think about those failures you've had and what they actually mean to you?" he asked the crowd.
Bruno then suggested a great exercise — writing your own "failure resume" that lists all the things that went wrong in your career. Perhaps you got laid off. Perhaps you started a company that failed. Listing those failures will help you learn from painful experiences and move your career forward.
"Ultimately the greatest lows are typically followed by the greatest highs," he said. "Don't forget that."
8. Use Stories to Connect, Sell and Solve Challenges
Kristin Dudley, Chief Product Officer at Technical.ly Media
In the mid-2000s, one of Kristin Dudley's friends was diagnosed with stage 3 breast cancer, suffering from a side effect called lymphedema — chronic swelling in her arm. It required that she wear a medicinal bandage on her arm. So why not turn the bandage into chic fashion accessory? That's just what Dudley and two friends did as co-founders of Lymphedivas.
Marketing Lymphedivas was all about storytelling. The team had to explain to potential customers that they understand what lymphedema sufferers endure day after day. And, they had to explain that their product was built to make them feel strong and confident.
"Selling into that sensitive community meant that we had to create a lot of trust with them and express that we're in their shoes," said Dudley. "Explaining that we're doing this not just for our customers but also for our co-founders was really a central part of creating customers."
Later in her career, Dudley worked in HR at Comcast, and used storytelling to improve hiring processes. Rather than relying on simple job descriptions, she created realistic "day-in-the-life" videos that clearly explained the roles and responsibilities of employees from warehouse workers to technicians.