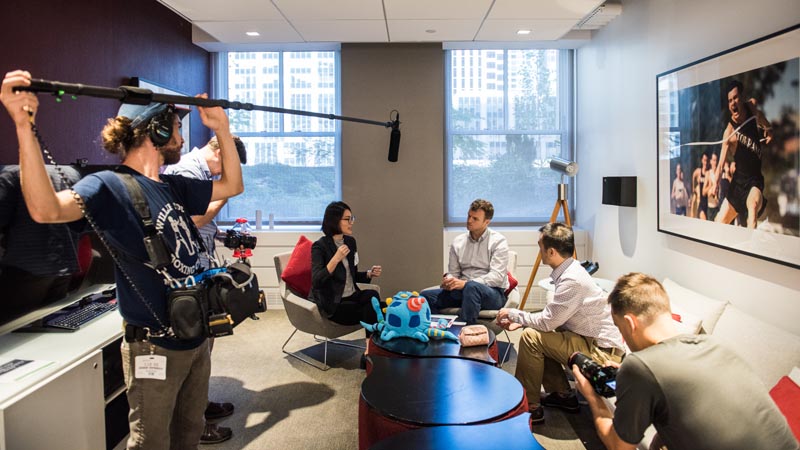 Applications are now open for the 2019 Comcast NBCUniversal LIFT Labs Accelerator, powered by Techstars and we're looking for leading startups in connectivity, media, or entertainment. If selected, you'll spend 13 weeks refining your business model, making key connections, polishing and amplifying your startup story, and much more.  Most importantly, you'll work with alongside mentors and product experts from across Comcast NBCUniversal's businesses.
Alumni from last year's accelerator are already working with companies like Universal Brand Development, Comcast Business, Spectra Venue Management, Universal Parks & Resorts and others.
Is your startup next?
Here are six reasons you should apply. (Psst: we're taking applications now!)
1. The connections you make will be hard to match. The depth and breadth of the Comcast NBCUniversal partner network is truly incredible. In fact, most people don't fully understand how big our family of brands really is.
That's an amazing benefit. But, let's be real: it's not always easy to navigate a big company. If you're part of our accelerator, you don't just get meetings, you have the opportunity to form meaningful relationships with executives focused on finding the best new products in tech. They know the accelerator companies are high potential, and they're excited to help them grow.
2. Valuable pilots and partnerships are a real possibility. In our accelerator, we're not just making connections, we're helping companies make deals. The Comcast NBCUniversal executives you'll work with won't just help you refine your business models and investor pitches, when appropriate, they'll try your product or technology, offer feedback and help you develop pilots and partnerships inside and outside the company.
Last year's accelerator class saw some impressive results:
3. Live and work in the heart of Philadelphia. During the program, you'll work from the brand-new Comcast Technology Center. Located in the heart of Philadelphia on the Comcast campus.
Living in Philadelphia also comes with its perks, especially in the summer. America's first startup city is extremely walkable and easy to explore. Visit historic areas like the Liberty Bell or Independence Hall and one of our world-class museums, grab a drink at a rooftop bar, or watch a Phillies baseball game. And the food scene? Awesome.
Most importantly, you'll get integrated into Philly's vibrant startup scene, filled with hundreds of entrepreneurs and investors. Not only are there plenty of panel discussions and networking events in the city, there's also an incredibly collaborative, welcoming culture. Business leaders here are eager to take meetings, offer advice, and make connections. It's that collaborative culture that sets us apart and makes Philadelphia a special place.
Plus, we have Gritty.
4. The LIFT Labs team will be your No. 1 storyteller, amplifier, and champion: We'll create a robust range of content about you and your company – product videos, feature stories, social media and digital ad campaigns, photography, and more – and distribute it far and wide. We'll also give you access to media training and other industry experts who help you refine your pitches to investors, clients, and journalists until they are razor sharp. The result? You'll be more than ready to deliver your elevator pitch at Demo Day to anybody and everybody.
5. There will be perks: Exposure to incredibly talented and connected people will happen in person too. LIFT Labs is a vibrant place where startup founders, Comcast NBCUniversal executives and businesspeople frequently visit. Just over the past few months, we've hosted talks with Shark Tank host Kevin O'Leary, best-selling author Alex Banayan, and Atari founder Nolan Bushnell — as well as lots of workshops for startup founders. You'll never know who you'll bump into.
We'll also take a short train ride to 30 Rockefeller Center in Manhattan, the iconic headquarters of NBC where TV shows like Saturday Night Live to The Tonight Show Starring Jimmy Fallon are filmed. Needless to say, its lineup of incredibly well-connected producers and executives make it a dream for any startup founder, especially up-and-comers in the connectivity, media, and entertainment spaces.
And don't worry about rushing out of Philly when the accelerator concludes. You'll have access to LIFT Labs until June 2020, plus we'll be your champion for a long time to come. Whether you decide to build your company in Philly or just come back to visit, you'll always have a home at LIFT Labs.
6. A Demo Day celebration to remember: The program concludes with Demo Day — where all startup founders take centerstage and showcase their businesses. Last year, the event drew more than 600 live attendees and a global audience watching online. The audience represents a valuable set of startup investors, mentors, Comcast NBCUniversal leaders, and the tech and startup communities of Philadelphia and beyond.
It's a great way to close out the program, showcase all your hard work and get the attention of a powerful audience. After prepping for your Demo Day pitch and re-introducing yourself to the world, you'll be poised for any future challenge and call yourself an alumni of the Comcast NBCUniversal LIFT Labs Accelerator, powered by Techstars.
So what are you waiting for? Apply to the Comcast NBCUniversal LIFT Labs Accelerator powered by Techstars now.