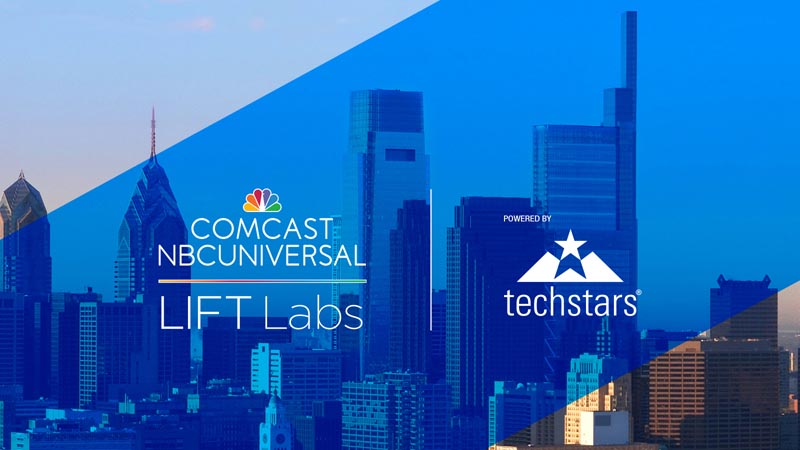 Meet us in Montreal, Toronto, Los Angeles, Austin, New York and our hometown of Philadelphia!
In our never-ending quest to find high-potential and game-changing startup founders, Comcast NBCUniversal LIFT Labs and our partners from Techstars are kicking off the 2019 Cities Tour. We're traveling across North America to find passionate founders creating the most promising solutions in connectivity, media, and entertainment.
Come hear about our exciting 13-week accelerator program that will be held this summer at the Comcast Technology Center in Philadelphia. The program will help up to 12 startups tighten their business models and sharpen their pitches to potential investors, customers, and press, while offering valuable mentorship from successful startup founders, Comcast NBCUniversal executives, and the Techstars network.
Meet us in person to see if your startup might be a fit and hear from founders who have recently completed Techstars accelerator programs. We also want to learn about the tech and startup trends in your city and share your stories.
Who Will be Speaking?
Here are just a few of the people scheduled to speak at the events. We'll announce additional speakers as the event dates get closer:
KJ Singh, Managing Director, Comcast NBCUniversal LIFT Labs Accelerator, powered by Techstars
Danielle Cohn, Head of LIFT Labs, Comcast NBCUniversal
Alumni from the 2018 Comcast NBCUniversal LIFT Labs Accelerator, powered by Techstars and other startup leaders
Startup mentors and advisors
Who should attend?
Founders interested in elevating their tech startups in connectivity, media and entertainment
Here's the schedule:
Montreal: January 22, 6 p.m.
Notman House
51 Sherbrooke St W
Montreal, QC
Register Now
Toronto: January 24, 6 p.m.
Marben
488 Wellington Street W
Toronto, ON
Register Now
Los Angeles: January 29, 6 p.m.
Angel City Brewery
216 Alameda St. Los Angeles, CA
Register Now
Austin: March 8
Moonshine Grill
303 Red River St. Austin, TX
Register Now
New York City: March 14, 6 p.m.
Location coming soon!
Register Now
Philadelphia: March 20, 6 p.m.
Comcast Technology Center, 1800 Arch Street
LIFT Labs
Philadelphia, PA
Register Now
All events are open to the public, but if you're interested in meeting with us in person, request office hours with our team here. Hurry, space is limited!
Can't make it? Join an AMA (Ask me Anything) session on February 7 at 4 p.m. EST virtually or apply here by April 7! The program will take place this July-October in Philadelphia.