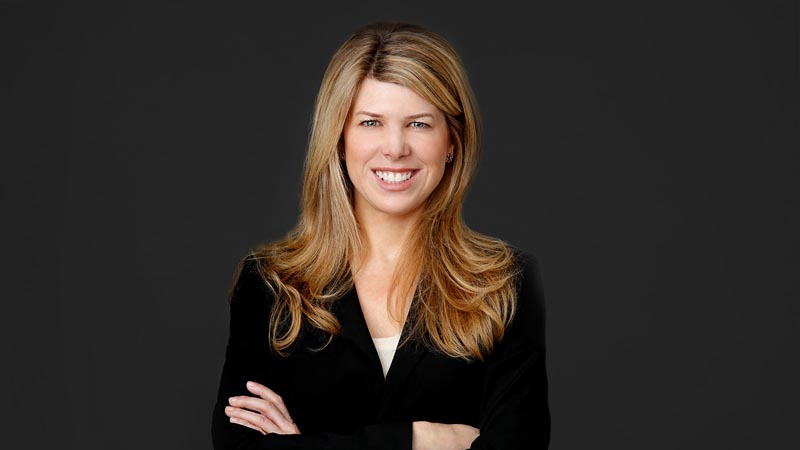 Working with startups shows the Executive Vice President of Strategy and Business Development at NBCUniversal how the next generation of technologists are tackling complex problems.
Launching a successful startup is no easy task. Forks in the road appear everywhere. One decision can make or break your business. Some startup founders go it alone, but the lucky ones have mentors to help them succeed.
The incredibly lucky ones can call upon Lori Conkling, Executive Vice President, Strategy and Business Development at NBCUniversal. She's seen countless pitch decks, investment term sheets, and successful corporate partnerships during her career. And, she knows what to ask entrepreneurs to help them think critically about their business models and market assumptions.
Through the Comcast NBCUniversal LIFT Labs Accelerator, powered by Techstars, Conkling mentored Yuting Su, founder and CEO of Thinker-Tinker. Her technology blends digital and physical play with children's toys. Thinker-Tinker's flagship product, Octobo, is a smart plush toy shaped like an octopus that uses soft sensors and a touch screen tablet to provide children customized learning and emotional feedback experiences.
Working with Conkling, Su successfully navigated the complex worlds of intellectual property, entertainment, and venture capital — and she recently announced a Letter of Intent with Universal Brand Development that seeks to combine Thinker-Tinker's play platform with a variety of DreamWorks iconic characters.
"Lori is my lighthouse, always pointing me in the right direction. You can read all the books you want about entrepreneurship, but having a mentor is so much more valuable because they've been through it, and they're experts in the field," said Su.
We sat down with Conkling to learn why she finds mentorship valuable and why she recommends it to every Comcast NBCUniversal executive.
What value does mentorship through Comcast NBCUniversal LIFT Labs offer you professionally and personally?
It allows mentors to learn about the types of companies making waves in the startup world and how today's entrepreneurs are thinking. It's refreshing to take off our day-to-day hats and immerse ourselves in a vertical that is slightly tangential to what we typically do. As executives, it's important that we keep learning and thinking outside the box.
Would you recommend mentorship to other Comcast NBCUniversal executives?
Definitely. Mentorships aren't just about imparting wisdom. The mentee teaches you just as much as you teach them. With Thinker-Tinker, I learned a lot about changes coming to the consumer product and educational entertainment spaces. It's also a great way to connect with colleagues you don't deal with every day. With Thinker-Tinker, I was working with people in consumer products, games, and on the international side at Comcast NBCUniversal. I also connected Yuting with venture capital and angel investors. It's fun to not only reconnect with those people but to do it around a very exciting opportunity.
For many executives, time is a precious resource. How would you convince them that mentorship is actually worth their time?
It's definitely a time commitment. If you're on a project that doesn't allow you to dedicate the time, sit this round out. But, as with anything worthwhile, it's a prioritization exercise. Plus, the companies I mentored were very flexible with meeting times. They might need you three times in a week but also might skip a week. Or I might have them meet with someone else on my team to get a fresh perspective. It's about finding the right cadence.
Does Yuting have what it takes to make Thinker-Tinker a success?
There is no question in my mind. She has the hunger. She's willing to put in the work. She's willing to listen as much as she wants to share. That is obviously critical when you're starting a company.
What specific lesson did you impart on her?
Always be over-prepared for your meetings. Manage what you know you can take on and do it well, even if it seems small right now. A lot of small wins will get you really, really far. It builds credibility. It builds trust. It allows you to learn as you go, so when you get an opportunity that requires significant scale, you're not going to trip up.
Were you proud when you learned that Thinker-Tinker landed a deal with Universal Brand Development?
Of course! It was all perseverance. I give Yuting so much credit. Any company at that stage is going to hear "no" more than "yes." But Yuting never accepts that a door is closed. She takes negative feedback and turns it positive. She's laser focused — not on "what can I get" but on "what can I give back to create mutual value." I knew she'd get traction because her approach was so strong and positive.