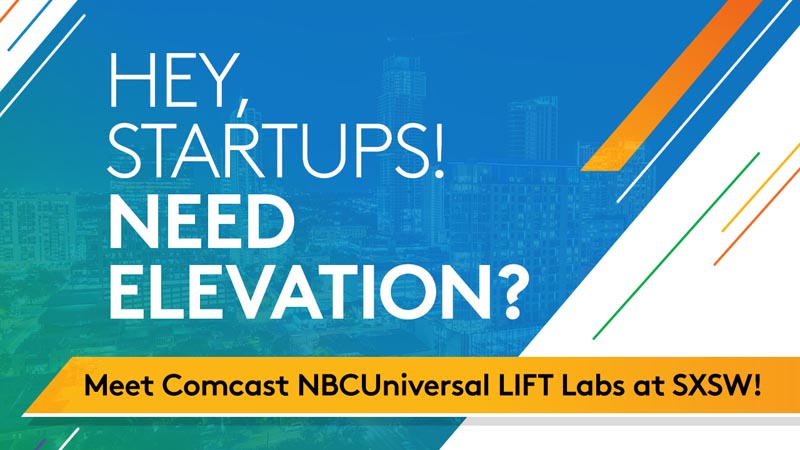 The Comcast NBCUniversal LIFT Labs team will be in Austin for SXSW 2019 from March 8-11, and we want to meet with you! We'll be set up inside the Amplify Philly House (Pour Choices – 401 E. 6th Street), where you can experience a ton of great programming and lots of Philly flavor.
If you're a startup working in connectivity, media, or entertainment, you should definitely come by to learn about the Comcast NBCUniversal LIFT Labs Accelerator, powered by Techstars (applications are open for the next month!) and our other programs designed to elevate your startup.
We'll be on the lookout for founders who think they could partner with Comcast NBCUniversal in some way, and will be available to help make the right connections for the right companies. In addition to LIFT Labs activities, Comcast NBCUniversal will showcase a wide range of the company's products and programming at the Container Bar (90 Rainey St., Austin) Saturday through Monday!
» Check here for a full schedule and list of happenings.

Here are some LIFT Labs highlights:

Go Behind the Scenes of Ideas Elevated
We made a docuseries, Ideas Elevated, with the 10 companies from the 2018 LIFT Labs Accelerator class. Many of the founders will be at SXSW to give you the real, behind-the-scenes story of what it was like – as documented by our film crew! If you've ever considered applying for an accelerator, you won't want to miss it! (Sunday, 3/10 @10 a.m. Register now)
You Can Win a Polycade Arcade Console
Polycade, a 2018 LIFT Labs accelerator class company, has one of the coolest new products in gaming. It's a plug-and-play, super sleek arcade cabinet capable of playing classic and modern video games. If you come see us at SXSW and sign up for our newsletter, you could win one for your home or office!
Pedicab Takeover
The best (and most fun) way to get around SXSW? Pedicabs! LIFT Labs is taking over a fleet. Look for us on the streets of Austin and text us when you get in! We'll make it easy for you to connect with us while you're there.
Saturday, March 9:
10 a.m. – 5 p.m.
LIFT Labs Lounge open at Amplify Philly House
Location: Amplify Philly House, Pour Choices (401 E 6th St.)
11 a.m. – 11:30 a.m.
LIVE @ LIFT "How to Work with a Large Corporation"
Location: Amplify Philly House, Pour Choices (401 E 6th St.)
1:30 p.m.- 2 p.m.
LIVE @ LIFT "Moving to Philly to Start Your Startup"
Location: Amplify Philly House, Pour Choices (401 E 6th St.)
4:30 p.m. – 5 p.m.
LIVE @ LIFT "Fireside Chat with Rohit Bhargava" + book signing
Location: Amplify Philly House, Pour Choices (401 E 6th St.)
Sunday, March 10:
10 a.m. – 5 p.m.
LIFT Labs Lounge open at Amplify Philly House
Location: Amplify Philly House, Pour Choices (401 E 6th St.)
10 a.m. – 11 a.m.
Mimosa Meetup with a screening of the LIFT Labs Accelerator Docuseries and talk-back
Location: Amplify Philly House, Pour Choices (401 E 6th St.)
1:30 p.m. – 2:30 p.m.
2018 LIFT Labs Accelerator Storyslam
Location: Amplify Philly House, Pour Choices (401 E 6th St.)
Monday, March 11:
10 a.m. – 5 p.m.
LIFT Labs Lounge open at Amplify Philly House
Location: Amplify Philly House, Pour Choices (401 E 6th St.)
---
If you're headed to SXSW, be sure to come see us and connect with us throughout the event on Twitter and Instagram! #LIFTLabs