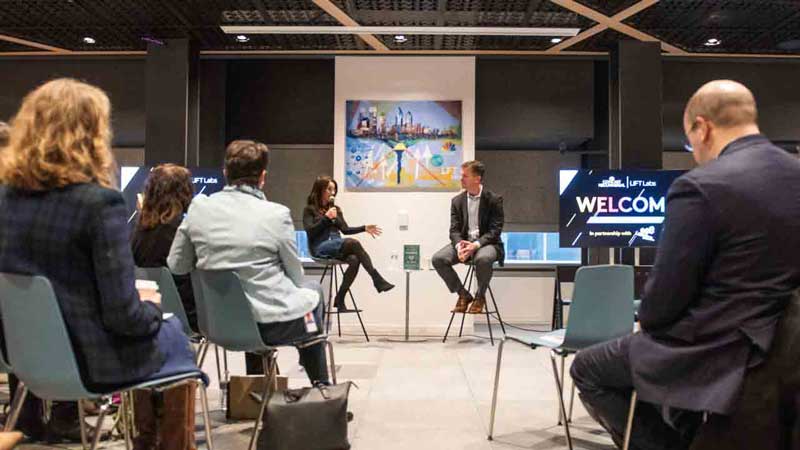 This space for entrepreneurs is home to the Comcast NBCUniversal LIFT Labs Accelerator, powered by Techstars, and year-round programming and events

LIFT Labs PHL, home base for Comcast NBCUniversal's LIFT Labs program, is now officially open. Spanning the entire fourth floor of the new Comcast Technology Center, LIFT Labs PHL is a unique place where startups can elevate their companies with support from mentors, experts, seasoned entrepreneurs — and one another.
Designed for startup founders, the space hosts year-round events and workshops, and provides opportunities for companies to connect with thought-provoking authors, innovators and business leaders. It's also home to the Comcast NBCUniversal LIFT Labs Accelerator, powered by Techstars, which takes place annually July through October. Applications for the 2019 class are open now through April 7.
"I've been dreaming about this space for a long time. I've been at Comcast for 20 years, and it's been quite the journey growing from a traditional cable company to an innovative media and technology company," said Sam Schwartz, chief business development officer at Comcast.
The space itself has lots of Philly flavor. It features art by Shira Walinsky and Ernel Martinez, who have each painted murals in Philadelphia. There are 30 maker-made pieces from 11 local custom furniture makers and incredible custom furniture from Amuneal and Lostline. There are even recycled skateboard stools from Deckstool.
But, it takes more than good design and aesthetics to make a program successful; it's the activities and connections that happen within the space that matter most.
At LIFT Labs, startup founders, thought leaders, subject-matter experts, venture capitalists, and tinkerers gather, ready to learn each other's startup story. It's a space where industry experts, Comcast NBCUniversal executives, and founders share ideas. It's a space where venture capitalists find promising founders worth their investment dollars, and where innovation is front and center, deals get done, and game-changing ideas get elevated.
"If you're a founder with an exciting company in connectivity, media or entertainment, LIFT Labs should be the first place you visit," said Luke Butler, Director of LIFT Labs PHL. "It's where you can accelerate and grow your idea and make connections to people who can help you take it further, either through mentorship, pilot programs or proof of concept projects."
Humble Beginnings
Five years ago, Comcast NBCUniversal announced the construction of the Comcast Technology Center, including that the building would "offer space for local technology startups." To make that dream a reality, Schwartz, Ebony Lee, senior vice president, Strategic Development, and Danielle Cohn, head of LIFT Labs, built a small team that worked tirelessly to create a curriculum and atmosphere that would excite both startups and seasoned executives.
Cohn and her team spent those years meeting more than 1,500 founders from around the world to find out what they want and need from a large company like Comcast NBCUniversal. They traveled internationally, attended and hosted countless events, and visited co-working spaces and startup hubs — and they learned plenty.
"We heard three things over and over again: Show up and be present; help us tell and amplify our stories; and give us a try with a pilot program," said Cohn. "To achieve those goals, we've assembled a staff of passionate people who love helping startups everyday — whether that's through mentorship, our accelerator, a direct connection, or programming. We want to be the curators of great conversations."
Schwartz, meanwhile, worked on pitching a program to company leaders where startups are not only welcome, but celebrated as valuable partners.
"One of my big goals for the Comcast Technology Center was that we don't innovate by ourselves. We want the community to reflect the innovative culture we are trying to build and vice versa," he said. "I want Philadelphia to have a role in what we're doing here — almost as if the walls of this building are permeable, creating a constant conversation with the startup ecosystem."
You're Invited
Now that LIFT Labs is officially open, we'd love to meet you! Our programming will be the following:
Learn@LIFT: a series of workshops teaching startups fundamental tools for pitching investors and working with large companies like Comcast.
Live@LIFT: a speaker series where we'll typically partner a startup founder with a Comcast NBCUniversal expert.
Community events run by organizations like Philly Startup Leaders, Bunker Labs and the Philadelphia Alliance for Capital and Technologies that offer similar programming and resources for entrepreneurs in the region.
Office hours with our team (and we definitely want to hear about your startup).
So, if you have an exciting company in connectivity, media or entertainment — or you're simply interested in working with startups or Comcast NBCUniversal, we'd love to see you in our new space sometime soon.