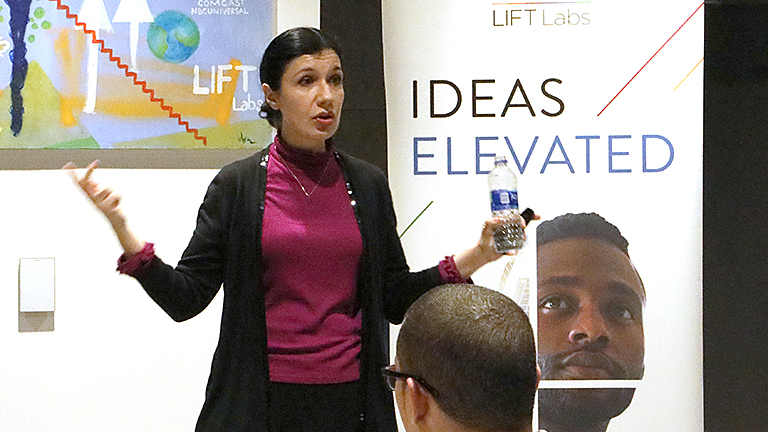 Dessy Levinson has seen her share of pitch decks over the years — and she's got some sage advice for startup founders: Stories are everything.
As Managing Director at 645 Ventures in New York, Levinson frequently meets with startup founders to discuss their ideas. She knows what impresses investors, and what falls flat.
She shared her ideas at the LIFT Your Story storytelling workshop hosted by Comcast NBCUniversal LIFT Labs and Made in NY Media Center by IFP in Brooklyn. For example, answer key questions like "why you?" and "why now?" Define the status quo in your potential market, and explain why it's ripe for disruption. Explain why the investor is the perfect partner for your business.
She also offered these three story hacks that can help transform your pitch deck into a winner.
Doom and gloom doesn't sell.
There are a lot of things that need fixing in the world, but stay away from describing the status quo with too much doom and gloom. Yes, consumers need a better path to purchase. Yes, social media bias and bullying need to be addressed. But there are bigger problems in the world. Keep that perspective when pitching, otherwise it can undermine trust.
Instead, replace doom and gloom with a discussion of the enabling environment. Talk about how consumer behaviors and attitudes are changing. Talk about how technology paradigms have shifted — and use that evidence to show that your company is well positioned to gain traction.
Don't fall into the exceptionalism trap.
You want to explain why you and your team are rock stars ready to disrupt an industry. But be careful that you don't appear arrogant or like you're bragging. And, don't think you're the only team to ever come up with this type of solution to this particular problem.
Replace exceptionalism with a discussion about your unique perspective based on experience and expertise. You can connect dots in ways nobody else can — and you can do it with a slice of humility.
Don't gloss over the complicated parts.
No matter how complicated your technology, you should be able to easily explain it to a potential investor. Don't simply skip over the part where the magic happens. Explain it in simple, high-level terms. Taking potential investors through the user journey or the product journey is a good place to start.
"Futuristic technologies like Blockchain and Machine Learning sometimes fall into that trap," said Levinson. "Be able to explain the step-by-step system you are building so it rationally makes sense to the person on the other end — even though they may not be as familiar with your industry or able to understand every detail."
---
LIFT Your Story at Our Next Event
Interested to learn from experts like Levinson? Join us for more LIFT Your Story events coming soon.
April 11
Master Your Brand Story Across Digital Media
Kelly Moffitt, StoryCorps
LIFT Labs – Philadelphia
6 p.m. – 8 p.m.
April 19
Pitching the Press
Victor Limjoco, NBC Nightly News; Manny Smith NBC10/Telemundo; Julie Zeglen, Technical.ly
LIFT Labs – Philadelphia
8:30 a.m. – 10:30 a.m.