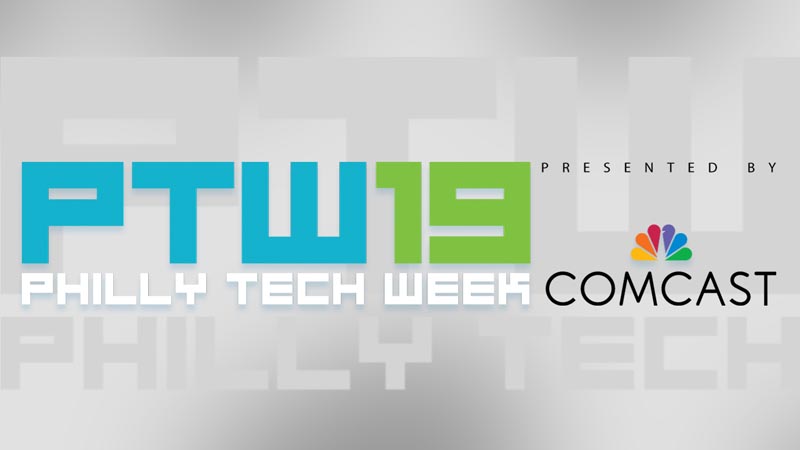 We love Philly Tech Week. It's a chance for people in the city's tech community to step back from the day-to-day routine and learn from one another. It's a time to see old friends and make new ones. It's a time to learn about the latest innovations from startup founders, and educate ourselves about big trends coming down the pipeline.
If you're attending Philly Tech Week this year, we'd love to connect with you. There are many opportunities to meet tech leaders from the company and spend time with the LIFT Labs team.
We will host events at LIFT Labs PHL inside the Comcast Technology Center, and attend many of the other key happenings across the city that week including Dev Day, Introduced by Technical.ly, the PSL Entrepreneur Expo — where we will be podcasting live — and the Signature Event, which will take place at the Comcast Technology Center.
Find us at the following Philly Tech Week events:

Thursday, May 2
LIFT Labs PHL
Comcast Technology Center
1800 Arch Street, 4th Floor
5 PM – 9 PM
Join us for a high-energy pitch event showcasing up-and-coming student entrepreneurs from Philadelphia-area universities. It's the perfect opportunity for students to meet entrepreneurs from local schools, find a mentor, or even a co-founder. It's also a good opportunity for seasoned founders to see what problems emerging entrepreneurs are solving.

Friday, May 3
Linode & Other Locations in Old City
249 Arch Street
5 PM – 10 PM
Come hang with the LIFT Labs team at the official kickoff party for Philly Tech Week. Play cornhole, ping-pong, jumbo Jenga, and plenty of other fun activities with us. Be sure to stop by for frozen treats, free sunglasses, and your chance to tell us how you LIFT Philly's community.

Monday, May 6
LIFT Labs PHL
Comcast Technology Center
1800 Arch Street, 4th Floor
6:30 PM – 8:30 PM
The BENgineers, an internal Comcast community for black technology professionals, is hosting this event to discuss the state of the black tech community with a panel of Philadelphian tech leaders. Join the panelists as we take a look back at what has been done throughout Philadelphia to support the growing black tech community and the progress made to close the gap on the digital divide.
Here is a list of speakers:

Tuesday, May 7
LIFT Labs PHL
Comcast Technology Center
1800 Arch Street, 4th Floor
5 PM – 9 PM
We're proud to host this group of talented and passionate women at LIFT Labs PHL for a night of learning and networking. This year's Women in Tech Soiree features a top national leader in technology alongside a panel of rock star women from the regional tech community. The program is designed to promote connection, collaboration and success for women startup founders.
Here is a list of speakers:

Wednesday, May 8
Drexel LeBow College of Business
3220 Market Street
11 AM – 5 PM
The Dev Conference is a day-long event where the city's best technologists come together to discuss the innovative solutions they're bringing to the world's biggest problems. Comcast's TPX and Women in Tech teams will be there to meet with attendees.
---
Don't Miss
1:40 P.M. Jeanine Heck, Vice President of Artificial Intelligence Product, Comcast
In her talk Creating Brilliant Products: Product Management with Artificial Intelligence, she'll offer advice on developing products that solve major pain points and have longevity in the marketplace.
The Fillmore
29 E. Allen Street
4 PM – 8 PM
With 1,500 – 2,000 attendees, the annual PSL Entrepreneur Expo is where the Philly tech community comes together under one roof. It'll feature nearly 150 startups showing off their newest technologies, recent wins, and goals for the upcoming year.
---
Don't Miss
LIFT Labs will host a pop-up podcast studio! Join us for an interview that could be selected to be featured in "Ideas Elevated," the LIFT Labs podcast series. Event attendees can also sign up for office hours with our team.

Thursday, May 9
Convene CityView
30 S 17th St #1410
9 AM – 5 PM
Introduced in 2019 is a one-day conference that incorporates programming, demos, networking and personalized connections. Attendees can choose their own session format with three rooms of simultaneous programming, a rotating demo floor and curated introductions. This is a ticketed event.
---
Don't Miss
LIFT Labs will host a "LIFT Lounge" where event attendees can relax, refresh, and recharge with charging stations, chair massages, and a headshot booth.  Comcast Business will also be there with product demos.
11am: Tucker Roberts, President of the Philadelphia Fusion, and Joe Marsh, Chief Financial Officer of the Philadelphia Fusion, will discuss esports and the Philadelphia Fusion with Danielle Cohn, Head of LIFT Labs.
12pm: Dalila Wilson-Scott , Senior Vice President of Community Impact, Comcast, will join the panel "Being a Good Corporate Neighbor: Listening, Aligning & Giving Back"
3pm: A LIFT Labs rep will join the panel "The Next Big Idea: Approaches to Innovation in the Corporate and Startup Worlds"
---
Comcast Technology Center, 27th Floor
1800 Arch Street
7 PM – 10 PM
Join us at the annual Philly Tech Week Signature Event that combines a reception with an interactive local technology expo party. It's a great way to celebrate a week of networking and innovating with Philly Tech Week attendees, sponsors, partners and event organizers. This is a ticketed event.
---
Don't Miss
Comcast NBCUniversal will host an esports gaming station, special lounge and photo booth. Plus, be sure to swing by to check out our sweet giveaways!

For a full list of all Philly Tech Week events, visit phillytechweek.com.