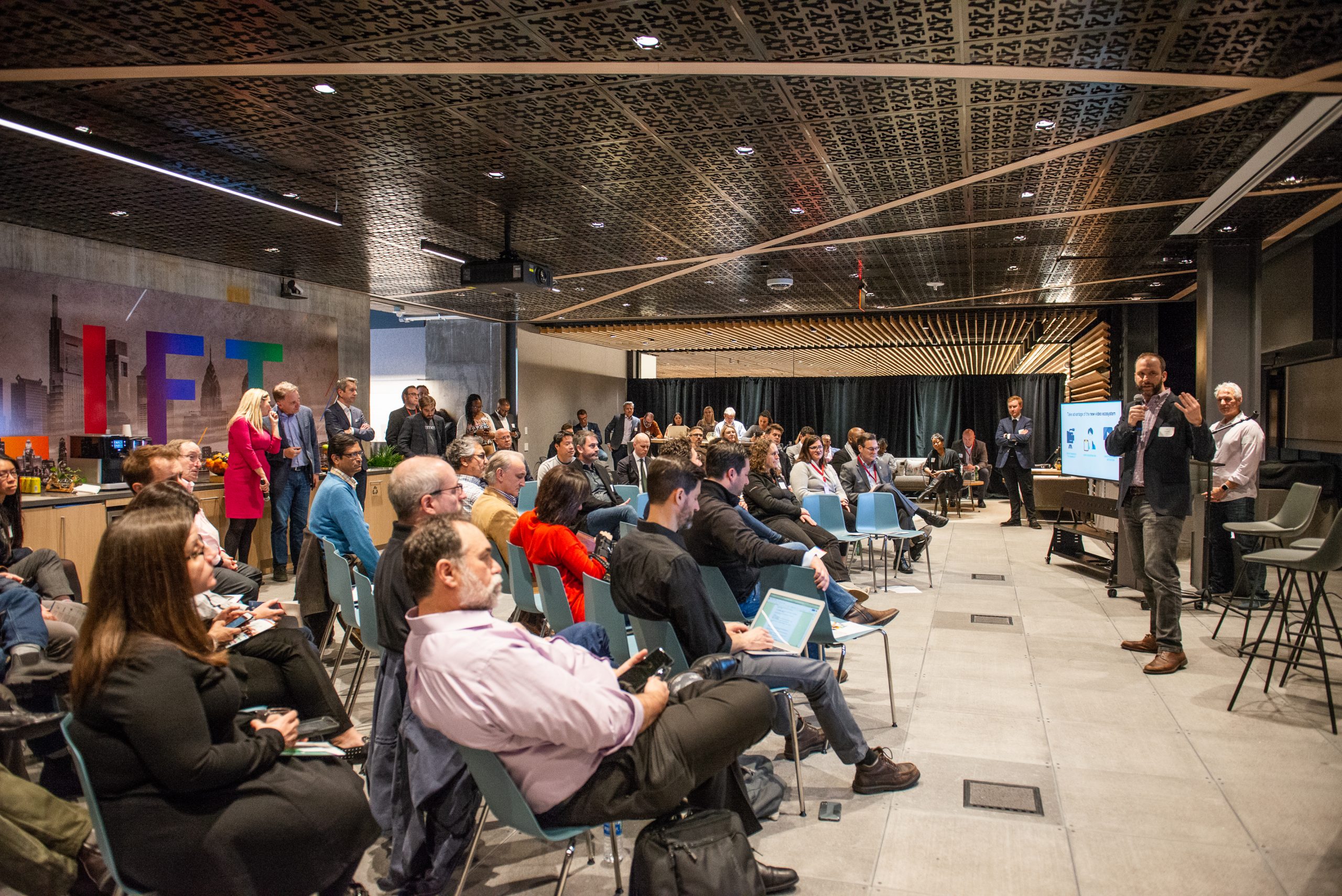 Corporations need innovative solutions. Startups are developing groundbreaking technology. Put them together and you'll get incredible outcomes.
Far too often, corporations don't know the perfect startup partner exists — and startup founders can't seem to break into large corporations. To offer solutions, LIFT Labs partnered with KITE for series of panel discussions at LIFT Labs PHL.
Like LIFT Labs, KITE is focused on bringing startups and traditional businesses together. LIFT Labs does it through programming in its new space, an accelerator, and personal outreach. KITE does it by offering a SaaS solution that helps organizations map, monitor and manage startup intelligence, activities, and collaboration on one platform.
Held at the brand new LIFT Labs PHL inside the Comcast Technology Center in Philadelphia, experts from Comcast, Techstars, Dow Chemical, and KITE offered plenty of advice to companies hoping to work effectively with startups. Here are five key lessons:
1. Mentorship should be at the heart of any partnership.
Startup founders may have the innovative technology you need — but they need knowledge and advice about growing their business or finding market fit. Leaders at large corporations can help them learn how to scale, introduce them to other potential clients, and help them focus on the most important aspects of their businesses.
"Mentorship is at core of everything we do," said Amy Smith, Senior Vice President of Product at Techstars. "We spend a lot of time talking about how businesses can be good mentors, advisors, and partners to startup CEOs."
Her advice to large corporations? Give first — without the expectation of a specific return.
"If you look at any one of our partners' websites, their core values include integrity, responsibility, and community. 'Give first' is essentially the same thing. It's not far from where they're operating already, we just shine a light on it," she said.
2. Be a startup champion inside your organization.
It's difficult for a startup to break into a large corporation and navigate large companies. Sam Schwartz, Comcast's Chief Business Development Officer, said it starts with one executive being a believer.
"You've got to find a champion inside the organization, somebody who really resonates with what you're trying to accomplish, with your culture, with the objectives you targeting — and then use that champion as a wedge in and somebody who can consistently help you get over the bumps and weather the storms," said Schwartz.
At Dow Chemical, Ed Greer is that champion. As the corporate innovation scout, he's constantly on the lookout for new business partners.
"Scouts like myself are that initial champion because we're the ones that developed a hypothesis of mutual value for the startup and the corporation — and we can sell it inside," said Greer. "Generally, if it's going to get transferred to a business unit, it's going to need a similar champion in the business, so the second job of the scout is to sell that person, get them to see that vision, and truly internalize it."
3. Don't crush a startup.
Remember that a startup is, well, a startup. They can't always handle the heavy load that large corporations may need, so remember to have manageable expectations.
"A large company like ours does things in enormous volumes and startups aren't resilient to enormous volumes in the beginning," said Schwartz. "We could put a heavy burden on them as things scale pretty quickly, but we take extraordinary extra steps to overcome that here."
Smith, from Techstars, tries to instill in corporate partners a level of empathy and understanding for what that startup founder is going through.
"Most of these companies, just like Comcast, were startups at one point in time," she said. "But that generally happened so long ago that sometimes it's not front-and-center for executives to think about."
4. Help startups navigate through bureaucracy.
Nothing can bog down a startup/corporate partnership like red tape. Startups don't have time to waste. They have a limited runway, limited funding, limited bandwidth, and pivot often. When dealing with corporations, startups need a "quick yes" or "quick no." But "long maybes" can be really detrimental.
Greer knows honest feedback is crucial. At Dow Chemical, he says startups and internal team members go through the same process for getting ideas approved. Not only has it helped startups navigate through the process of working with Dow, it's helped internal team members think like startups.
"Everybody has to use the same process, there's no skirting it," said Greer. "At the same time, it's teaching those internal people how to think, how to evaluate, and how to act like startups."
At LIFT Labs, Cohn and her team have been able to cut through the bureaucracy and red tape by working with executives, procurement, and legal teams before potential partnerships are even considered.
"We want to know in very beginning the things they've seen a million times, the things they're working diligently on that we shouldn't waste our time scouting," she said. "We've been proactive in asking that question and it's really helped the process."
5. Remember, working with startups lets you focus on what's most important.
Even the most talented teams can't execute on every single great idea. While there's a real temptation to go broad and wide, that doesn't typically lead to great products or groundbreaking innovations. It makes one concept all the more important in today's landscape: focus.
Matthew Zelesko knows this all too well. As the senior vice president for entertainment products and chief software officer, Zelesko has led the teams behind Comcast's video and entertainment products like the X1 platform. He loves working with startups — especially when their technology can complement the work his team is doing.
"A startup can move a little faster, go extremely deep in one area," said Zelesko. "We try to structure our teams as small startups working as independently as possible. We can also welcome in a small partner because they can fit into that ecosystem very easily."