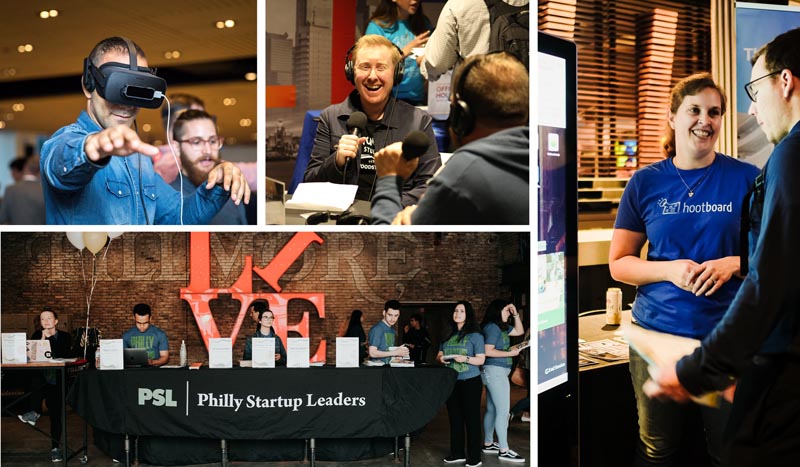 There's nothing quite like the Philly Startup Leaders Entrepreneur Expo during Philly Tech Week. The annual event brings hundreds of people from the Philly tech community and beyond under one roof. It's a time to connect with driven startup founders, meet motivated investors, and learn about the coolest technologies being developed in Philadelphia.
This year's Expo, held at The Fillmore, was no exception. Here are three tech trends we spotted at the jam-packed event:
Health tech is having a major moment
Healthcare technology is exploding across the country and this year's Expo featured a ton of homegrown talent in the space. The startups are helping hospitals reduce costs, helping families manage healthcare, and delivering better healthcare payment experiences. One health startup that caught our eye is Airapy. This startup makes mental health therapy more affordable for patients and providers by eliminating permanent office space and conducting sessions in non-traditional locations like coffee shops, parks, libraries, or shopping malls.
"If you enable walk-and-talk therapy, which has existed for decades and we did not invent, you can make therapy cheaper because therapists don't have to pay extensive overhead," said Rachel Cox, founder and CEO of Airapy.
Cox says the response so far has been overwhelmingly positive. "People are moved that someone is trying to do this," she said. "It's a very simple solution to a complex problem."
As for all the abundance of health startups that exhibited at the Expo, Cox said, "it's very inspiring and exciting, and I'm really glad Philadelphia is known as an innovative healthcare community."
The growth of esports means more tech jobs in Philly
Two major announcements have thrust Philadelphia to the forefront of the esports world: A $50 million esports arena coming to South Philly; and the Overwatch League grand finals coming to Philly in 2019. That's certainly not lost on the gaming companies exhibiting their products at the Expo.
Adam Nelson, founder and CEO of Philly Esports, a local tournament organizer hosting monthly events with cash prizes, says Philly "has a huge population of gamers chomping at the bit to play competitive esports. Philadelphia is going to be an epicenter of esports in the future."
Nelson said the stereotype of gamers playing alone in their parents' basements couldn't be further from the truth. "The scene is very welcoming. Players love to help each other, love to see each other succeed, and love to rally around players who are really good. It's a very positive community."
As esports grows, Nelson thinks it'll create plenty of jobs in Philadelphia.
"Expect plenty of esports jobs in Philly. You can be a shoutcaster — the same way somebody is on the radio announcing a baseball or football game. Plus, all the production, technology and logistics behind esports events. There are already jobs available, but five years from now there are going to be so many more. It'll be really fantastic."
Virtual Reality is going mainstream
It's not often that you hear about Philly being a hub for virtual reality — but VR demos were all over the place at this year's Expo. One game had users slicing through approaching boxes with a virtual lightsaber. Another had them put on boxing gloves and punch targets.
They came from Immersive XR and Dream Syndicate, two Philly companies hoping to bring the technology to wider audiences. Ben Carter, executive producer at Dream Syndicate says AR and VR are "the next big tech waves" because everybody has a smartphone in their pocket.
"Forward-thinking companies are figuring out ways to blend AR into daily interactions and entertainment opportunities. And VR is great because it's becoming more and more available with Oculus and Vive being in people's homes. There's an open market for applications."
Adam Twersky from Immersive XR, says Philly has a collaborative community working to bring the technology forward.
"It's definitely promising," he said. "The beautiful thing about this market is that even if you compete, it's friendly competition. People are excited to work together."