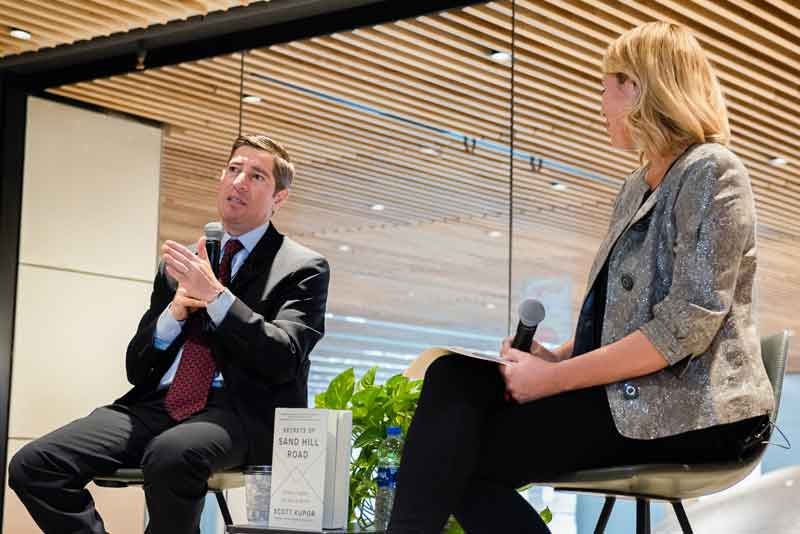 It all started at a Denny's in Sunnyvale, California. Scott Kupor met up with his old friend Marc Andreessen who laid out plans for an ambitious venture capital firm looking for its first employee. That firm was Andreessen Horowitz, where Kupor is now Managing Partner, and which now boasts more than $7 billion in assets under management and 150 employees.
"It's not where you think you'll have an interview for a company that's going to change the world," Kupor said during a visit to LIFT Labs PHL. "I promptly went home and told my wife — who was six months pregnant at the time, and we were closing on a house — that I was quitting a good paying job to work for a company that would maybe make me next to nothing. That's how the journey started."
That decision turned incredibly fruitful, as Andreessen Horowitz invested in successful companies like Skype (which sold for $8.5 billion in 2011), Github (acquired for $7.5 billion in 2018), and countless other high-profile tech companies like Twitter, Facebook, Coinbase, Lyft, and Oculus VR. Kupor not only had a front-row seat for the ride, he helped steer the ship and oversaw the firm's massive growth.
Throughout his career, Kupor gets the same questions from potential investors: Is my company a candidate for venture capital investment? How does venture capital even work? How do I protect myself from a bad deal? To answer those questions and pull back the curtain on the venture capital world, Kupor wrote The Secrets of Sand Hill Road.
"I wouldn't say there's distrust between entrepreneurs and VCs, but there's a healthy tension," Kupor told an audience of nearly 150 people at LIFT Labs PHL. "I thought my book could demystify the business and eliminate asymmetries that create unnecessary tension between the parties."
During an interview with LIFT Labs Director of Business Partnerships, Fielding Kidd, Kupor offered some sage advice:
Make sure your company is right for venture capital investment.
To find out, ask yourself these basic questions: Do you think your business can eventually go public? Do you think it'll result in a large-scale acquisition or merger? If so, the VC route is for you.
"If you're thinking this can be a nice $50 million business that I can run for the next 10 years, you should go do that — and you might make a ton of money, employ a bunch of people, and be very successful. But that's probably not going to fit with venture capitalists," said Kupor. "The threshold question is: what are your objectives as an entrepreneur, and do they match with the objectives of venture capitalists?"
Sell aspirin not vitamins.
Venture capitalists are hunting for need-to-have products and services. Kupor uses the analogy of vitamins versus aspirin. If you're commuting to work but forgot to take your multivitamin, you probably won't turn your car around and go back for the multivitamin. If you've got a raging headache, you'll go back for the aspirin.
"It's a good way to think about the products and solutions you're offering to the market. Are they so compelling and providing so much value that customers will obviously pay for them?" said Kupor.
Adopting new technology means changing attitudes and behaviors — and only the best products and services can illicit those changes.
"If you've got an aspirin – a must-have – you're likely to overcome that initial inertia that customers or businesses have which is, 'what I've got is generally good, but if this doesn't offer something 10 times better, why would I switch?' "
Define the market size (and make sure it's big.)
Investors like Kupor are looking for companies that could go public at some point — and that means a couple billion in market capitalization and probably $300 million to $500 million in revenue.
"We're not expecting a five or 10-year financial plan showing exactly how you'll get there, but help us understand how the magnitude of the problem you're solving could ultimately support something like that," he explained.
Show why your team stands out.
Is your company indicative of your life's work? Have you studied the topic for years? Are your team members thought leaders in your specific space? If so, you have what Andreessen Horowitz calls "earned secrets" — you know things nobody else knows, making you uniquely suited to drive disruptive change.
Explain how your product will evolve.
The Andreessen Horowitz team knows the product you pitch them will be far different than the one that goes to market. You're going to react to market feedback, pivot, and make mistakes. But to gain VC investment, you need to explain the "idea maze" you went through to create your product as it exists today, and show that you're malleable to market demands in the future.
"We want to feel like — even though the product you might develop will bear little to no resemblance to the product you pitched us — we're backing someone thoughtful of that process who is incorporating it into their thinking," he said.