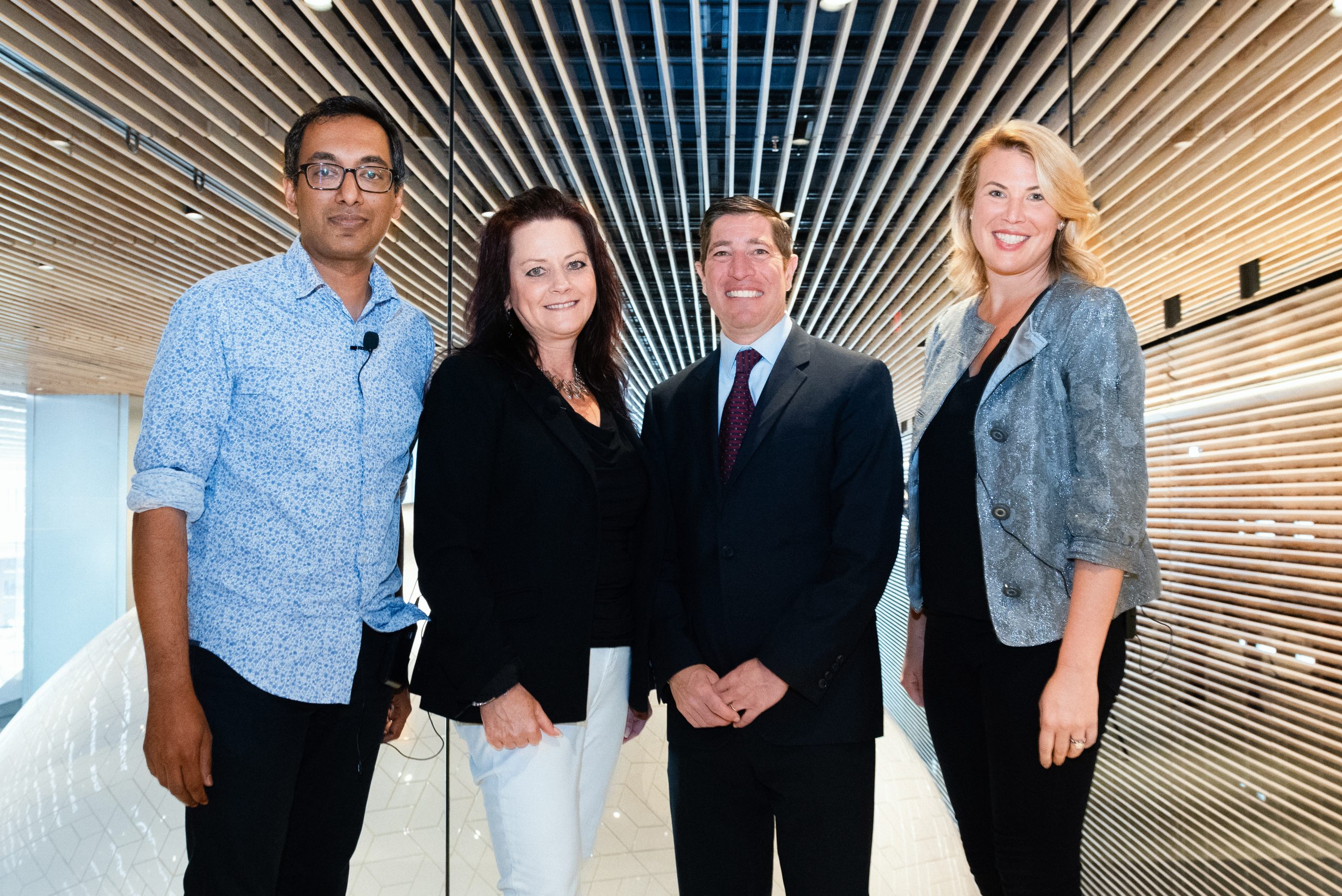 Tammi Jantzen and Apu Gupta have lived through experiences that any young startup founder would relish. They've received millions in venture capital funding, founded buzzworthy startups, and employed hundreds of people combined.
Jantzen is the co-founder of Astarte Medical, a precision medicine company using software and predictive analytics to improve outcomes during the first 1,000 days of life. Gupta is the CEO of Curalate, a social commerce company that received nearly $40 million in VC funding and employs 100 people in Philadelphia, New York, Seattle, and London.
They both stopped by LIFT Labs PHL to offer five important lessons they've learned during their careers.
1. The investor/founder relationship should be collaborative, not adversarial.
Too often, startup founders see their investors as adversaries. That leads founders to play up the positives rather than engage in honest conversations about where the business might be struggling. After years running Curalate, Gupta said he regretted having that mindset at times and realizes now that both parties want the same thing — a successful startup.
"There was this perception that you and your investors are on opposite sides of the table, that you have to package your information and put a spin on it with your investors. I've come to realize that's just wasted energy," said Gupta. "If you cannot have an objective, real conversation with your investors, you have the wrong investors."
Plus, your investors have an incredible window into strategies that work at different companies. Capitalize on that.
2. Don't be afraid to think bigger.
Two simple words helped Jantzen take Astarte Medical to the next level: think bigger.
As women, we tend to be a little more conservative about what we can do. We'd rather under-promise and over-deliver in general," she said. "But then we got advice from a new investor who said, 'there's a lot more potential here than you two are even imagining.' Thinking bigger was the best thing we could do because now we are definitely going way faster than we ever thought."
3. Your first employees are crucial. Make sure to hire "athletes."
A startup needs employees who can maneuver between different jobs, take on a variety of tasks, and do it all with a positive attitude. For Curalate, that person was their first hire, Brendan Lowry (who now runs Peopledelphia and Rory Creative).
"You've got to be a little crazy to join this thing that's in its infancy. You have no idea if it's going to go anywhere," said Gupta. "We just needed an athlete and Brendan was an incredible athlete. He stayed with us for six years and now is off doing some wonderful things. When we started the company, that's what we wanted — people who would go off and become entrepreneurs in their own right."
4. Your relationship with a co-founder is like a marriage. Make sure it's happy and supportive.
Jantzen can't value co-founder Tracy Warren enough. She's her sounding board. She's her sanity check, and she helps her get through the tough times.
"I've been fortunate to have worked with my cofounder for 20 years now, which is longer than most marriages," said Jantzen.
The two women have been on both sides of the venture capital world — co-founding Astarte Ventures, a fund dedicated exclusively to the health and wellbeing of women and children, as well as Astarte Medical, which received $5 million Series A financing in May 2019.
"I can't imagine doing it without having a co-founder I can trust and lean on," said Jantzen. "There are a lot of hard times before you get to that first round of institutional capital. We really relied a lot on each other."
5. Make sure your mental health is in check — and speak out if it's not.
There's a lot of pressure on entrepreneurs, especially those who receive millions in venture capital funding. Are they one bad decision away from losing cash for investors and putting talented employees out of work? There's a lot on the line and plenty are battling stress, anxiety, and depression.
Gupta said startup founders need to talk more about the pressures they face while trying to build successful businesses.
"We never talk about the middle. We talk about origins. We talk about exits. Almost every entrepreneur I meet, regardless of stage, even those who end up killing it, say it's just hard. It's so hard," said Gupta. "You have so few people who can relate to it and who you can actually talk with about it. You can't tell your employees what's going on. You end up internalizing a ton of it. And you carry it home at night."
Gupta found solace at a Soul Cycle class organized by TaskRabbit Founder Leah Busque in Toronto recently.
"The instructor basically did this session where he was just doing affirmations for 45 minutes with the entrepreneurs. It was transformative… Up until that time, what you're talking about has been so deeply part of what I've been dealing with for the past two years and I'm just done with it. I'm done with internalizing this stuff. Because it's not healthy and it doesn't help the business go faster."
Jantzen relies on her co-founder to discuss the stresses of running the business and to gain perspective.
"Over the past few years, when things weigh heavy on her, she uses me as a sounding board and vice versa. It's incredibly helpful," said Jantzen. "I find that when I go a week and we're not physically together, I start to feel withdrawal because I can't just talk to her about anything going on in the business. It's so incredibly powerful to have that relationship."