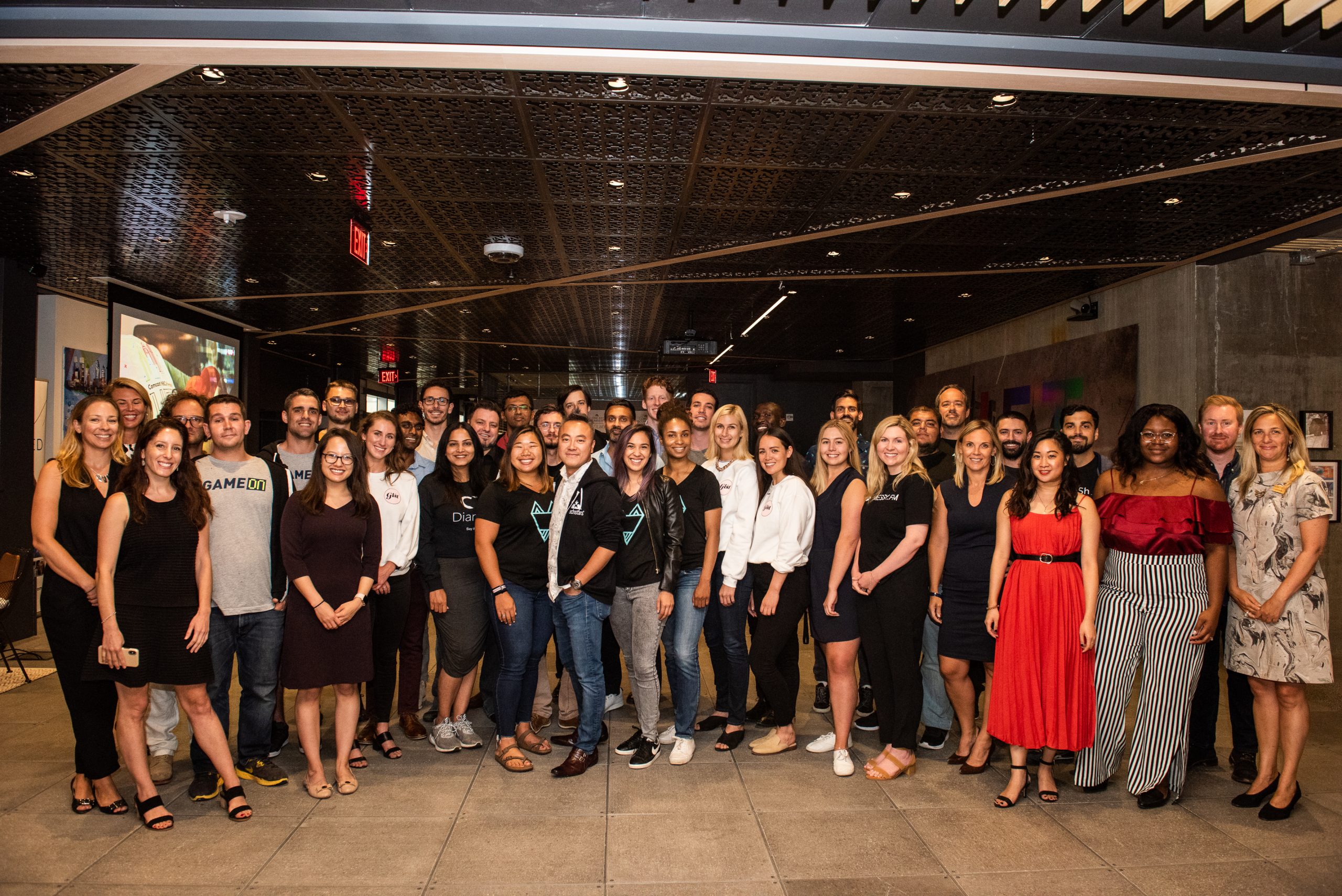 Eleven startups from around the world were selected among hundreds of applications focused on the next generation of connectivity, media, and entertainment
Philadelphia, PA – July 15, 2019 – Comcast NBCUniversal today announced the 11 startups selected for the second Comcast NBCUniversal LIFT Labs Accelerator, powered by Techstars. The startups were chosen from hundreds of applicants from 46 countries and whose businesses focused on developing the next generation of connectivity, media, and entertainment. They will call Comcast NBCUniversal's global headquarters in Philadelphia home for the duration of the 13-week program, which kicked off today.
The diverse selection of startups, which includes one-third of the companies having a female founder, will partner with mentors and teams at the new Comcast Technology Center in Philadelphia where LIFT Labs occupies an entire state-of-the-art floor dedicated to working with the startup community. They will also participate in custom workshops, training sessions, and business meetings unique to the company and its LIFT Labs program throughout the course of the accelerator.
"We are incredibly excited by the passion, drive, and foresight of the founders of these companies," said Sam Schwartz, Chief Business Development Officer, Comcast. "The program will provide them with support and access to Comcast NBCUniversal leadership, and help them push their boundaries in new ways to produce more competitive and successful businesses. At the same time, we will learn from some of the best new entrepreneurs in technology."
The immersive 13-week program positions the companies for possible partnerships with Comcast NBCUniversal's partners and brands. The startups will work directly with mentors and product experts from across Comcast NBCUniversal's businesses, including the XFINITY technology, product and experience teams; the NBC and Telemundo broadcast stations; NBCUniversal cable networks; Universal Studios; Universal Theme Parks; DreamWorks; Comcast Business; Comcast Ventures; Strategic Development; as well as mentors from Techstars' expansive network.
A selection committee made up of Techstars experts and leaders from several Comcast NBCUniversal business units screened the startup applicants working in four primary areas of focus: smart places, immersive + interactive experiences, digital-first customer engagement, and next-gen marketing.
The 2019 class includes:
Diana.ai, San Francisco, CA
Diana AI is a conversational business intelligence and analytics tool that enables non-technical users to access enterprise data and analyze it easily, using natural language via voice or text.
Founders: Geeta Banda (CEO) & Teja Nanduri

Edisn.ai, Bangalore, India
Edisn.ai delivers interactive and personalized content to sports fans by applying its AI-powered player recognition engine to live video streams in real time.
Founders: Ashok Karanth (CEO) & Akshay Chandrasekhar

GameOn, Brooklyn, NY
GameOn increases live sports engagement by turning complicated stats and odds into simple prediction games for the everyday fan.
Founder: Matt Bailey (CEO)

Messy.FM, Los Angeles, CA
Messy.fm is the all-in-one podcasting solution for businesses, brands, and individuals to record, edit, and publish unlimited episodes for free.
Founder: Molly Beck (CEO)

NICKL enables individuals and organizations to personalize and manage their digital content subscriptions in one place.
Founder: Sumorwuo Zaza (CEO)

Pivan provides advanced training and analytics for competitive gaming athletes, powered by computer vision and AI.
Founders: David Sturgeon (CEO) & Constantine Tsang

Respeecher uses AI technology to transform voices, allowing one person to speak in the voice of another.
Founders: Oleksandr Serdiuk (CEO), Grant Reaber, & Dmytro Bielievtsov 

Sporttrade is a free prediction market where users can buy and sell outcomes of sporting events like stocks.
Founders: Alexander Kane (CEO), Greg Scott, & Henry Fuz

Struct Club elevates how music-inspired fitness instructors choreograph and deliver classes.
Founder: Amira Polack (CEO)

TakeShape enables one-click integrations that allow developers to easily combine data from the JAMstack without having to write new code.
Founders: Mark Catalano (CEO) & Andrew Sprouse

The GIST, Toronto, Canada
The GIST provides sports content, experiences, and community for women.
Founders: Roslyn McLarty, Jacie deHoop, & Ellen Hyslop
Techstars' veteran, KJ Singh, will serve as the Managing Director of the 2019 accelerator. He has run 10 accelerator programs at Techstars since 2013, and invested in over 100 companies that have gone on to raise over $300 million from top-tier angel investors and VCs. KJ will advise the selected startups on product/market fit, a data-driven approach to growth and acceleration, and fundraising strategies that lead to results.
"We are excited to welcome 11 companies working to transform the connectivity, media, and entertainment space to this year's program," said KJ Singh, Managing Director of the Comcast NBCUniversal LIFT Labs Accelerator, powered by Techstars. "These startups have access to both Techstars' proven methodology and Comcast NBCUniversal's significant expertise across the industry. The advantage and opportunity this Techstars and Comcast NBCUniversal partnership provides founders was the reason why I wanted to be a part of this program – it's not just Techstars…we have an incredible committed partner that is rolling up its sleeves and getting to work to help these companies innovate and grow."
At the conclusion of the accelerator on October 10th, the companies will pitch their businesses to hundreds of investors, mentors, Comcast NBCUniversal leaders, and members of the tech and startup community during Demo Day in the Ralph J. Roberts Forum in the Comcast Technology Center. In addition, each company will have access to work space at LIFT Labs in Philadelphia until June 2020.
As a result of the inaugural Comcast NBCUniversal LIFT Labs Accelerator, powered by Techstars in 2018, eight out of 10 of the startups secured partnerships or pilot programs with Comcast NBCUniversal businesses.
The accelerator is part of Comcast NBCUniversal LIFT Labs for Entrepreneurs, a collection of programs that give talented entrepreneurs access to Comcast NBCUniversal's renowned network of partners, brands, and mentors to foster rapid breakthroughs in connectivity, media, and entertainment.
Comcast has a long history of supporting startup communities, and LIFT Labs is just one of the many ways in which entrepreneurs can gain valuable access and insights to Comcast NBCUniversal. Comcast launched its first venture arm in 1999, and in 2010, Comcast Ventures was formed and has since grown into one of the most active corporate venture arms in the country. LIFT Labs offers programmed talks, mentor sessions with industry leaders from Comcast NBCUniversal and its partners, plus events and other educational resources designed to help entrepreneurs grow and launch their businesses. For more information, including access to free resources, visit www.ComcastNBCULIFT.com or follow @LIFT_Labs on Twitter, Instagram or Facebook.
---
About Comcast Corporation
Comcast Corporation (Nasdaq: CMCSA) is a global media and technology company with three primary businesses: Comcast Cable, NBCUniversal, and Sky. Comcast Cable is one of the United States' largest video, high-speed internet, and phone providers to residential customers under the Xfinity brand, and also provides these services to businesses. It also provides wireless and security and automation services to residential customers under the Xfinity brand. NBCUniversal is global and operates news, entertainment and sports cable networks, the NBC and Telemundo broadcast networks, television production operations, television station groups, Universal Pictures, and Universal Parks and Resorts. Sky is one of Europe's leading media and entertainment companies, connecting customers to a broad range of video content through its pay television services. It also provides communications services, including residential high-speed internet, phone, and wireless services. Sky operates the Sky News broadcast network and sports and entertainment networks, produces original content, and has exclusive content rights. Visit www.comcastcorporation.com for more information.
About Techstars
Techstars is the worldwide network that helps entrepreneurs succeed. Techstars founders connect with other entrepreneurs, experts, mentors, alumni, investors, community leaders, and corporations to grow their companies. Techstars operates three divisions: Techstars Startup Programs, Techstars Mentorship-Driven Accelerator Programs, and Techstars Corporate Innovation Partnerships. Techstars accelerator portfolio includes more than 1,700 companies with a market cap of $20 Billion. www.techstars.com
---
Media Contacts:
John Demming
Comcast Corporation
215-286-8011
John_Demming@Comcast.com
Ali Donnermeyer
Techstars
603-498-5965
Ali.Donnermeyer@techstars.com