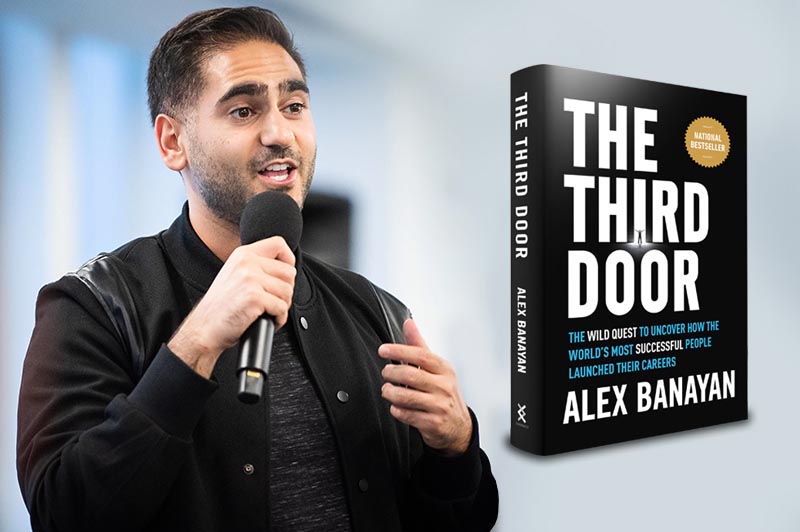 BY ALEX BANAYAN, BESTSELLING AUTHOR OF THE THIRD DOOR 
We've all been there.
Whether you're starting a business, applying for a job, or even writing a book, rejection and failure are natural parts of the entrepreneurial journey.
And the bigger your dream, the more rejection you're bound to face.
I learned the hard way. Seven years ago, when I was 18 years old, I set off on a quest to interview Bill Gates, Lady Gaga, Steve Wozniak, and dozens more of the world's most successful people to uncover how they broke through and launched their careers. The journey is chronicled in my new book The Third Door, which is now a national bestseller.
When I first set out to get the interviews, I assumed this would be a three month summer project. Never could I have imagined it would be a multi-year journey filled with a flurry of rejections, leaving me beaten and pummeled at every turn.
So how did I make it through the storm? How can entrepreneurs find that energy within themselves to bounce back in the face of unimaginable failure?
 Well, two things saved me over and over again. And they weren't what I expected.
1. FIND YOUR WILSON

About halfway through my journey of The Third Door, I set off on an eight-month quest to track down Warren Buffett. I'd seen him say in interviews how much he loved meeting with college students so I assumed I was golden. I decided that getting an interview with Buffett would be my only focus until I made it happen.
That was the biggest mistake I could make.
I sent multiple letters to his office and called his assistant week after week. The answer was no. But I kept at it. After three months of rejections, I felt defeated. After six months, I found myself sobbing in a Motel 6 in Omaha.
It felt like I was in the movie Castaway where Tom Hanks is on an island all alone, with little chance of survival and no one to turn to. Hanks ends up treating a Wilson brand volleyball like his best friend. When things got dark, he'd look to Wilson.
In hindsight, like Hanks' character, I discovered the one thing that stopped me from throwing in the towel – it was thinking back to why I'd started in the first place. 
I had this belief that if all these people came together – not for press, not to promote anything, but really just to pass along their best wisdom to the next generation – young people could do so much more. That belief was my Wilson; the thing I turned to when I was desperate. 
Now, don't get it twisted. I didn't turn to that core belief and jump out of bed the next morning. Instead, it felt like the one thread that kept me hanging on. But, that's all you need to stay the course.
2. FOCUS ON THE WAR, NOT THE BATTLE

There's a pervasive message in the entrepreneurial community that tells people to wake up at 4 a.m., take no days off, never stop hustling, fail fast and often, and that rest is for suckers.
You know what I have to say to that? Take a nap!
Learning from your failures is great in the long run, but in the short term, failures hurt. Add sleep deprivation and financial constraint on top of that and you're headed for disaster. So, take a nap. Go for a walk. Turn off your phone. Watch a movie.
Sure, optimizing your time is great and wasting time is bad. But you know what's worse? Burning out to the point that you completely give up. Optimizing your time and hustling is the battle. Staying the course for the long run is the war.
There have been dozens of times when I wanted to give up on The Third Door. But after sleeping for a couple of days and spending time with my friends, I was back at it.
Don't obsess over the battle to the point that you lose the war.
WHERE TO GO FROM HERE
It's not rocket science. But, it is counterintuitive to many of the messages we're hearing from the entrepreneurial community in 2019.
It doesn't matter if you're a seasoned entrepreneur or if you're applying to your first accelerator (my favorite is run by Comcast NBCUniversal LIFT Lab and Techstars. LIFT Labs sponsored The Third Door book tour), just know that no matter how much rejection you face, no matter how beaten you feel, at the end of the day, there's always a way.
It's up to you to stay the course.
 ###
ALEX BANAYAN is the author of the national bestseller The Third Door, which chronicles his seven-year quest to track down Bill Gates, Lady Gaga, Warren Buffett, Maya Angelou, Steven Spielberg, and dozens more of the world's most successful people to uncover how they broke through and launched their careers.
Banayan has been named to Forbes' 30 Under 30 list, Business Insider's Most Powerful People Under 30, and been featured in major media including Fortune, Businessweek, Billboard, CNBC, Fox News, MSNBC, and CBS News. To learn more about The Third Door, click here.
And to learn more about Comcast NBCUniversal LIFT Labs, which powered The Third Door book tour, click here.