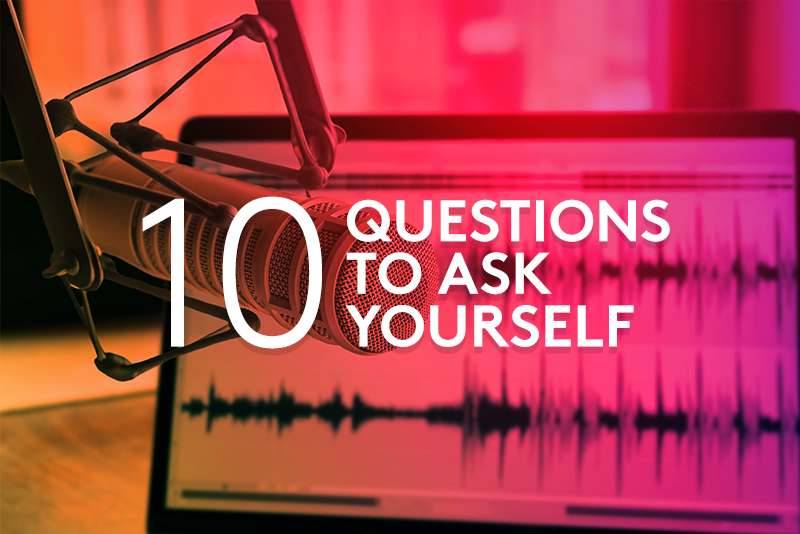 Want to start a podcast but not sure where to begin? Wondering what equipment to buy? Curious about how to grow your audience? 
Molly Beck has you covered.
She's the founder and CEO of Messy.fm, an all-in-one podcast production platform that makes it possible for novice podcasters to record, edit, publish, publicize, and monetize podcasts on the Messy.fm site. Think of it as WordPress for podcasting. 
Beck firmly believes there's significant demand for podcasts and they can great results for businesses. Why? There are 165 million podcast listeners and only slightly more than 500,000 podcasts being updated regularly, demonstrating a major gap between the amount of content available and the amount of people desiring to listen to it. Translation: Start your podcast. Now.
But before you do, ask yourself these 10 questions:
1. What will you talk about?
The content you like consuming will typically work best in your podcast. Beck suggests asking yourself:  What is the type of content do I wish there was more of? What sections of a bookstore do I gravitate towards?
2. What type of host are you?
Expert: A subject-matter expert explaining what you know.
Interviewer: Chatting with guests to learn about their lives or their areas of expertise.
Journalist: Many reporters pursue podcasts, researching stories on an array of genres, whether it be news, business, sports, culture, entertainment, history, and more.
3. What equipment do you need?
Microphone. The costs to start are relatively low.  Some platforms (like Messy) don't require a microphone, but if you choose to get one, Beck recommends two affordable options: the Audio-Technica ATR2100 (around $60) or the Blue Yeti Microphone (around $120).
Recording and editing platform. You'll need a program to record and edit your podcast. Examples are Messy, Skype, Squadcast, and Zencastr.
A recording studio or just a quiet space. A soundproof studio is optimal but not necessary. A walk-in closet, a bathroom without windows or even your car can substitute as a recording studio. 
4. Do you want a co-host?
Sure, they need to share your vision for the show, but perhaps more tactically, they must have the same schedule. "I cannot tell you how many people have started a podcast with a co-host, but couldn't make their schedules line up and the show died," said Beck.
5. Do you want guests?
Guests are great for interviews, or expanding subject-matter knowledge. But there is another reason to have guests on your show — exposure. Your guests will share your podcast with their audiences on social media and that could expand your podcast's reach considerably. (More on that later.)
6. How often will you publish your podcast?
Beck recommends publishing new content on a consistent basis. But that doesn't mean you debut a new show every Wednesday from now until eternity. Instead, plan out a Season One of your podcast — say eight to 10 episodes. If it's going well, roll right into Season Two. If not, take some time to make tweaks to the format before you launch new episodes.
7. How do I publish my podcast?
You'll need two things:
Hosting platform/RSS feed. Your podcast will live on an RSS feed and automatically publish new content to listener directories. 
Listener directory. This is where listeners will actually find your podcast. Examples are iTunes, Spotify, and Google Play.
8. How to do I grow my audience?
Guests. Do they have an audience that's comparable (or even larger) than yours? Is their audience in your target market? Then they're probably a good fit. Be really strategic about who you invite on your show, because they can help the reach of your show grow larger.
Cross-promote with other podcast hosts. Be a guest on their podcast and ask them to appear on yours. 
Press. When you launch your podcast, reach out to local and national media. Even more effective is becoming a value-add for the media. Perhaps one of your podcast guests shared experiences working in Hollywood or broke some news on your show. Pitch it to the press and try to get them to mention your podcast.
Have a launch party. The ticket to the party? Have guests show their phones that they've downloaded, rated and reviewed your new podcast. It's a way to get 20 to 25 new reviews your very first day and generate some buzz around your show. 
You. Promote your podcast everywhere you have online real estate — Twitter, Facebook, Instagram, and even your email signature can help grow your audience.
9. How can I monetize my podcast?
Promote your own business. Use your podcast to entice listeners to become clients or customers.
Listener support. Most platforms have a "tip jar" feature that takes credit cards.
Live events. Do a live podcast and charge for tickets. This works particularly well for location specific shows. 
Sell ads and sponsorships. In general, you'll need 5,000 downloads per episode to be attractive to sponsors. 
Become part of a network. They'll sell ads on your behalf. You'll need around 15,000 listeners per episode to get the attention of a podcast network.
10. What metrics should I measure?
The main metric is average downloads per show. Take your total number of listens and divide them by the number of episodes. This is the metric advertisers, sponsors and potential guests want to see.