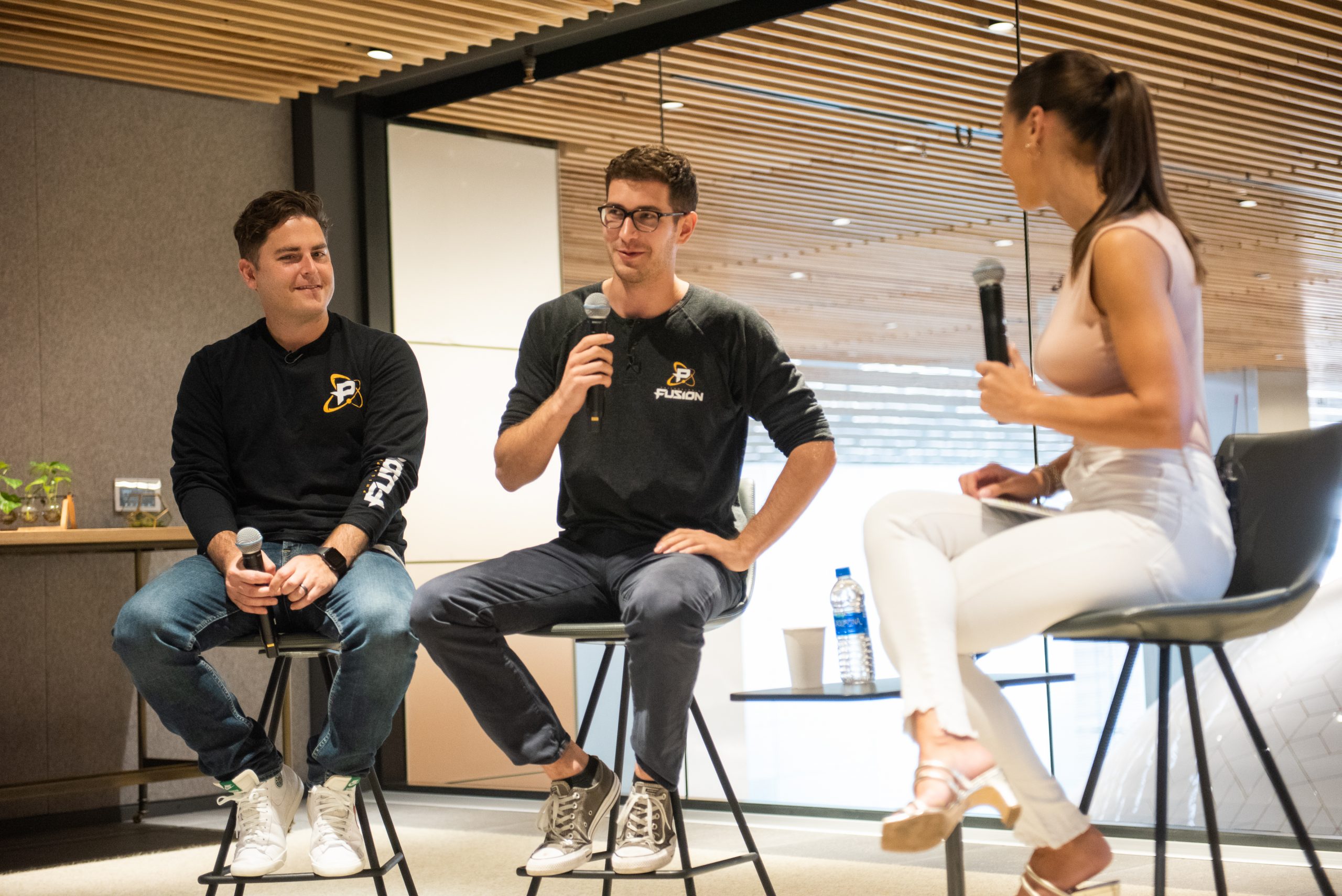 From a very early age, Tucker Roberts loved playing video games. He entered his first competition at nine years old — a Pokemon Blue and Red tournament at the local shopping mall.
"I got through three rounds then lost to a grad student at Penn who went on to become a doctor," Roberts recalled. "He beat me and I started crying."
Esports competitions have evolved significantly since then — and Roberts is helping to fuel the industry's rapid growth. After college, he worked at Activision where he helped launch a $1 million Call of Duty tournament. After seeing the reaction from fans, he knew this wasn't just fun and games — it was serious business.
"I couldn't believe there were so many people showing up to see people play video games," said Roberts. "For me, that was eye-opening."
Now, Roberts is President of Spectacor Gaming and the Philadelphia Fusion esports franchise, a part of Comcast NBCUniversal. The Fusion compete in the Overwatch League and came in second place in the Grand Finals in 2018 — which garnered 10.4 million worldwide viewers. It's Comcast's first foray into the wildly popular esports market.
Roberts visited LIFT Labs along with Joe Marsh, CEO of T1 Entertainment & Sports and former Chief Business Officer of the Fusion, and discussed why they strategically partner with esports startups; why they're pushing for more involvement from female players; and what the future of esports might look like.
Here are some highlights:
Every industry seems to have gone mobile, but competitive esports is still played on PCs or consoles. Is mobile gaming poised for serious growth?
Roberts: Mobile is really interesting for a couple reasons. It has 100% market saturation in terms of who owns a mobile device. Everyone has a phone. That means mobile offers a wider audience and much wider demographics to reach. In China, the most popular mobile game is Honor of Kings. It has 250 million daily active users. Crazy numbers. It's 50/50 in terms of gender split. For the finals, everyone with the app was pinged with a notification to watch it. That wide distribution has never been done before. The NFL doesn't have anything like that in terms of direct-to-consumer activations. I think mobile is radically game-changing. China basically skipped consoles entirely. The American market isn't quite there yet, but I think we'll be there soon.
You're working with Pivan Interactive, a startup from the 2019 LIFT Labs accelerator. Their product uses analytics and artificial intelligence to train esports athletes. Why was that a good match?
Roberts: If you were to go to an average high school soccer game, what analytics are being collected? None. With gaming, it's much easier to collect data at scale. A lot of amateur gamers see this as a path to pursue going pro, whereas not as many people are pursuing a professional career in professional sports. There's a growing demand for tools like the ones Pivan is building, so it's an interesting pairing that could lead to scouting, development camps, and a lot of potential business.
Marsh: Once Fusion Arena is here in 2021, we plan to program the venue with amateur tournaments and training events on days that there are not any large-scale events scheduled. Pivan will be an important partner at these events since we plan to leverage their software to help train amateur players, in addition to our pro players. The next generation of gamers are using Pivan to improve. Not everyone starts out as a pro and only a small percentage of gamers go professional. By using Pivan's technology to improve players' skills, we hope to help players in the amateur scene get on the big stage and even be on the Fusion team one day.
Tell us a bit about the new $50 million, 3,500-seat Fusion Arena coming soon to South Philadelphia?
Marsh: It's going to be a technology hub and premier esports destination for the East Coast. Nobody will get to see a lot of the cool stuff at the arena because it's all in the bones — the tech behind the experience. Fans of gaming are second-screen users. At live events, they need to get on Twitch and Instagram and stay connected. The way we're wiring the building, they won't lose connectivity for the two-and-a-half hours they're at the event.
The player walkout tunnel sounds incredible. Tell us about it.
Marsh: We have a tunnel that's lit with LEDs and linked to music for the Fusion team. The lights will sync with whatever song a player chooses to walk out to — rap, EDM, or K-pop.
Talk about gender diversity among esports athletes. It appears to be male-dominated.
Marsh: Esports needs more opportunities for women. That's a big initiative for Spectacor Gaming. It's not just about the competition or forming a women's team — it's about building teams behind our professional teams that are as diverse as possible. We're focused on engaging and empowering women to get more involved on all levels of gaming and esports, which includes pursuing a career in this ever-growing space.
Overall, accessibility and inclusion set esports apart from every other sport, since you don't have to be strong, tall or fast to play, right?
Roberts: It's all genders playing in one league. It's all ages, all nationalities. It's truly a unifying force. Hockey is really big in America but how big is it in China or Brazil? Fortnite is big everywhere and gaming is popular everywhere. That really sets it apart.
To read more inspiring startup stories and to stay connected to Comcast NBCUniversal LIFT Labs, sign up for our newsletter and follow us on Twitter.