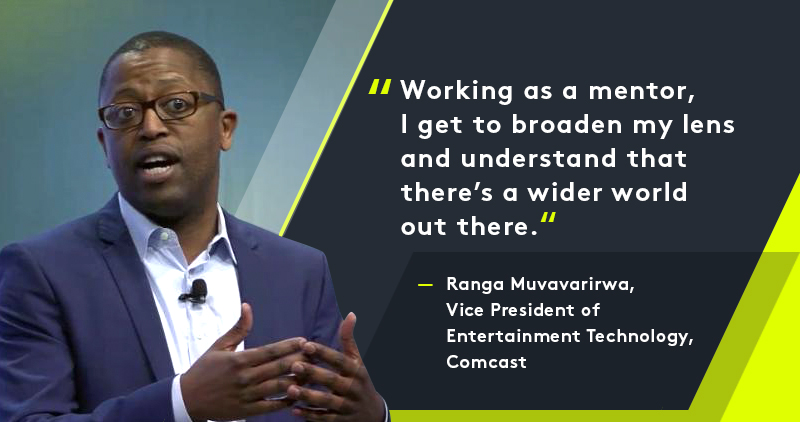 Ranga Muvavarirwa loves working alongside startup companies. The ambitious founders, fast pace, and focused determination inspire the Vice President of Entertainment Technology at Comcast  — and offer a glimpse into new technologies being built outside the Comcast ecosystem.
This summer, Muvavarirwa worked with GameOn, a startup that offers simple sports prediction contests through its mobile app. Muvavarirwa and the GameOn team ran a pilot during a football game, where they tested it as an in-venue experience at bars and restaurants and let patrons play against one another.
We spoke to Muvavarirwa about his mentorship experience through the Comcast NBCUniversal LIFT Labs Accelerator, powered by Techstars, and learned how it helped him gain new perspectives on future technology.
What intrigues you about GameOn?
Within Comcast Business, we have a venue-based video service for bars and restaurants where we are able to offer Xfinity services. And, we're always exploring ways to enhance the overall experience. I was intrigued by GameOn's ability to create a new, interactive way for an audience to engage with sports. So, we piloted with GameOn at a local venue for an NFL Thursday Night game and were able to see tie-ins for the business such as creating leagues, monetization opportunities, and building excitement around sporting events.
What do you get out of mentorship professionally and personally?
Professionally, it helps me understand that the range of strategic opportunities is wider than even a well-resourced company like ours can achieve. Working as a mentor, I get to broaden my lens and understand that there's a bigger world out there. Personally, I like to work with people who are energized, entrepreneurial and have a sense of purpose about what they want to do. Entrepreneurs have this almost existential aspect to every decision they face in the business.
How does mentorship help Comcast?
As we think about how to deepen our relationship with customers in the face of competition, we've got to constantly expand the funnel and widen our lens to keep reframing the opportunity set for our customers. These startups are delivering ways we can bring new experiences to our portfolio and can help us scale out our development and innovation teams. The startups have a perspective that there's a lot more that's possible than what our eyes can see — and that's incredibly valuable to Comcast.
You're also working with Struct Club and The Gist. What do you find compelling about those startups?
When you start an entity, a key part of success is the founder's vision, passion and perspective. Amira Polack from Struct Club has those three combined. Struct Club allows fitness instructors to curate their own playlists in a simple and effective way, reducing prep time. It's a very scalable go-to-market formula. Meanwhile, The GIST has identified an incredibly embarrassing blindside in sports — that the customer-experience is very male-oriented. So they're delivering sports news for women, by women. There is a large audience that wants a particular perspective on sports that's incredibly underserved.