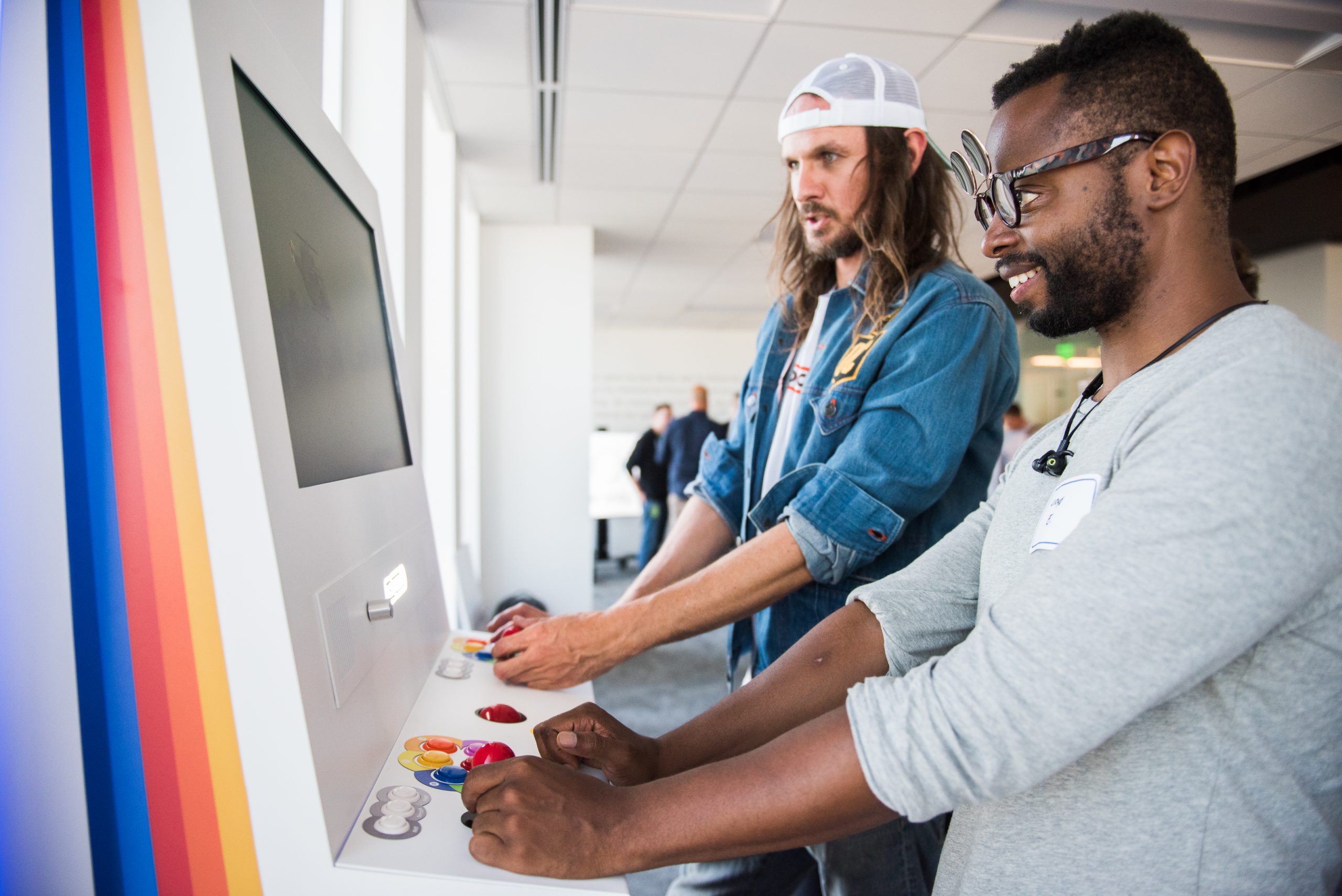 Polycade uses influencer marketing to spread the word about its modern/retro gaming system.
Influencer marketing can create buzz that rivals even the most expensive advertising campaigns. When people see their favorite celebrities or tastemakers raving about a product, they're more likely to get interested themselves.
The team behind Polycade knows this all too well — and they've been empowering customers to share social stories about the joys of playing their arcade system that blends old-school and new-school gameplay. The strategy works like a charm when your customers are celebrities like Lil Jon, Juelz Santana, and DJ Steve Aoki. When the rappers and DJ share content about Polycade on Instagram, it increases Polycade's exposure immensely. Steve Aoki has 8.4 million followers. Juelz Santana has 2.1 million. Lil Jon has 650,000. That's some serious reach.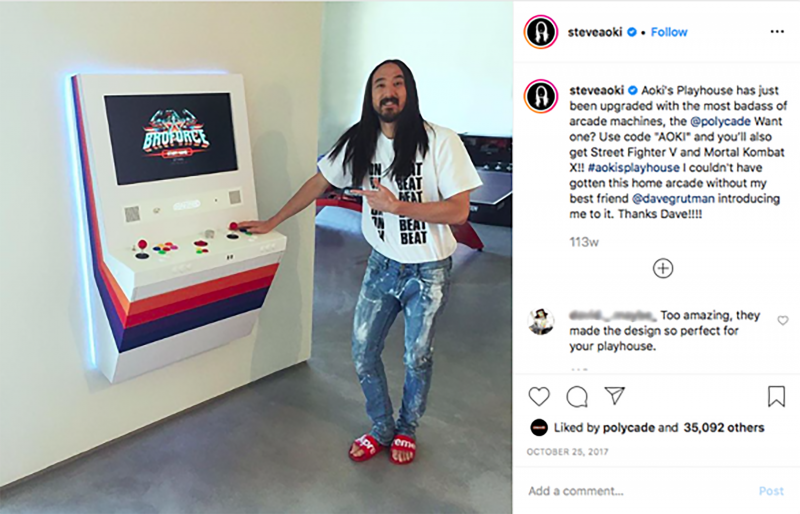 Photo courtesy of Steve Aoki's Instagram
"We feel blessed every time someone shares their Polycade experience on Instagram — and when it's someone with a massive audience, it's that much more valuable to a growing startup like us," said Polycade co-founder and CEO Tyler Bushnell.
Working with celebrities has led to some pinch-me moments for Bushnell, who sometimes finds himself shoulder-to-shoulder playing video games with his celebrity clients.
"I helped Lil' Jon get his machine set up. He's a super nice guy. We spent some time playing Street Fighter V," said Bushnell. "Good times."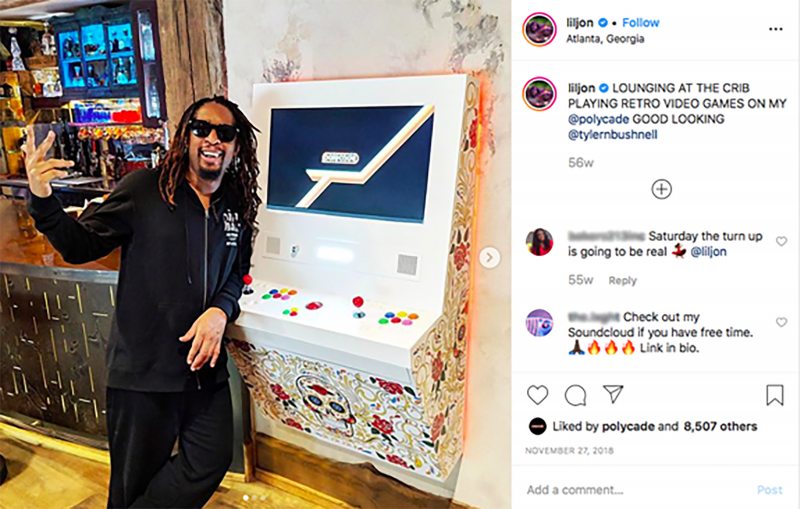 photo courtesy of Lil Jon's Instagram
The popularity of Polycade has soared since Bushnell and COO Jake Galler participated in the Comcast NBCUniversal LIFT Labs Accelerator, powered by Techstars in 2018. For 13 weeks, the co-founders worked side-by-side with executives and mentors from inside and outside of Comcast, refining their elevator pitches and business models. Since then, the startup has grown consistently and is poised to disrupt the $100 billion gaming industry.
Polycade now has 10 employees, opened an office in the Arts District of Los Angeles, and is planning regular events and meetups to drive community and continue getting feedback on the arcade system. The team has also been laser-focused on finding great, independent games that don't get the same exposure of the larger titles.
"Someone can release a fantastic game and nobody will ever know about it because it doesn't catch the public eye," said Bushnell. "A big focus for us is digging up awesome titles that nobody can find. We strongly feel that the game you never heard of is about to be your favorite game."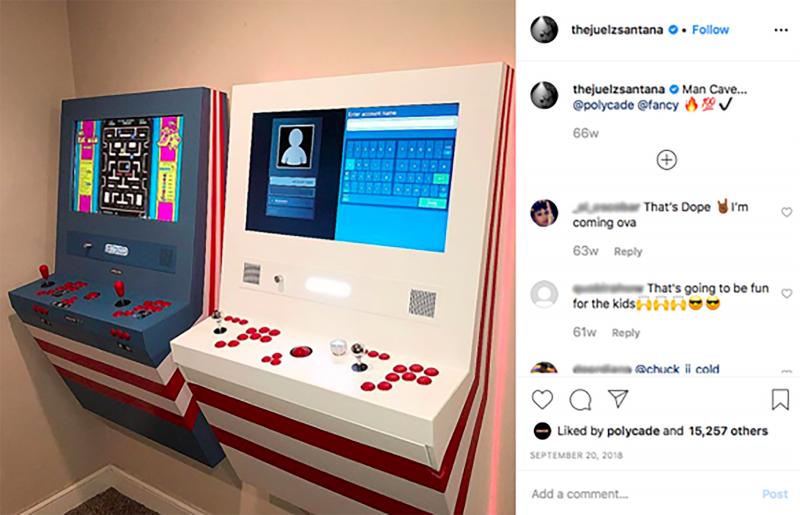 photo courtesy of Julez Santana's Instagram
While Polycade is free for players in locations like offices or private homes, the company also offers a paid service for patrons at bars, restaurants, and public venues across the country. Users pay with credit cards or smartphones and log in to reveal and preserve their high scores. Expect a Polycade mobile app very soon to make the process even more seamless.
Said Bushnell: "It's just another way we're updating the arcade for the digital age."
One more sign of startup success? A spot in the office of the fictional Pied Piper on the HBO hit series Silicon Valley (as seen in this screenshot from Polycade's Instagram feed.)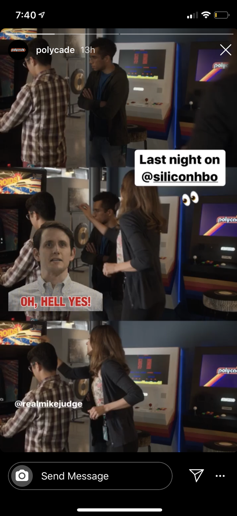 To read more inspiring startup stories and to stay connected to Comcast NBCUniversal LIFT Labs, sign up for our newsletter and follow us on Twitter.