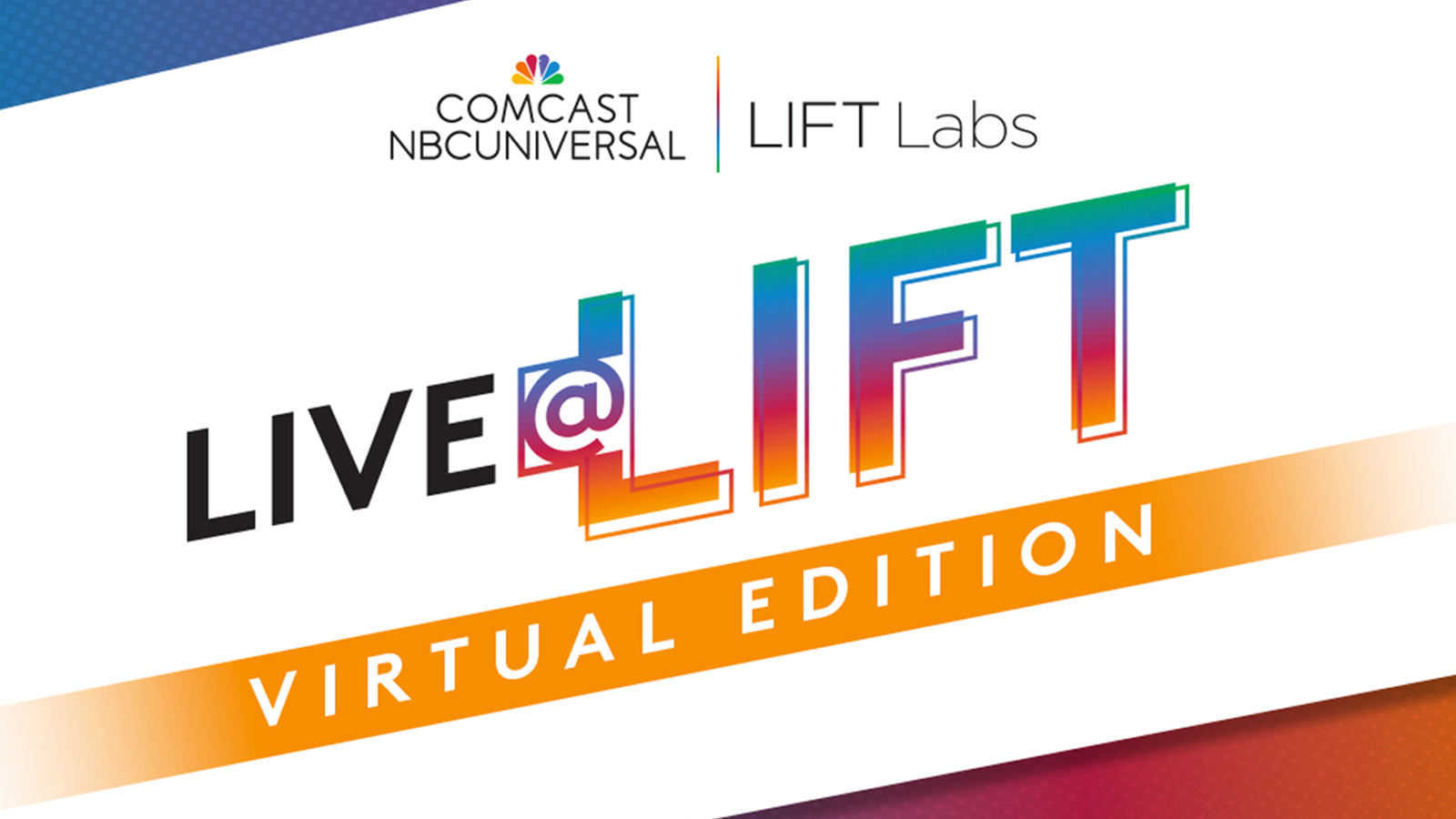 New virtual event series brings together seasoned entrepreneurs, global startup leaders and experts from Comcast NBCUniversal to address top founder concerns during the global pandemic
At Comcast NBCUniversal LIFT Labs, we are committed to helping startups build and grow their companies by connecting them with industry experts and leaders from Comcast NBCUniversal and our partner networks, who provide guidance and mentoring to face a variety of challenges.
During this unprecedented time, many startups need more support than ever as they navigate unique issues such as how to adjust your business model in a crisis, how to make a distributed workforce productive, and how to market your company during a downturn, among many others.
That is why we have launched a new virtual event series: LIVE@LIFT: Leading Your Company Through a Crisis, to connect founders with a wide network of entrepreneurs, technology leaders, renowned authors and experts with relevant experiences.
Entrepreneurs can find original solutions to the challenges the world now faces, and by bringing together experts and leaders from all over the world, we can help spark innovation.  We are excited to welcome upcoming guests, including Andre Iguodala, NBA star, author and venture partner at Comcast Ventures; Cal Fussman, journalist and New York Times best-selling author; Fatima Husain, principal at Comcast Ventures and co-manager of the Catalyst Fund; Yancey Strickler, cofounder of Kickstarter, and; Emily Heyward, chief branding officer of Red Antler. These guests will cover topics selected based on feedback from founders during this time and offer perspectives unique to LIFT Labs' network and areas of expertise. These free webinars are open to all attendees.
In addition to this special event series and supporting our portfolio companies, our startup engagement team is curating and distributing content from our partners, including Bunker Labs, Comcast Ventures, Startup Grind, Techstars and more. Our Atlanta-based accelerator, The Farm powered by Boomtown, has shifted its program to virtual and will host an online demo day in June; and the LIFT Labs accelerator, powered by Techstars has moved to a September start date. We launch LIFTOff this month, our enterprise-ready, proof of concept program, focused on the solutions for home accessibility.  
All resources, including event replays and podcasts featuring extended conversations with some of our guests, can be found here.
————-
LIVE@LIFT: Lessons From World Icons and the Power of Storytelling for Startups with Cal Fussman – May 14, 2pm-3pm ET
Cal Fussman is a legendary New York Times best-selling author and journalist (Esquire) who has interviewed hundreds of the world's most influential individuals over the past four decades. He knows how founders can create compelling stories around their businesses and the right questions to ask as they lead their teams through uncertain times and consider future opportunities.
LIVE@LIFT: Leading through a Crisis: a Practical Guide for Founders with Fatima Husain – May 20, 1pm-2pm ET
As a principal at Comcast Ventures and co-manager of Comcast Ventures' Catalyst Fund that invests in African American, Latinx, and female founders, Fatima is helping countless first-time founders navigate this crisis. In this session she will share practical tips on maintaining trust, preparing and planning for the worst, and focusing on what you can actually control.
LIVE@LIFT: Startup Marketing in a Crisis – May 28, 12pm – 1pm ET
What's the best way to market a product mindfully and empathetically given the pandemic? What stories resonate the most at times like this? How can you communicate with customers most effectively when you can't see them in person? In this session, an incredible group of marketing experts and practitioners will discuss how entrepreneurs can continue to tell their company's story and grow their business in a world where COVID-19 has flooded news cycles and social media feeds. Featured speakers include Gina Bianchini, CEO and Founder of Mighty Networks; Tina Wells, CEO and founder of Buzz Marketing Group; and David Meerman Scott, Wall Street Journal best-selling author of Fanocracy and The New Rules of Marketing and PR.
LIVE@LIFT: Female Founders & Funders – Fundraising During a Crisis – May 29, 9:30am – 10:30am ET
Fundraising is often top of mind for founders—it was the #1 topic mentioned in our recent Female Founders and Funders survey—and during a time of crisis the questions and challenges related to fundraising have only grown. In this moderated panel discussion, we'll hear from a startup founder and two funders for a multifaceted conversation about what founders should be doing (or not doing!) and how investors are thinking about fundraising given our current Covid-19 reality.
LIVE@LIFT: Managing and Motivating your Remote Workforce with Andre Iguodala and Sky Innovation Labs – June 4, 12pm – 1pm ET
With most people working remotely how do you maintain that sense of camaraderie and team while finding new ways to collaborate? Andre Iguodala, NBA legend, best-selling author, and Venture Partner at Comcast Ventures' Catalyst Fund, will share insights on how to keep high performance teams motivated during these difficult times. And Mel Moeller, Technology and Innovation Lead at Sky's Innovation Lab in London, will give some practical tips and tools on how to facilitate remote collaboration and group work.
LIVE@LIFT: Kickstarting your Startup and Changing the World with Yancey Strickler – June 11, 12pm-1pm ET
Kickstarter co-founder Yancey Strickler not only knows what it's like to build his own successful startup, but he also knows how founders can generate passion and fans for their ideas.  His platform has helped launch almost 200,000 projects with $5BN in crowdfunding. Dalila Wilson-Scott, Comcast's Sr. Vice President of Community Impact, will lead a discussion with Yancey on how to inspire people with your startup as well as his framework for making business a tool for change in his new book This Could Be Our Future: A Manifesto for a More Generous World.
LIVE@LIFT: Building a Brand People Love from Day One, with Emily Heyward – June 16, 12pm  – 1pm ET
Emily Heyward, co-founder and chief branding officer of Red Antler, the branding and marketing company for startups and new ventures, explains how new millennial brands like Casper, Allbirds, Sweetgreen, Everlane, and more successfully build devoted fan followings right out of the gate. Emily will share lessons from her upcoming book Obsessed on how startup founders can cut through the noise with an authentic message which resonates.
LIVE@LIFT: Why the World Needs Entrepreneurs More Than Ever with Techstars co-founder David Cohen – July 7, 12pm – 1pm ET
As co-founder of Techstars – a global network of more than 2,000 startups and the largest, most active seed stage investor in the world – David Cohen has advised and guided countless entrepreneurs through many existential crises and has founded and invested in companies in the midst of global recessions. Today he is helping entrepreneurs around the world navigate the current crisis as they build the household names of tomorrow. In this session he will share the advice he has been giving them and we will talk to entrepreneurs who are pivoting, raising money, and growing their teams even during these turbulent times. 

To read more inspiring startup stories and to stay connected to Comcast NBCUniversal LIFT Labs, sign up for our newsletter and follow us on Twitter.