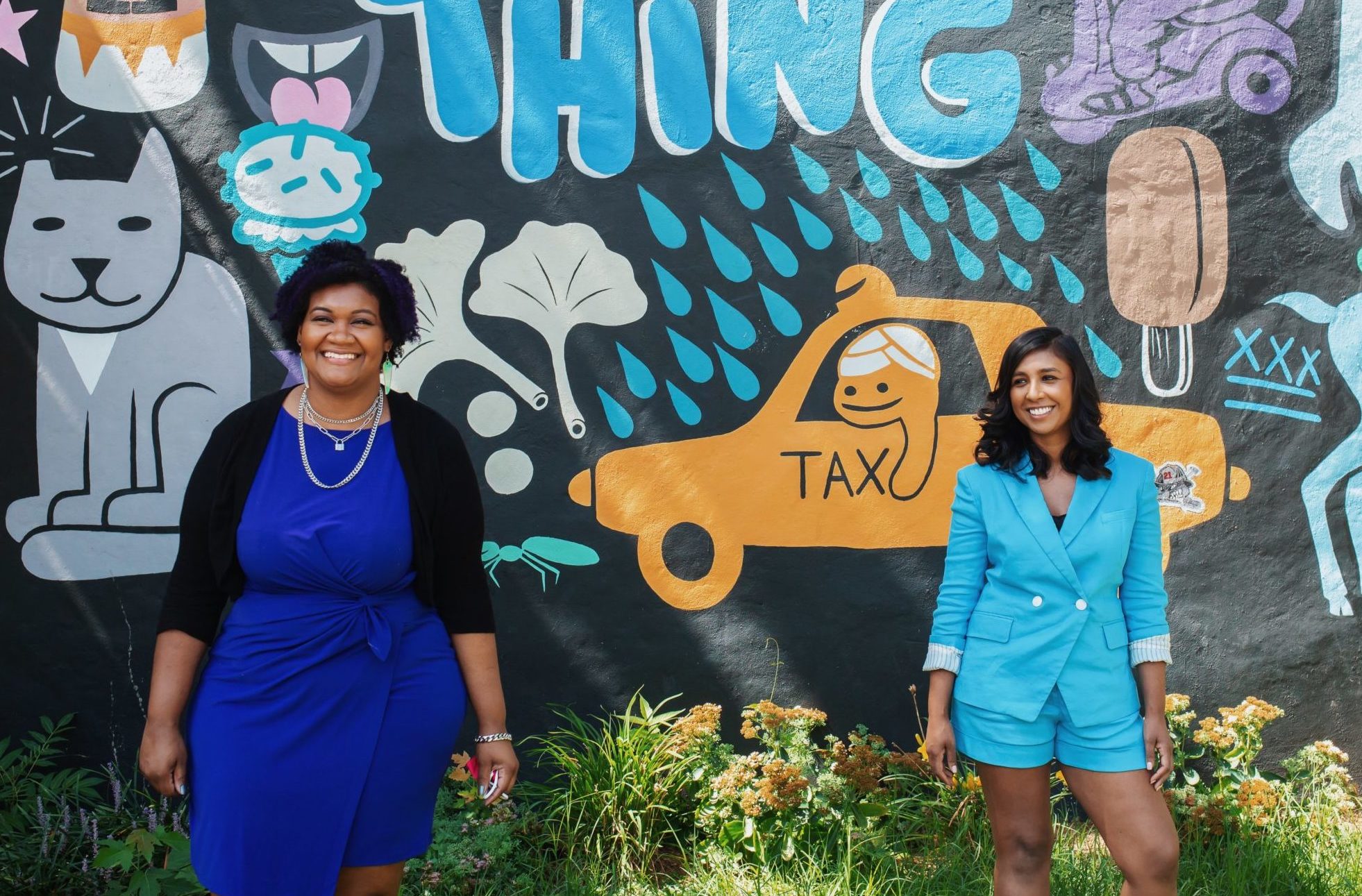 A 2020 Comcast NBCUniversal LIFT Labs Accelerator, Powered By Techstars Company 
If you want to play relatable video games as a person of color, good luck. 
"You step into somebody else's skin when you play a game. If I want to play as a Black woman, I only have approximately 15 character options across all games," said Latoya Peterson, co-founder of the newly-launched Glow Up Games. 
Considering the number of women and people of color gaming, that disparity doesn't make sense. It led Peterson and business partner Mitu Khandaker to launch Glow Up Games, which develops and publishes games for growing, underrepresented audiences. The company is founded on the belief that game developers frequently forget about the narrative power of voices outside the mainstream — and Glow Up Games is poised to empower those voices and disrupt the $159 billion video game industry.
Childhood Frustrations Spark a Solution
As a kid in Washington, D.C., Peterson wasn't allowed to play her father's Nintendo — but the lure of the gold Legend of Zelda cartridge was too enticing.
"It was this winking jewel sitting on his desk," she recalled. "Dad came home at 5 p.m. but I got home at 3, so I would sneak in and play. That sparked my fascination with video games."
Meanwhile, in the UK, Mitu Khandaker was watching Clarissa Explains It All on Nickelodeon in between video game bouts with her sisters. She soon realized that the show's main character was developing video game programs to outsmart her little brother.  
"She was the first representation of a female game developer I'd ever seen," recalled Khandaker. "It made me think I could develop games, too."
Despite their love for gaming, Peterson and Khandaker (Peterson, who identifies as Black, and Khandaker, who identifies as South Asian—couldn't help but notice that few characters look like them). Whether it's action, adventure, or strategy, most video games are dominated by male protagonists. The lack of representation doesn't align with current statistics about gamers: 46% of gamers are women, and the average female gamer is 37 years old, according to the Entertainment Software Association. Still, the people making games are mostly white men. 
The International Game Developer Association reports that women make up just 22% of the industry's workforce, and African Americans are just two percent.
As they come together to disrupt the industry, their past experience will serve them well. Khandaker holds a master's in computer engineering and a doctorate in creative technologies from the University of Portsmouth. She teaches game design at NYU, has launched startups, and helped lead an artificial intelligence company.
Meanwhile, Peterson cut her teeth in journalism, advocating for race representation in video games and pop culture in publications like ESPN the Magazine, The New York Times, The Washington Post, Essence, Vibe, and The Atlantic. She's also the owner and editor of the award-winning blog Racialicious. 
Khandaker could not stop reading Peterson's work — and when they finally met up in person they became fast friends. They started Glow Up Games in 2019 with Khandaker as CEO and director for technology, and Peterson as the Chief Experience Officer and director of culture.
Glow Up Power Meets Star Power 
Traction is coming quickly for Glow Up Games. The team is participating in the 2020 Comcast NBCUniversal LIFT Labs Accelerator, powered by Techstars. The 13-week program is a unique opportunity to gain mentorship from seasoned executives at Comcast's wide range of companies, and refine business models and investor pitches from with the help of entrepreneurial experts in the Techstars network.
The budding company also caught the attention of HBO, which was hoping to create a mobile video game for the popular TV show Insecure. With a mainly Black cast and a female star, HBO hoped for a studio partner with a studio run by minority women — and Glow Up Games was a perfect fit. The result is Insecure: The Come Up Game, which features an addictive rap word game that allows players to create their own rhymes and share them with friends. It already has strong pre-sale numbers. 
Peterson and Khandaker even got to collaborate with star Issa Rae in Hollywood. 
"She was very attentive and engaged in everything we were saying. She has been inspirational to us in the way she's hustled to make Insecure in the first place," said Khandaker. "She gave us big hugs."
For Glow Up Games, Insecure is just the beginning. The team has two more projects in development featuring well-known pop culture characters, and has the ambitious goal of signing on publishers and game developers from underrepresented creators. Five years from now, the company hopes to become the go-to publisher of games featuring characters who are women and people of color. 
Khandaker knows the road ahead won't be smooth, so when times inevitably get tough, she'll stay true to the company's founding principles to see her through.
"A startup is your life. It consumes every part of you. It's something you live and breathe — and it has to align with your core values," said Khandaker. "Our core values are around changing the picture of representation of who is making games and who is on the screen. That's why we started this company and that's why we're going to succeed."


To read more inspiring startup stories and to stay connected to Comcast NBCUniversal LIFT Labs, sign up for our newsletter and follow us on Twitter.