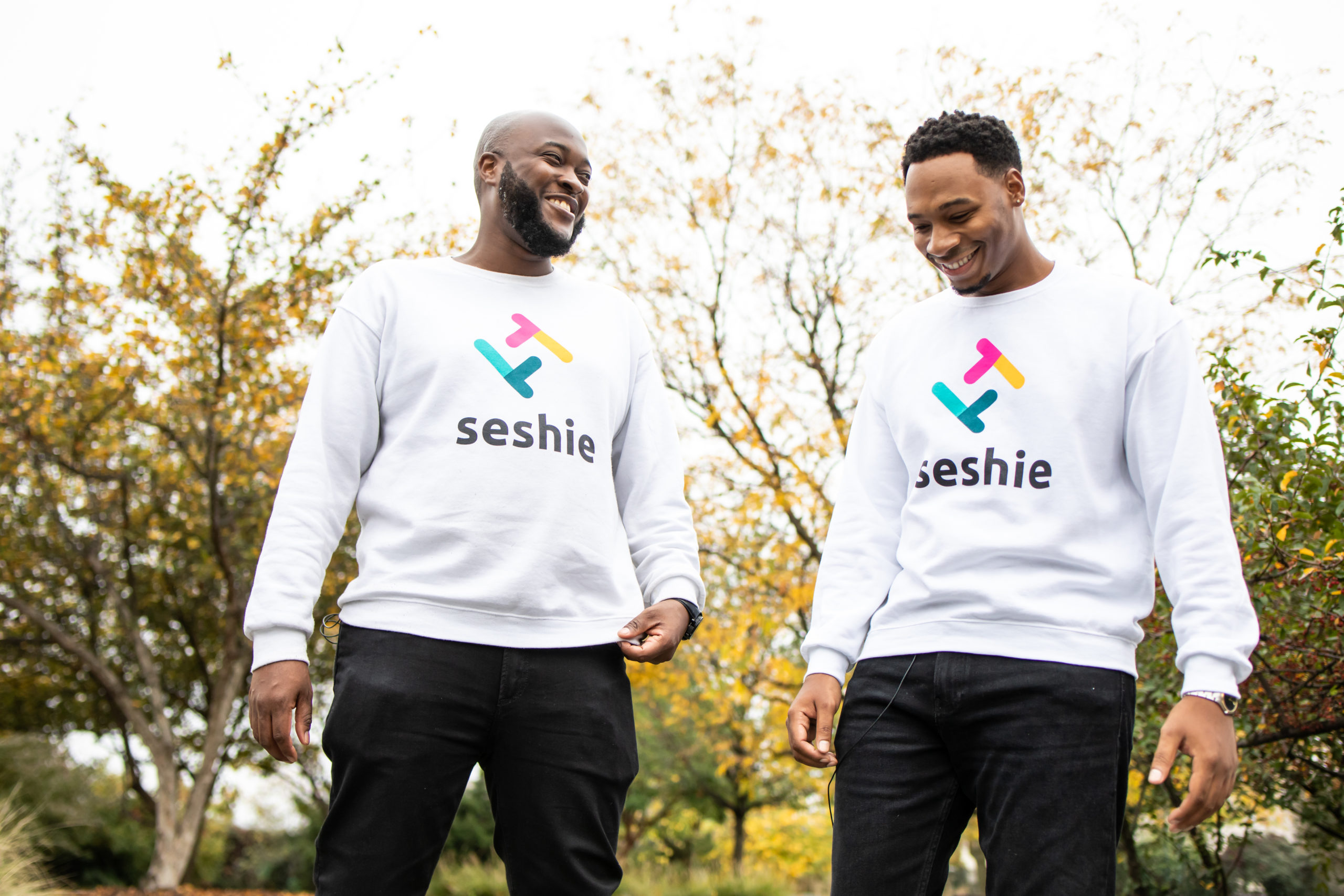 Cofounder & CEO, Kofi Frimpong, Cofounder & COO, William Lee
A 2020 Comcast NBCUniversal LIFT Labs Accelerator, Powered By Techstars Company
About a decade ago, Kofi Frimpong dreaded yet another meeting. As a 22-year-old business analyst, he'd hoped to spend the hour tackling his workload rather than listening to expert tips on productivity. Then a funny thing happened. Frimpong loved it. The expert was engaging. The strategies made lots of sense. He found himself laughing along with coworkers.
"That session made me realize that one of the most underrated aspects of a company is comradery and team building. It's the lifeblood of a company," he recalled. "I knew I'd launch my own company one day and I vowed to create a workplace culture that brings people together."
That's why Frimpong and business partner William Lee launched Seshie — a marketplace of expert guides offering virtual team-building experiences to increase employee morale and build company culture. The startup offers everything from cooking classes to lunch-and-learns to guided meditation. Each "Seshie" is vetted to ensure quality, professionalism, and great execution.
Team building may be fun, but it's also good business. Companies with highly engaged employees earn twice as much annual revenue as companies with low engagement. Meanwhile, team building improves communication, and solid working relationships between employees keep churn to a minimum — allowing companies to retain top talent.
In 2020, the stakes are even higher. COVID-19 made it impossible to gather in person for activities like escape rooms, axe throwing, or even happy hour. Employees can't chit chat with coworkers while grabbing coffee, leaving many feeling isolated. In turn, companies suffer from diminished team dynamics. Human resource professionals and team leaders are clamoring to find virtual sessions to fill the void.
"Searching for virtual session leaders online is time consuming. Plus, you don't know whom to trust," said Frimpong. "If you book a session and the teacher isn't up to par, employees are less likely to participate next time."
Now Frimpong and Lee are ready to take Seshie to the next level. For 13 weeks starting in September, Seshie – a Philadelphia-based company – will participate in the 2020 Comcast NBCUniversal LIFT Labs Accelerator, powered by Techstars. They'll gain valuable connections with Comcast executives, receive startup advice from the vast Techstars network, and refine their business model and pitches to potential investors.
Addicted to Entrepreneurship
As an undergrad at Princeton University, Frimpong had dreams of becoming a doctor. On a whim, he joined a business pitch competition. He earned second place and left with an addiction to serial entrepreneurship.
"I decided I wasn't going to medical school. Ever since that day, I've been working on my own startups," he said. Soon he'd team up with Lee, a University of Arizona student who often visited Princeton.
"We were young, black, and entrepreneurial," said Lee. "We knew if we pushed really hard, we could create long-lasting, scalable businesses."
Together, they launched several startups including Socionado, which creates content featuring a company's employees and brands them as employers of choice. The startup even caught the attention of superstar actor Will Smith, who became an investor.
Then came COVID-19, and the founders realized that their client base — mainly heads of HR — desperately needed team building exercises for a suddenly remote workforce. Frimpong and Lee began building a database of the very best talent in areas like fitness, crafts, motivation, mediation, and activities.
"People were immediately interested in booking sessions. That let us know our new idea had legs," said Lee. "We were getting customers before we even had a platform."
They began feverishly building Seshie, a company poised to disrupt the future of work space. They now have a platform that makes it easy for any business leader to find and book talent for virtual team building sessions. Frimpong predicts that large segments of the workforce will work remotely going forward, even when the pandemic subsides.
"I don't think they're going to force everyone back to the office ever. Our virtual team-building platform is perfectly positioned for the future of work," he said.
It's also a major cost-saver. Getting a renowned author or expert to conduct an in-person workshop comes with a steep price tag. A video chat is much more cost effective.
A New Dawn For Black Founders
As Black startup founders, Frimpong and Lee know that race plays a role in funding opportunities. In fact, Black founders receive less than 1% of all venture capital. They argue that the disparity is due to economic circumstances and connections. Frimpong, Lee, and the people in their network don't come from wealthy families — meaning they may not have the same business connections or access to startup capital from family and friends. That's why they feel that VCs should pay particular attention to minority founders at the pre-seed stage to build businesses in the first place.
"I can't tell you how many friends came up with an idea and a month later had half a million dollars," said Frimpong of his Ivy League classmates. "Black founders laugh about it. We know we could never do that. Those friends have connections, parents, friends, and family helping to fund their idea. It feels unfair. I applaud every black founder who has had any level of success."
Frimpong doesn't just envision changing the paradigm. He aims to become a venture capitalist as well.
"I know at some point I'm going to be a VC or investor. I just know it in my bones," he said. "Investors say they will invest in people with an idea on the back of a napkin but they really don't. When it's my turn, I'll help black founders at the earliest stages so they have a great chance at success."


To read more inspiring startup stories and to stay connected to Comcast NBCUniversal LIFT Labs, sign up for our newsletter and follow us on Twitter.