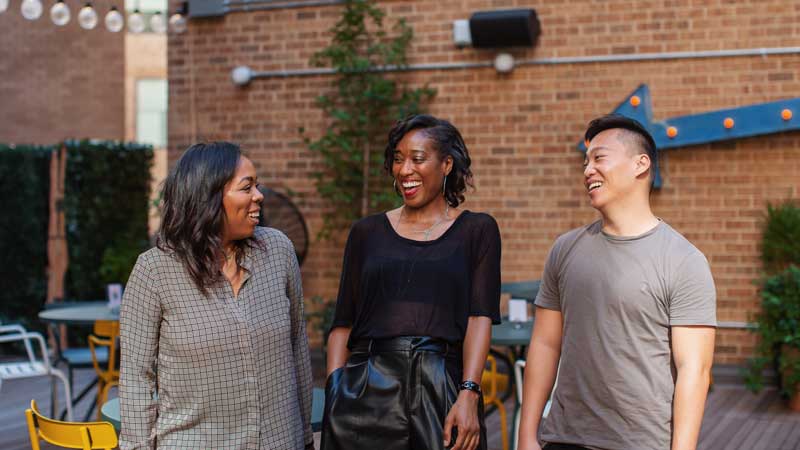 2020 Comcast NBCUniversal LIFT Labs, powered by Techstars Company 
Maisha Burt needed a change of scenery. Working from her dining room table was wearing thin. She traveled to a few local coffee shops, only to find them cramped and distractingly noisy. Valuable time was slipping away. Should she get a co-working space? A traditional office? Or just deal with the distractions of working from home? 
As she pondered these questions, Burt headed to a restaurant for lunch. She couldn't help but notice the large tables, ample space, great food, and quiet ambiance. And the WiFi was strong, too.
"It was a eureka moment," she said. "I found the perfect place to work, and I needed to tell the world about my amazing experience."
A Bite of Entrepreneurship
Burt created WorkChew, a platform connecting mobile workers to on-demand workspaces in restaurants across the United States. For a low monthly fee or drop-in rate, WorkChew members get discounts on food, bottomless coffee or tea, and access to a community of hustlers and doers. Through the app, members see seat availability and can reserve space, so they never waste time traveling from location to location.
"It's a win-win," said Burt. "Restaurants benefit by monetizing the fast-growing segment of remote workers, and remote workers get an elevated flexible workspace."
With 3,200 members and more than 60 participating restaurants in Chicago, Seattle, and the Washington, D.C. area, WorkChew is seeing strong early traction. Memberships increase nearly 15 percent every week.
To take the company to the next level, Burt and business partner Allyson McDougal will participate in the Comcast NBCUniversal LIFT Labs Accelerator, powered by Techstars. During the 13-week program, they'll make valuable connections with senior executives at Comcast, and receive mentorship from experts in the Techstars network.
"We're beyond excited," said Burt. "We know that Comcast NBCUniversal is an innovation company first and foremost, and Techstars has a vast network of successful startup founders. We're excited to learn from everyone."
From Road Warrior to Business Partner
McDougal was actually one of WorkChew's first members. After spending years as a sales leader at a Fortune 500 company, she knew the importance of flexible workspace.
"I was a road warrior throughout the East Coast. That meant working from cafes, bars and sweating in my car," she recalled. "I longed for comfortable spaces."
When McDougal saw an Instagram ad for WorkChew, she contacted Burt immediately. Before long, they were partners.
Fed By Family 
Burt started her career in corporate finance. She was good at math, but had a creative, entrepreneurial side to fulfill. The entrepreneurial itch came from her father who owned a restaurant and arcade, among other enterprises.
"It was a family business," she said. "Everybody did everything from keeping the books to dealing with guests to managing relationships with manufacturers. I was able to see what's involved in running a company, and the level of commitment and persistence it takes to be successful."
Restaurants Serve the Post COVID World
WorkChew helps restaurants when they need it most. COVID-19 closed some for good, and left many employees out of work or underemployed.
When restaurants open again, they will likely need an immediate influx of guests — and leisure diners may not be enough. By joining WorkChew, restaurant operators tap into a growing community of remote workers who fill seats during slow hours. 
"We were shovel ready at a pivotal time," said McDougal. "Our platform gives restaurants a broader reach. Plus, they get incremental revenue because our people want to eat and invite friends. Some hang around for happy hour and dinner."
WorkChew also provides restaurants with valuable marketing data like the ordering habits of guests, how long they typically stay, and their range of occupations. 
"WorkChew is quantifiable," said Burt. "Restaurants are looking for any edge. This solution provides measurable data on new customers during a time that might not yield much revenue."
Capital Coworking
Restaurants in Washington, D.C. are a great test case. The city is ahead of the COVID curve and was early to allow indoor dining again. For WorkChew members, the program led to big revenue gains.
"Our D.C. restaurant clients are seeing exponential revenue increases from the day they list with WorkChew. They're so excited to see their spaces filled again," said McDougal. 
The WorkChew team has ambitious goals. In the near-term, they hope to expand the platform to at least 12 states. After that, they aim to be the largest provider of flexible workspace across the United States.
"People everywhere should be able to access affordable workspaces," said Burt, "and shouldn't have to pay hundreds of dollars in rent."


To read more inspiring startup stories and to stay connected to Comcast NBCUniversal LIFT Labs, sign up for our newsletter and follow us on Twitter.