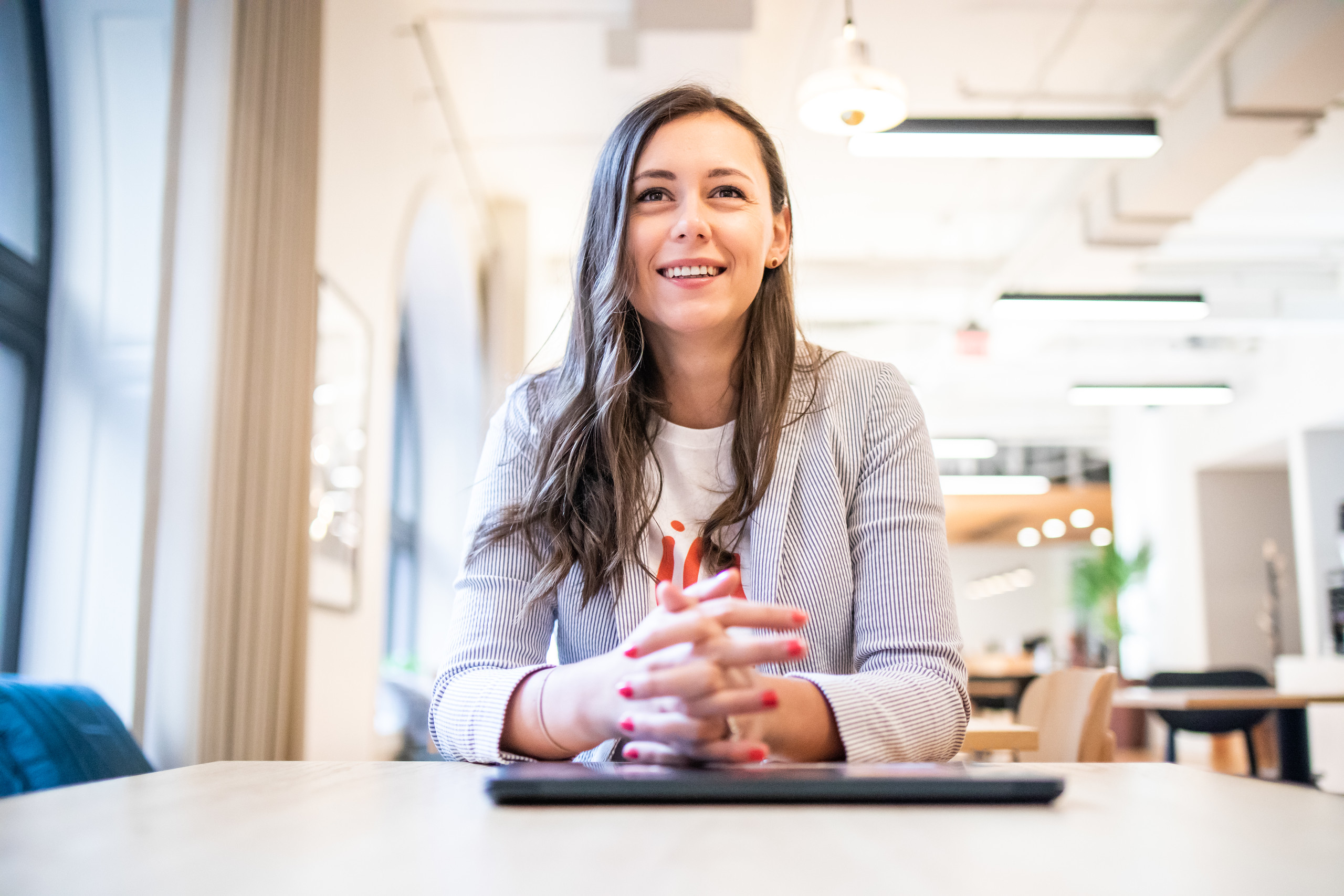 Cofounder & CEO, Oana Manolache

2020 Comcast NBCUniversal LIFT Labs, Powered by Techstars Company
Oana Manolache had a career most young professionals would envy. After an internship at a major tech company, she was hired full time. By 23, she managed marketing for the company's sales teams in the UK and Ireland. A few years later, she led strategic marketing in the Americas, with a multi-million dollar budget, working hand-in-hand with the company's CMO, and managing a team of employees. 
"I moved up the ladder pretty quickly. I was the youngest manager the company ever had," Manolache recalled. 
Then she quit to launch a startup. 
"I just love solving problems. When I walk down the street, my mind constantly looks for ways to improve every experience," she said. "I have a notebook where I jot down ideas that could help the world become more efficient and impactful."
Star of the Digital Stage
One problem kept gnawing at Manolache. Attending live events can be expensive and time consuming. Attending virtually means watching a livestream without the ability to really network or participate.
To solve this problem, Manolache built Introvoke, a startup powering virtual events. Introvoke turns any website into a digital stage. The platform can elevate corporate conferences, live entertainment, and education by making them more enjoyable and interactive. Launched in 2019 (well before COVID-19), Introvoke doesn't require attendees to download apps or join unfamiliar social media platforms. A WordPress plug-in and API integration power the platform.
"We are a pre-COVID company for a post-COVID future," said Manolache. "We're big believers in the hybrid environment. Although virtual works for now, we miss shaking hands and talking to people. Our mission is to bring the physical and digital worlds closer together so they blend perfectly."
Take a corporate conference, for example. In the virtual world, arriving early means staring at a blank screen waiting for the program to start. Introvoke mimics real life, allowing attendees to connect with one another before and after sessions.
"Events can't just be one-way broadcasts. People crave interactivity and the ability to make real connections — just like in real life," she said.
Manolache is ready to take Introvoke to the next level by joining the 2020 class of the Comcast NBCUniversal LIFT Labs Accelerator, powered by Techstars. For 13 weeks, she'll work with senior executives at Comcast and startup experts in the Techstars network. After refining her business model and perfecting her pitch to venture capitalists and clients — she'll be ready to further disrupt the events business.
"Somebody once said: 'If you want to go fast, go alone. If you want to go far, go together.' As a solo entrepreneur, I'm looking forward to working with talented mentors who push me to become better every day," she said.
Entrepreneurship Runs in the Family
Growing up in Romania, Manolache watched her parents work tirelessly on their automotive business. Her mother — the only woman in her university studying the automotive industry — was a big inspiration.
"Someone told her automotive engineering is just for boys. Then she became the valedictorian," Manolache recalled. "She's relentless."
Dinner discussions in her house typically centered around margins, growth, and managing employees.
"I saw how difficult and satisfying it is to build a business and a culture where people love coming to work. Watching them build their business helped me understand what it's like to be scrappy and smart with margins," she said. "Their experience gave me roots while allowing me to reach for the stars."
Manolache attended college in the UK and then moved to the United States. She launched Introvoke in Boston. Then it was off to San Francisco to raise venture capital.
"We are the classic startup story. We did not sleep for a very long time," she recalled. "We ran on coffee for weeks, built a minimum viable product and started testing it with clients. Since then, we've been building, testing, and making sure we're headed in the right direction — only now we have a bigger network that can validate our assumptions faster."
No More Screen Fatigue
COVID-19 has forced live events to turn virtual, with attendees spending hours staring at screens — and looking for anything to keep them engaged. With little interactivity and chance to network, attendees easily get fatigued or tune out. 
"It's really repetitive. Imagine that every event you ever attended was exactly the same — held in the same room, in the same location, in the same format. At some point, you'd get really bored," said Manolache. 
To combat screen fatigue, Introvoke offers an elevated experience with enhanced chat, interactive polls, small group breakout rooms, Q&As, and the ability for attendees to address the entire group live. Introvoke also supports unlimited numbers of attendees and keeps security tight.
"With our platform, the organizers call the shots, imagine it and build it," said Manolache. "Each event can be different and get attendees excited to find out what is coming next. Attendees feel valued rather than an afterthought."
Introvoke also offers detailed analytics so event organizers can easily monitor the customer experience, monitoring the amount of content consumed; which attendees were most engaged; and how often attendees networked with one another. 
The days of people passively watching a webinar are history — and Introvoke is perfectly positioned to disrupt the live and virtual event paradigm.
"In the next five years, no event will be unreachable," said Manolache. "Everybody should have an opportunity to attend an event in person, or tune in online without losing any value. That should be the norm, and will be soon with Introvoke." 


To read more inspiring startup stories and to stay connected to Comcast NBCUniversal LIFT Labs, sign up for our newsletter and follow us on Twitter.