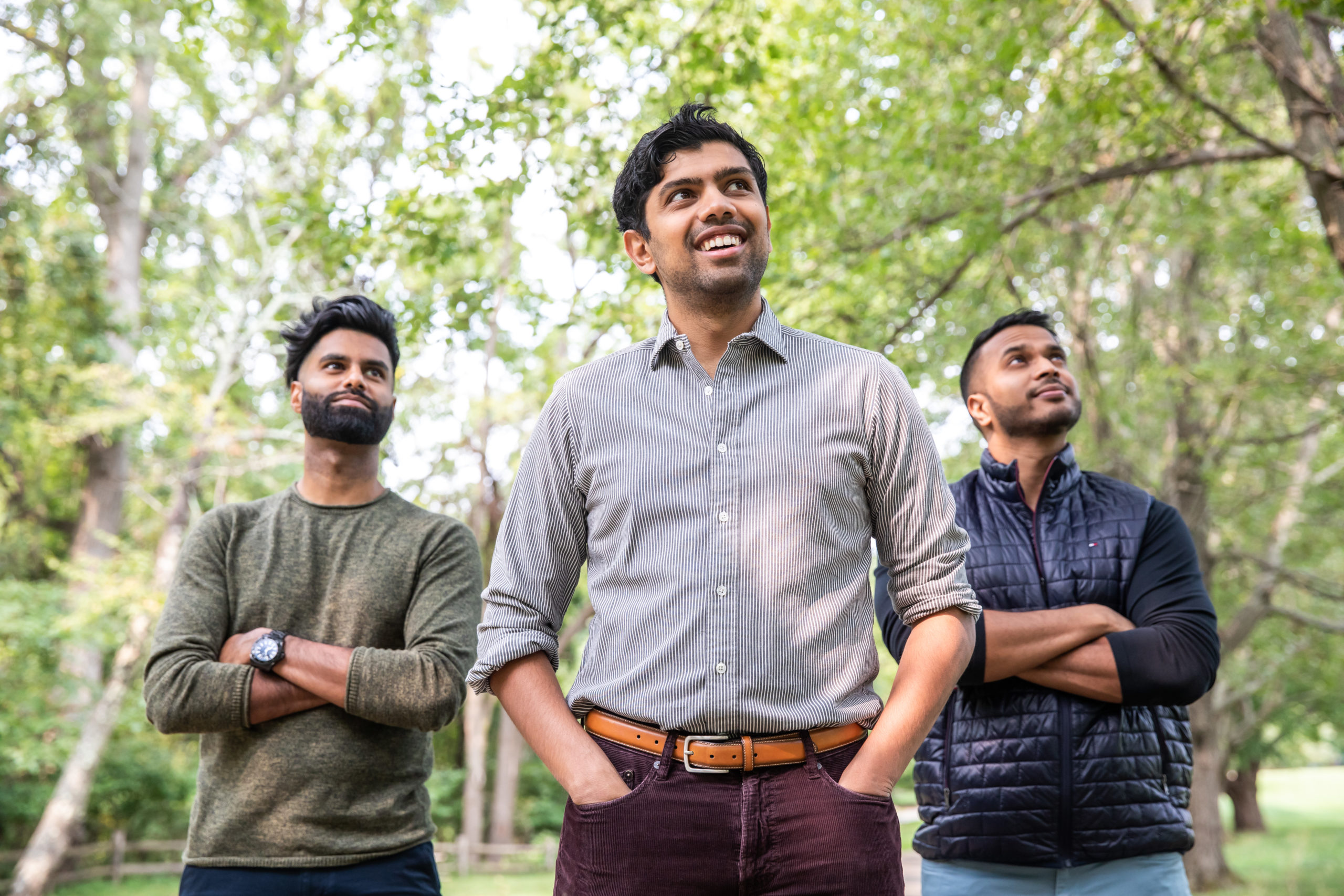 2020 Comcast NBCUniversal LIFT Labs, Powered by Techstars Company
As a young child, Sas Ponnapalli saw the healthcare system up close. His younger brother was born with a rare disorder requiring intubation, frequent surgeries, and ongoing care. At times, the family's two-bedroom apartment felt like a medical clinic — and Ponnapalli vowed to help patients and families when he grew up.
"I remember the constant presence of medical professionals in our apartment, and we spent lots of time in hospitals," said Ponnapalli. "I knew I wanted a career in healthcare, but I'm a technologist at heart. So I put my two passions together."
The result is Beam Health, a startup Sas launched with long-time friend Ranga Jayawardena. Beam Health is a telemedicine platform for patients and doctors to connect through HIPAA-compliant online video calls. Patients can get treatment from their existing physicians, or choose a specialist from anywhere in the United States. They don't need to download software. 
Modern technology, like smartphones and video chats, has led to booming interest in telemedicine. In fact, 77% of patients are willing to conduct a virtual care encounter, but since it's not widely available, only 19% have ever actually done so. Many appointments — like check-ins or prescription refills — don't require in-person visits. 
Telehealth really went mainstream during COVID-19, soaring to 69% of all medical visits in April 2020. By July, more than one in five visits were still conducted virtually.
"This is how care will get administered in the future, especially as populations increase and the number of providers can't grow at the same rate." said Ponnapalli, who served as the chief technology officer at a fast-growing telemedicine startup before leaving to launch Beam Health.
Telemedicine can make healthcare more accessible. Each year, 3.6 million Americans do not receive adequate care because of transportation issues. Meanwhile, transportation is cited as the third most common barrier to healthcare access. 
"When more people get the care they need, the population gets healthier and healthcare costs ultimately decrease," said Jayawardena.
Telemedicine allows doctors to maximize their time. Beam Health's pay-as-you-scale model helps medical practices earn revenue and save time by avoiding operational headaches like scheduling appointments and troubleshooting cumbersome technology. There's a marketplace for patients to find telehealth providers and make payments. Onboarding takes seconds, not weeks, like competitive platforms.
"Time is a doctor's currency, so the speed with which we can get them launched and connected with new patients is critical," said Jayawardena. 
Beam Health is growing fast. In just two years, 1,200 doctors and 35,000 patients joined the platform. In the last quarter, the company's doctors performed 38,000 virtual consults. To make even larger strides, the team joined the Comcast NBCUniversal LIFT Labs Accelerator, powered by Techstars. For 13 weeks, they'll receive mentorship from senior executives at Comcast and startup experts in the wide Techstars network. They'll gain expert advice on building successful business models and pitches for potential clients and investors.
How Healthcare is Altered
Ponnapalli and Jayawardena have been friends since middle school. A casual conversation sealed their fate as business partners. Ponnapalli was moving into a Brooklyn apartment with Jayawardena's brother, and while the three were lifting boxes and angling furniture through doorways, they talked about Beam Health. Soon they couldn't talk about anything else.
Ponnapalli and Jayawardena met up the following day and became co-founders immediately.
"Ranga took a marker to the whiteboard and mapped out about how Beam is going to be the Amazon of healthcare. He outlined different monetization methods, pricing models, and how we can achieve penetration and customer acquisition," said Ponnapalli. "After that we were both all in."
Jayawardena added: "I left that meeting so juiced up. I knew that if we succeed, we'll alter how healthcare is being delivered in this country."
Separate From the Pack 
Telemedicine is nothing new, but current solutions may not allow patients to see their normal doctors. What's currently available focuses almost exclusively on emergent care, and takes patients away from small- and medium-sized clinics. Beam Health, however, allows patients to see any doctor they want, and allows access to specialists like rheumatologists, oncologists, and cardiologists. It also helps brick-and-mortar clinics scale practices virtually. Through content marketing and social media posts, Beam Health helps clinics advertise services to patients around the country. 
"Brick and mortar clinics are used to marketing to patients close by," said Jayawardena. "We're looking to aggregate our supply base of doctors and create the first telehealth hub directory where patients can search for doctors across all specialties."
Another positive is interoperability. Doctors currently use electronic health records, scheduling platforms, patient messaging platforms, and other technology — forcing non-tech savvy doctors to toggle back and forth between platforms. Beam Health integrates it all.
"All these platforms need to talk to each other. We're the only company offering custom integrations to other platforms. We have a team that will help a doctor set up integrations in ways that work for them," said Jayawardena. "It helps streamline a doctor's workflow and reduces friction to make things work easier."
As telehealth continues to grow, Beam Health is ready with a solution that feels as close to in-person interaction as possible.
"In the post-COVID world, doctors will be shopping for telemedicine solutions that allow them to grow," he said. "We're standing by ready to help."


To read more inspiring startup stories and to stay connected to Comcast NBCUniversal LIFT Labs, sign up for our newsletter and follow us on Twitter.