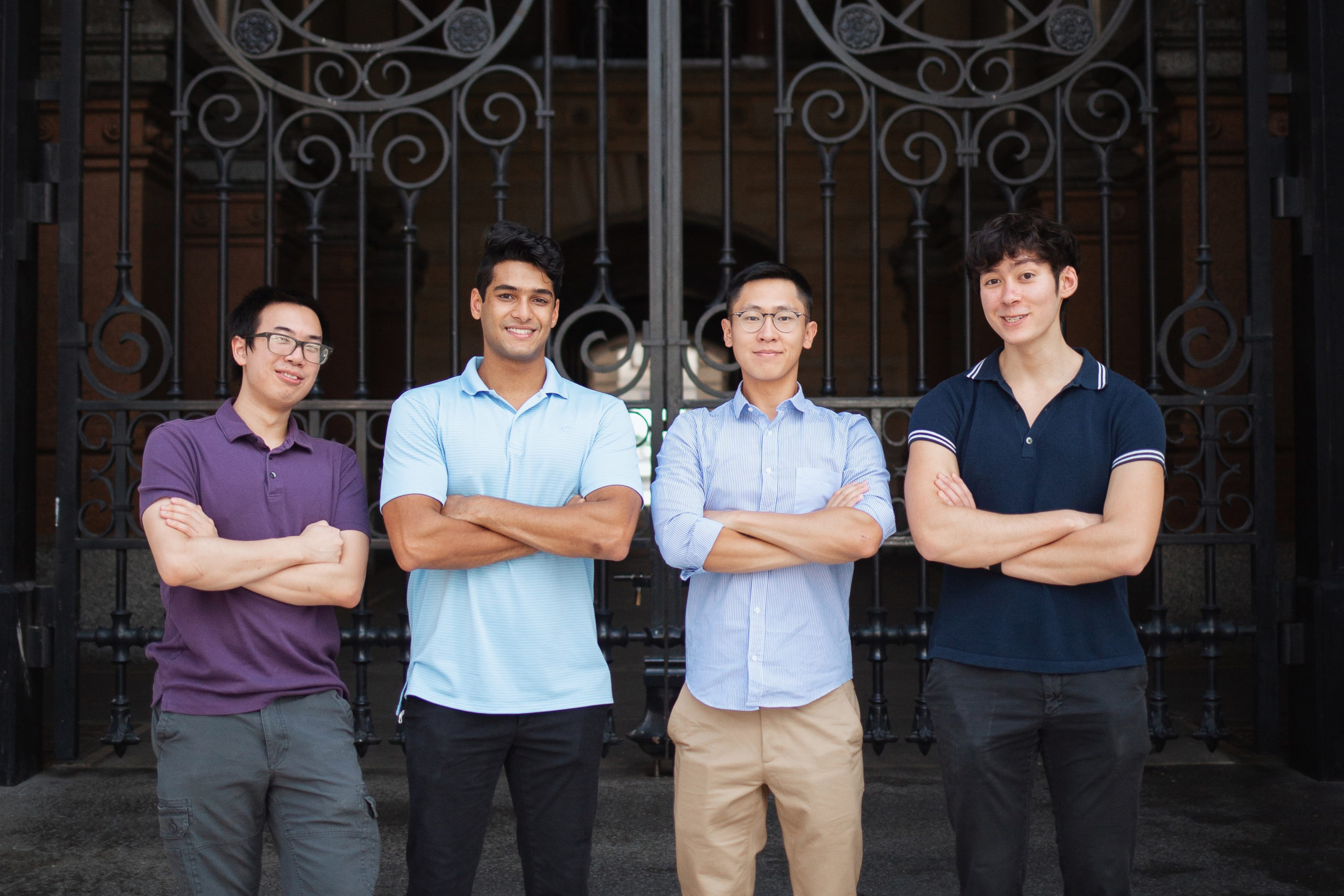 2020 Comcast NBCUniversal LIFT Labs, Powered by Techstars Company

Philippe Sawaya, Jonathan Mak, and Neil Gramopadhye couldn't stop talking about the headlines they were seeing. Minorities were being racially profiled at an alarming rate while shopping. From coffee shops to retail stores to grocery chains, the allegations made national news — and empowered the University of Pennsylvania alumni to take action.
"These repeated incidents struck a chord with us," said Sawaya. "Racial profiling happens to people on a daily basis. It's a sad fact."
In response, the trio created Percepta, a platform that uses artificial intelligence to deliver unbiased shoplifting detection. Percepta analyzes security camera footage to detect shoplifting incidents in real-time, but leaves demographic features like race, gender, and age out of the equation. Instead, it scans for shoplifting behavior, such as looking up at security cameras before reaching for an item, or grabbing an item off a shelf then hurriedly walking away. It can also assess theft probability and help security respond quickly. 
Percepta represents a change from the old paradigm — which lent itself to racial profiling and ineffectiveness. Percepta is ushering in an era where security officers no longer have to watch surveillance footage for hours hoping to catch a potential thief, a process that could lead to racial bias. 
Shoppers have had enough. A recent Gallup poll found that nearly two-thirds of Black Americans believe they are treated less fairly than white shoppers. Almost one-third said they suffered unfair treatment while shopping in the past 30 days. 
"It's appalling that somebody should feel profiled while they walk around a store," said Gramopadhye. "Our AI has the same performance regardless of race, gender, and age. That's how it should be."
Loss prevention detection is also ineffective because human attention spans naturally wane while they watch screens. An academic study found that after 12 min of continuous video monitoring an operator is likely to miss up to 45% of screen activity — and after 22 min of viewing up to 95% of activity is overlooked. That proves costly, as shoplifting costs businesses almost $20 billion per year.
"It's such a difficult task to watch up to 50 screens for eight hours a day. It's not meant for humans to do," said Sawaya. "Retailers should know that the money they're spending on security is providing a positive return on investment."
Powerful Partnerships 
Percepta has joined the Comcast NBCUniversal LIFT Labs Accelerator, powered by Techstars. The team is spending 13 weeks making connections with senior Comcast executives and getting mentorship from founders who have already built successful startups. 
"We're excited to get support from Comcast's talented technical teams to learn how we can improve our product. We're also excited to learn what we can do better on the business side and brainstorm other use cases for our technology," said Mak. 
In September 2020, home security giant ADT announced an investment in the company and a strategic partnership. Dan Bresingham, Executive Vice President for ADT said: "We believe Percepta could signal a tidal shift in how we approach AI, facial recognition, and data collection, and we look forward to seeing how the technology continues to develop."
"A Welcome Sign" 
There is plenty of technology in loss prevention already. Perhaps the most common is RFID tags that trigger alarms at store exits. RFID tags are costly and hard to implement on small items. 
"The time, effort, and expense associated with putting tags on every product doesn't lead to a good return on investment," said Sawaya.
By the time an exit door alarm rings, a shoplifter is basically out of the store — making it difficult to apprehend someone. With Percepta, security knows a person is stealing at the moment they steal, leading to quick intervention.
"We're tackling it more upstream rather than retroactively," said Mak.
Another option is to lock down high-value products. Drug stores, for example, have been locking away their most frequently shoplifted products — like men's razors and over-the-counter medications.
"It's not a great customer experience if products are locked down and consumers don't feel trusted to walk around a store freely," said Sawaya. 
By posting signage about the Percepta system, stores can relay a different message to consumers — that they're being monitored ethically but trusted to shop without somebody looking over their shoulders.
"It's a welcome sign," said Neil. "It tells the customer that they're safe to do their shopping and that they won't be racially profiled."


To read more inspiring startup stories and to stay connected to Comcast NBCUniversal LIFT Labs, sign up for our newsletter and follow us on Twitter.