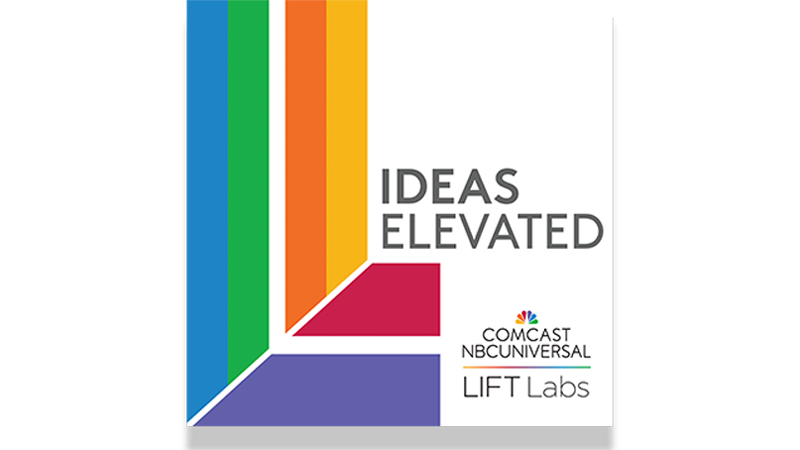 With a star-studded lineup featuring Josh Kopelman, Alex Banayan, and Erica Williams Simon, Ideas Elevated explores investment, storytelling, and staying inspired.
The holidays are a time to relax, recharge and think about the year to come. For a startup founder, that might mean finding ways to keep grinding and growing by diving deeper into topics like venture capital, storytelling, or staying inspired when times get tough. Ideas Elevated podcast presented by Comcast NBCUniversal LIFT Labs covers all these timely topics and more with conversations with some of the brightest minds in the startup.
And, we've curated  a collection of some of the year's best discussions for you to binge as the year comes to a close. So, if you've got a little downtime or you just want to hear sage advice from inspiring experts, cozy up with one of these nine podcast episodes.
Venture Capital 
Raising money is always a hot topic in the startup world. Founders want to know what attributes investors value most, tips for effective investor pitches, and the best ways to approach venture capitalists. To explain these issues and more, we interviewed some of the world's premier VCs and a startup founder who recently executed a successful funding round.
Josh Kopelman: Early Investor of Uber, Blue Apron, and Rover on What Makes a Great Founder
One of the most successful entrepreneurs and investors in the world, First Round Capital Founder Josh Kopelman, shares his thoughts on the attributes that make a great founder — like a propensity to carve your own path and an ability to adapt to change.
Scott Kupor: Andreessen Horowitz Managing Partner Talks Secrets of Sand Hill Road
Scott Kupor oversaw Andreessen Horowitz's rapid growth from $300 million in assets under management to more than $10 billion. In this podcast, he discusses how venture capital can flow to more diverse founders; shared stories of company's he unfortunately passed on; and offered practical advice for obtaining venture capital for your startup.
Shanel Fields: MD Ally Founder on How to Recruit the Right Investors
Shanel Fields combined her technology expertise and passion for healthcare equality to bring innovation to the public safety space. In this episode, she discusses how she obtained the funding and partnerships; what to look for in an investor-entrepreneur relationship; and how current public safety events have inspired future plans for her business.
Storytelling
A strong idea is a good first step. Communicating that idea to clients, investors, and the general public gives your idea the opportunity to take off. That's why storytelling is so important to any startup. Condensing your life's work into a quick elevator pitch, a short presentation, or series of blog posts takes serious skill. Fortunately some of the best storytellers in the world dropped by the Ideas Elevated studio to share their advice.
Cal Fussman: Best-Selling Author Shares Lessons From World Leaders and Icons
Cal Fussman is a longtime Esquire writer and author who's interviewed leaders such as Mikhail Gorbachev, Jeff Bezos, and Muhammad Ali. In this episode, he discusses lessons learned from a career interviewing world icons — and how they apply to startup founders building companies of the future.
Erica Williams Simon: Founder of the Creator's Lab at Snapchat on the Power of Storytelling
Erica Williams Simon is an award-winning host, social critic, entrepreneur and author focused on exploring the concept of living a true, authentic life. In this podcast, she explains why she left a successful career in politics and TV, and the questions you can ask yourself to ensure you're truly living out your dreams.
Todd Bonin: CNBC Executive Producer on How to Pitch to Wall Street TV
Todd Bonin produces two live shows—Squawk on the Street and Squawk Alley—right on the floor of the New York Stock Exchange. For years, he's been covering up-and-coming companies and technology in the midst of all the action on Wall Street — meaning he's heard plenty of pitches from companies hoping to get airtime. Listen for some of the do's and don'ts of pitching your startup to the national media.
Staying Inspired During Tough Times
It's an understatement to say 2020 has been a rough and unpredictable year. People lost their lives and companies saw their businesses models upended. It can be difficult for startup founders to stay inspired through the turmoil. Hear from our podcast, we spoke with three experts who offered their best advice – drawn from personal experience – on how helpful tips to stay inspired and motivated.
Bob Moore: Crossbeam CEO on Building and Growing a Company During a Crisis
Bob Moore founded his first company, RJ Metrics, as the economy collapsed in 2008. In this episode, he shared lessons learned from building a company during a crisis, and compared those experiences to what he sees in the COVID-19 crisis today. His helpful analysis will help you and your business adapt to times of uncertainty.
Alex Banayan: Lessons from Bill Gates, Lady Gaga, and Larry King & How Every Entrepreneur Can Get into The Right Room
Alex Banayan, author of "The Third Door," spent seven years interviewing some of the most successful people in the world. That took an ever-positive attitude, endless inspiration, and lots of determination. In this episode, he shares advice on how to stay inspired when things look bleak — and how to talk your way into any room.
Natalie Nixon: Balancing Wonder and Rigor to Stay Creative
Natalie Nixon is a strategist and regular contributor to Inc. magazine. Her latest book The Creativity Leap, provides a fresh look into how to cultivate creativity in the workplace. In this episode, she discusses how anyone can match their wonder with the rigor it takes to achieve their dreams.

 
To read more inspiring startup stories and to stay connected to Comcast NBCUniversal LIFT Labs, sign up for our newsletter and follow us on Twitter.