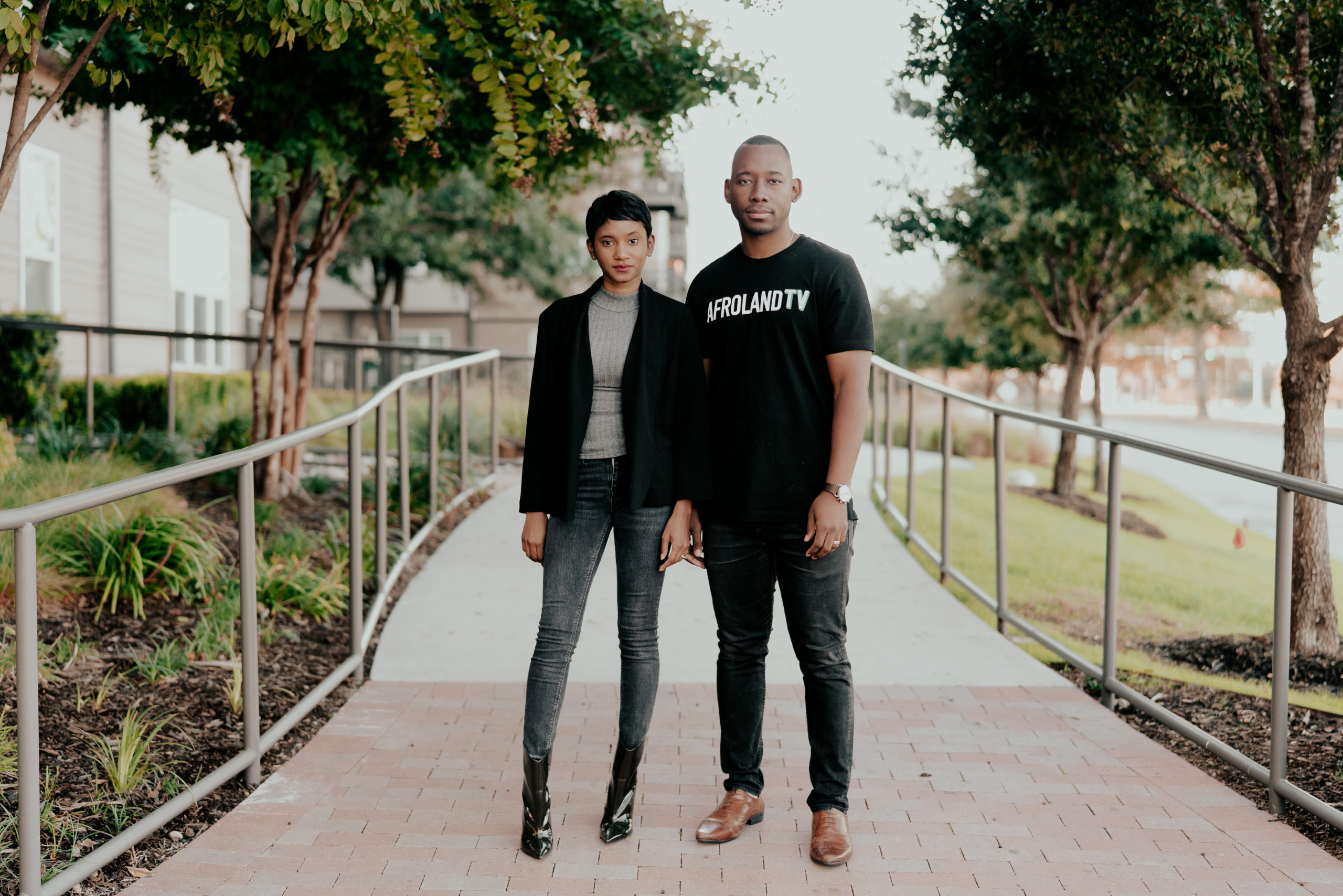 2020 Comcast NBCUniversal LIFT Labs, Powered by Techstars Company 
Michael Maponga's palpable charisma and easy smile have brought him success as a TV and film actor. 
In 2019's top films, Blacks represented 16% of all film roles, 14% of directors, and just 6% of writers. It has left a storytelling void that Michael wants to correct. Michael teamed up with Brittin Maponga to launch a startup to change the dynamics of representation in entertainment.
Their company is AfroLandTV, an online streaming service featuring the world's largest collection of Pan-African films and TV shows. Founded in 2017, the platform has more than 300 hours of content from creators around the world — from African Americans to Black Europeans to Nigeria's "Nollywood." It's available on mobile devices and smart TVs. 
"There is a deep hunger to see ourselves on screen," said Michael, AfroLandTV CEO. "That's why we're so passionate about giving the world a platform of Afrocentric stories."
Brittin, cofounder, and chief branding officer at AfroLandTV, thinks the platform could help change antiquated stereotypes about entertainment.
"If a movie has a Black lead, it's considered a Black movie," she said. "We want to normalize seeing ourselves in lead roles without it marginalizing the film itself. They're not Black movies or African movies. They're just movies told from a different perspective."
The potential audience for AfroLandTV is big. Michael estimates that there are 30 million Pan-Africans in the global African diaspora. When they're introduced to AfroLandTV, they love it. In fact, 80% of people who start a free trial become paying subscribers. Black consumers are more conscious about supporting companies that align with their values, said Brittin.
"After global protests for equality, the Black community is reexamining where their dollars are spent," said Brittin. "They want to buy Black so they can support one another and build together."
Brittin and Michael are hoping to take AfroLandTV to the next level by joining the Comcast NBCUniversal LIFT Labs Accelerator, powered by Techstars. The 13-week program gives them access to mentors at Comcast NBCUniversal, who can help make valuable connections in the entertainment and technology industries. They also gain mentorship from the wide Techstars network, who help refine business models and pitches to potential clients and investors.
Content Ahead of the Curve
AfroLandTV's business model takes a cue from successful streaming platforms. They're populating the platform with a variety of films and TV shows, and then will focus on creating original programming. The most popular series on the platform is called Code Switch, centering around a gay woman trying to hide her cybercriminal past while laying low as a programmer for a dating app company. 
"It's relatable to our audience to watch this Black woman struggling to compete with white males in the workplace," said Brittin. 
Another popular title, Baxu and the Giants (about rhino poaching in Namibia seen through the eyes of a 9-year-old girl) was recently added to Netflix — proof that AfroLandTV is in the vanguard of finding great content.
"That was an exciting moment. It showed that we have quality content prior to seeing it on Netflix and other popular streaming platforms," said Michael. "People were able to watch it on AfroLandTV first — and we take real pride in that."
Carrying the Torch
Michael moved from Zimbabwe to Texas as a small child. He remembers hearing grand tales about powerful African kingdoms with fearless leaders. When he got to Texas, nobody seemed to tell those stories anymore. 
"There are a plethora of stories on the continent sitting and rotting," he said. "It's our job to carry the torch and tell the tales to new audiences."
Brittin adds that opening more eyes to Pan-African content could bridge understanding and help ease heightened racial tensions.
"Art has a way of winning over hearts and minds. Our stories can help people understand each other better."
There is one type of film that automatically won't make it on the platform — anything that degrades Black people or African culture. 
"The mainstream media paints the perspective that Africa is full of poor black people, gangsters, and thugs," said Brittin. "We want to enrich people with all types of stories." 
Talent Shows Up
Could Netflix or another entertainment giant create a competitor? Sure, but AfroLandTV already has a head start, and other platforms purposely cater to general audiences. Even if the competition started a Pan-African section, it would likely focus on bigger budget filmmakers and miss the talented up-and-comers.
"They can't cater to the Pan-African audience. They have to cater to the whole world," said Michael.
AfroLandTV has already made connections with plenty of filmmakers, producers, and actors all around the world. The startup even helps them with branding — working hand-in-hand on marketing materials and social media posts. 
It's led to an ecosystem of actors, writers, and directors getting major exposure for the first time. 
"We are making our own celebrities," said Brittin. "We have several actors in multiple films and TV shows on AfroLandTV, and it's great when viewers start to notice them and follow their careers."


To read more inspiring startup stories and to stay connected to Comcast NBCUniversal LIFT Labs, sign up for our newsletter and follow us on Twitter.