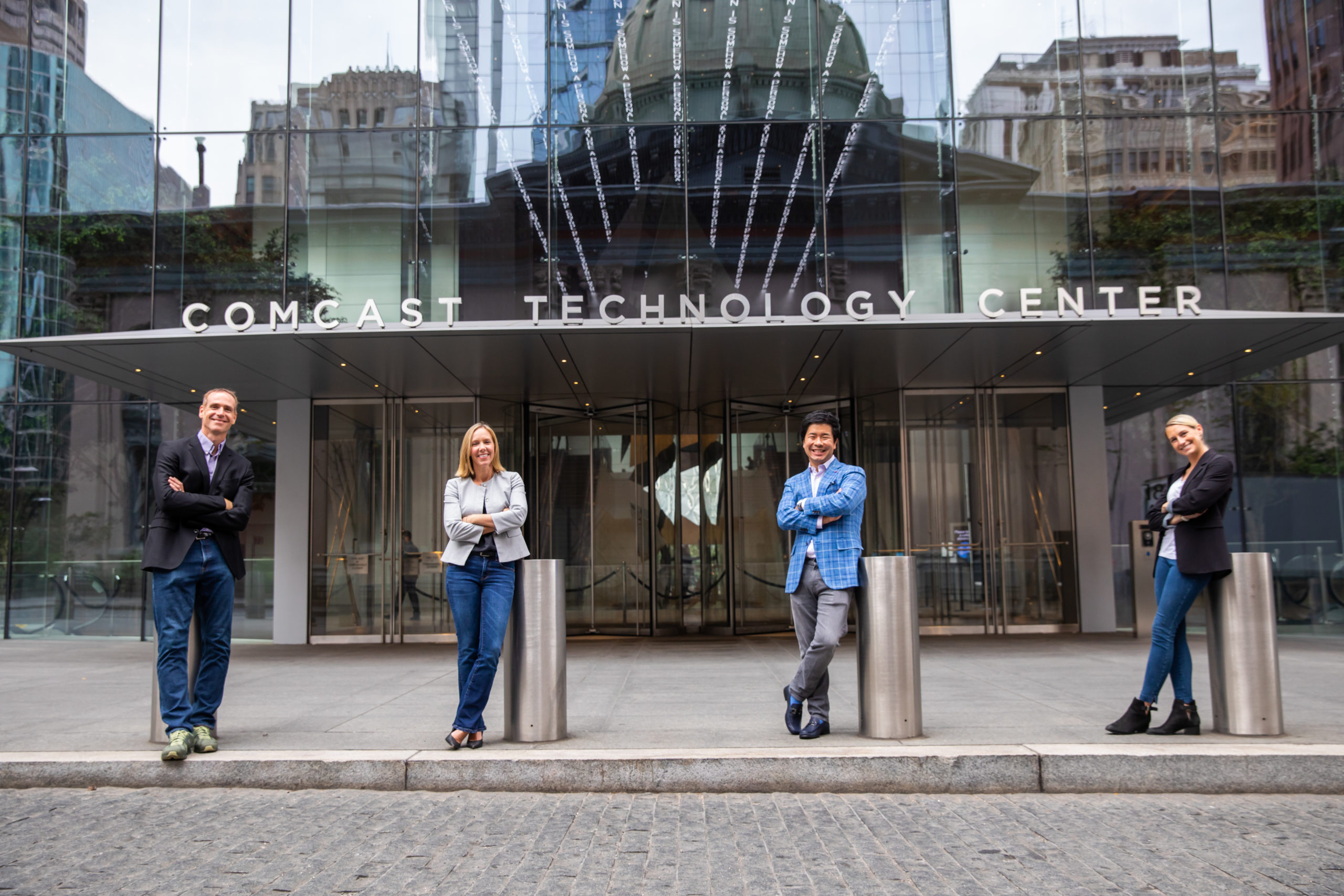 Meredith Sadoulet is a startup founder inside one of the largest companies in the world. 
Sadoulet is the Vice President of Talent Experience at Comcast where she's building a talent platform that reimagines the digital job-seeking experience. 
"Job search processes today are outdated, inefficient and often inequitable," said Sadoulet. "We want to reimagine how people can access information to help them find a job. We have an opportunity through our platforms to offer employment-related content to customers in a unique, accessible way and transform their job search into a more interactive, engaging experience — from the comfort of their homes."
Meanwhile, inclusion and accessibility are suffering. Black and Latino individuals are disproportionately unemployed. People with disabilities have double the unemployment rates of the general population. Lower income households have been significantly impacted by unemployment throughout the pandemic.
Sadoulet aims to tackle those problems head on — first with an internal Comcast offering, then with a service for other employers. 
"I have to pinch myself because it's truly a once-in-a career, once-in-a-lifetime opportunity," said Sadoulet. "It's the best of both worlds. Comcast embraces the entrepreneurial spirit and gives us access to incredible talent across the organization. But we can also operate like a true startup, moving quickly, making fast decisions, and being bold with our ideas."
She is building the company along with a team of 40 contributors from across Comcast — from engineers to human resources professionals to product developers. The scrappy team works on the project in addition to day-to-day tasks. Allison Joyce, Senior Vice President of Talent at Comcast, is an executive sponsor on the project — and she couldn't be more excited. 
"It's a proud moment when you see lots of people saying, 'I believe in this. I just want to see it come to life,' " said Joyce. 
Phil Bellaria, Senior Vice President of Workforce Analytics at Comcast said that finding employees and leaders to join the project has been an easy task.
"The power of the idea has brought an unbelievable number of people willing to jump in," said Bellaria.
It is the first internal startup to join the Comcast NBCUniversal LIFT Labs Accelerator, powered by Techstars. For 13 weeks, Sadoulet received mentorship from senior executives at Comcast NBCUniversal and worked with startup experts at Techstars to refine business pitches to potential clients and partners.
"We learned alongside external startups about how to drive our KPIs, remain nimble, maintain a flat structure, and make trust and empowerment core strengths of our team," said Sadoulet. "The LIFT Labs team has created a really special program."
Watch Day-in-the-Life Job Videos on TV
The team is leveraging the strength of Comcast's unique platforms and connecting people through content in its mission to increase access to employment opportunities. Throughout the LIFT Labs Accelerator experience, the team ran a pilot program on X1 and Xfinity Flex. By simply saying "Comcast jobs" into their voice remotes, customers were taken to the Career Center landing page featuring videos showcasing a day-in-the-life of Comcast employees. Those videos show an intimate portrayal of a typical workday for many people within the company — from customer service and tech ops, to retail, technology, marketing and sales, and even early career positions. Offering job-related content on TV isn't just convenient — it's an opportunity to reach many households, including those with individuals who may have limited mobility or need voice enabled technology to assist with their job search.
The project also has plenty of benefits for employers. With a rollout on X1 and Flex, employers will have the opportunity to diversify their talent pipelines and reach candidates outside their typical networks. Companies can advertise jobs on the platform, targeting hyperlocal talent and opportunities. While newspaper classified ads largely played this role in the past, the Career Center now fills the gap of sharing job opportunities at scale based on geography — or even more broadly when roles have a flexible location or are virtual positions.
The next step for the team is to expand the pilot beyond Comcast and engage other employers to join the platform. In a few years, they could change hiring forever.
"I hope there's a time when people can't remember what it was like to read a lengthy job description," said Sadoulet. "I want to say that we've combatted systemic inequity in the hiring process, enabled access to opportunities, and introduced a consumer-like experience to job search."
Creating the future with us just got easier. Our Xfinity X1 and Flex customers can now view Comcast jobs directly from their TV simply by saying: "Comcast Jobs" into their Xfinity Voice Remote. Give it a try!  #iworkforcomcast


To read more inspiring startup stories and to stay connected to Comcast NBCUniversal LIFT Labs, sign up for our newsletter and follow us on Twitter.