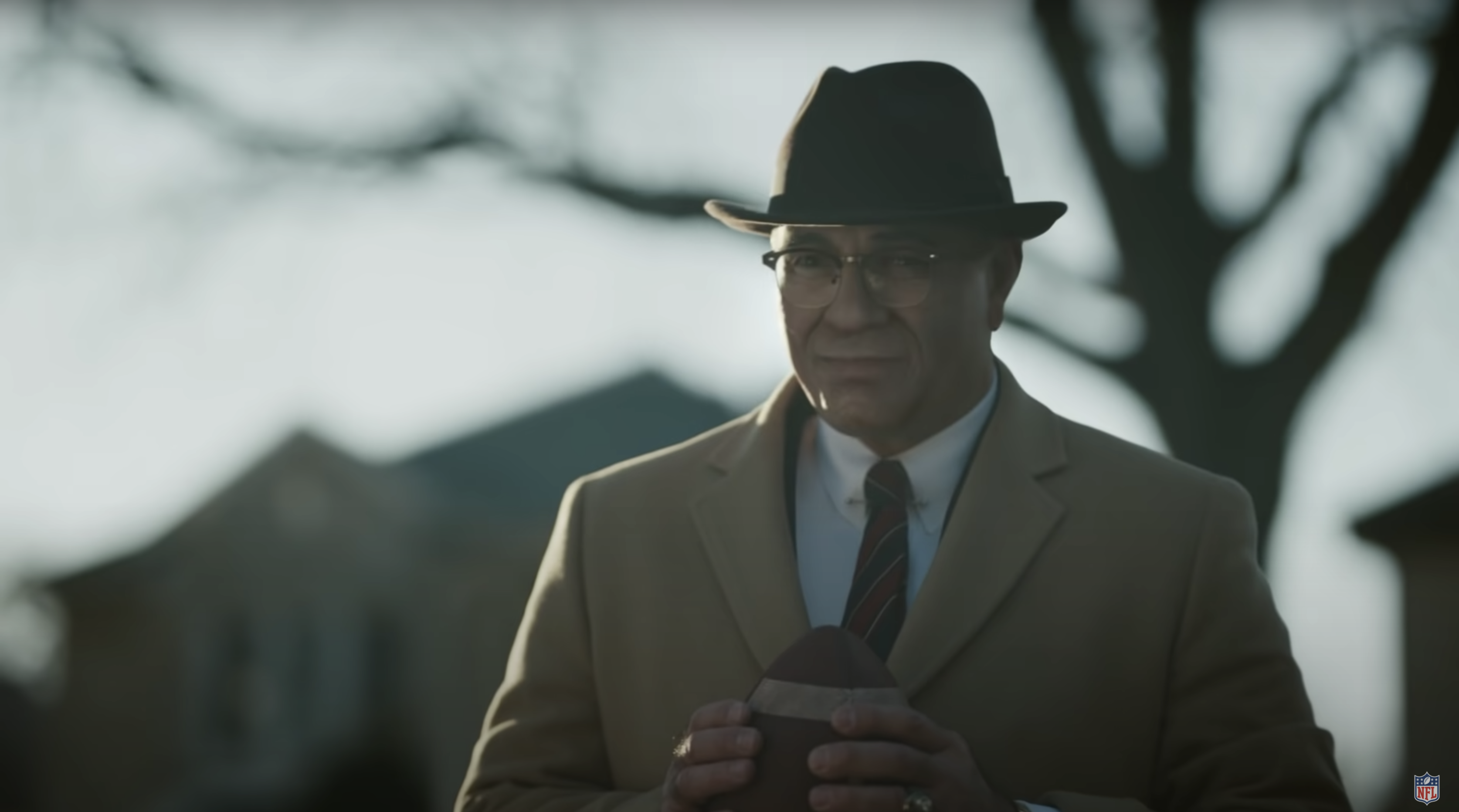 Image courtesy of The National Football League 
If you were one of 91 million people who watched Super Bowl 55, you may have seen a commercial featuring legendary coach Vince Lombardi. Although he died in 1970, Lombardi walks through contemporary America, where medical professionals mourn COVID patients and workers remove protective coverings from retail storefronts.
Lombardi's facial features are a spot-on match. His mannerisms are, too. He even wears his signature glasses, hat, and overcoat. 
Most striking is Lombardi's voice as he delivers a motivational speech about unity, courage, and perseverance. That voice was generated by Respeecher, a voice replication startup that completed the Comcast NBCUniversal LIFT Labs Accelerator, powered by Techstars, in 2019. 
Beyond proud to announce our latest project. Stay tuned for details. #SBLV #LombardiSBLV https://t.co/Re6LTF47g6

— Respeecher (@respeecher) February 3, 2021
"Lombardi's job was to inspire, and we're proud to help him do that job again," said Alex Serdiuk, CEO of Respeecher. "Bringing his voice back to life allows him to deliver a powerful speech about the challenging times of today. He inspired a lot of people before, and now he's doing it again."
To create Lombardi's voice, Respeecher pored over audio of the coach and used artificial intelligence to pick up every nuance and emotion in his speech patterns. The team then generated a synthetic voice indistinguishable from the original speaker. In partnership with the production company Digital Domain, Respeecher added the digitally created voice to the commercial.
The Super Bowl ad is part of Respeecher's mission to bring historical figures back to life with voice replication. For a documentary called In Event of Moon Disaster, Respeecher recreated the voice of President Richard Nixon to deliver a never-read contingency speech in case the Apollo 11 mission went badly.
"We give new flavors to history," said Serdiuk. "When you hear a historical figure speaking, it brings history closer to you. That's meaningful because we tend to forget our history and we shouldn't."
Since completing the LIFT Labs accelerator, Respeecher has expanded to 17 employees and worked with high-profile organizations like Star Wars studio Lucasfilm and the Massachusetts Institute of Technology. After watching the Super Bowl commercial live, Serdiuk took pride in being featured on one of the most wide-reaching broadcasts in the world.
"It's a huge leap for our company," he said. "It's not just the incredible exposure. It's a testament to our ability to get our technology to perform on such a high-profile project. That was our goal for the past three years. We've been focused on high-quality sound and speaker identity, no matter what it takes to get there."
The Respeecher team is looking forward to many projects in 2021 — motion pictures, documentaries, video games, and a plan to release a self-serve voice marketplace to give smaller creators the ability to use groundbreaking technology. 
"We want everyone to have access to voice cloning technology, from large Hollywood studios to smaller shops who can't afford a cast of voice actors," said Serdiuk. "The future is bright."


To read more inspiring startup stories and to stay connected to Comcast NBCUniversal LIFT Labs, sign up for our newsletter and follow us on Twitter.