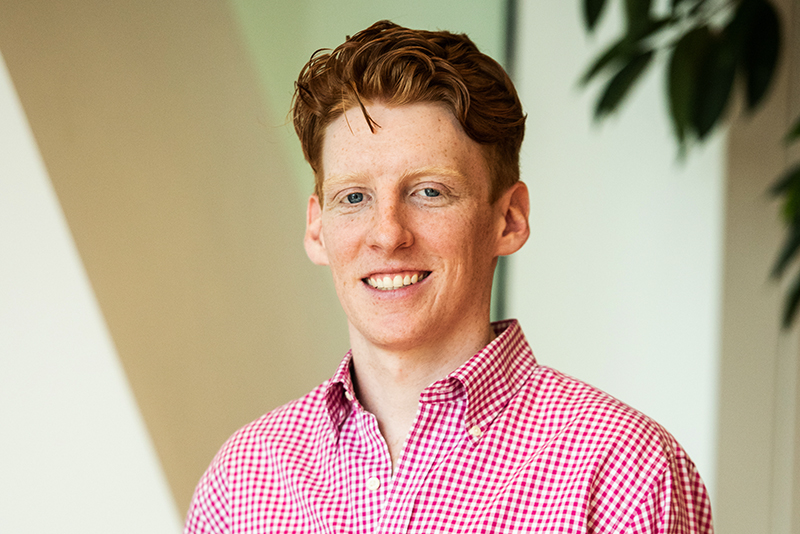 After participating in the Comcast NBCUniversal LIFT Labs Accelerator, powered by Techstars in 2019, Sporttrade is poised for major growth.
In 2016, Alex Kane had a hunch about the Masters Tournament. After watching Asian tour golf on weekends, he knew that golfer Kiradech Aphibarnrat was on a hot streak. So Kane and a friend wagered $10 on him to win the Masters at 1,000/1 odds. 
Sure enough Aphibarnrat was a strong competitor, reaching the top 10 midway through the tournament. At one point, his odds increased to 1/10. 
"I felt like I knew something the market didn't," said Kane. "But I couldn't close my initial position and monetize all the value I created. As a finance guy and day trader, this didn't make sense to me. It goes against everything that is great about open, transparent, liquid markets."
Aphibarnrat soon fell out of contention and Kane won nothing. 
The experience led Kane to launch Sporttrade, a sports betting and trading exchange where customers can trade sports bets like stocks. Modeled after financial markets, Sporttrade brings price transparency, liquidity and reduced transaction costs to sports betting. Instead of a traditional sportsbook which pits players against the house, Sporttrade matches players against each other. It works like a stock exchange — but rather than trading stock in companies, players trade outcomes of sporting events, like Serena Williams to win Wimbledon or the New York Yankees to win a baseball game.
Sporttrade recently announced a raise of $36 million led by Jump Capital, with participation from Nasdaq Ventures, and many more including the former CEO of MGM Casinos. Sporttrade has officially launched its new website and trading will be available in New Jersey in summer 2021, with more states to follow. 
"We're turning sporting events into the next major asset class," said Kane.
Credibility, Connections, and Growth
The fundraise is the culmination of years of hard work to get Sporttrade from idea to launch. One major step was the Comcast NBCUniversal LIFT Labs Accelerator, powered by Techstars — which Kane completed in 2019. During the program, he refined his pitch to investors and learned important lessons about fundraising. 
"The LIFT Labs Accelerator helped us raise our credibility. Comcast is a globally recognized brand," said Kane.
During the program, he also made valuable connections with experts in sports, media, and technology.
"Luke, Danielle, and the entire LIFT Labs team are able to get in front of so many great people and companies. Having them as champions of our business opened so many doors for us," said Kane.
Sporttrade has been using the investment dollars to build out the team, and continue developing its technology. The company has made some key hires. Russ Rubino, the former
Vice President of Global Marketing at the NYSE and Nasdaq now serves as CMO. Anthony Busacca, former Managing Director at JPMorgan Chase, is now Sporttrade's CFO. The team is now 50 people and growing.
The Sporttrade team is hoping to appeal to mobile-first, younger audiences who trade stocks, ETFs, and crypto currencies on their phones. They also hope to attract sports enthusiasts who want a different, more flexible way to wager.
"There is clearly a confluence of the trader and the sports bettor, and we believe our platform serves this growing and unique audience," said Kane.
With a new investment, expanded team, and the company officially launched, Kane is excited about the future.
"As a startup business in the highly regulated legal sports betting industry, it has taken us perhaps longer than most startups in other verticals to reach a point of selling our product and consumers," said Kane. "Now we're off and running — and we think customers are really going to enjoy the platform we created."


To read more inspiring startup stories and to stay connected to Comcast NBCUniversal LIFT Labs, sign up for our newsletter and follow us on Twitter.