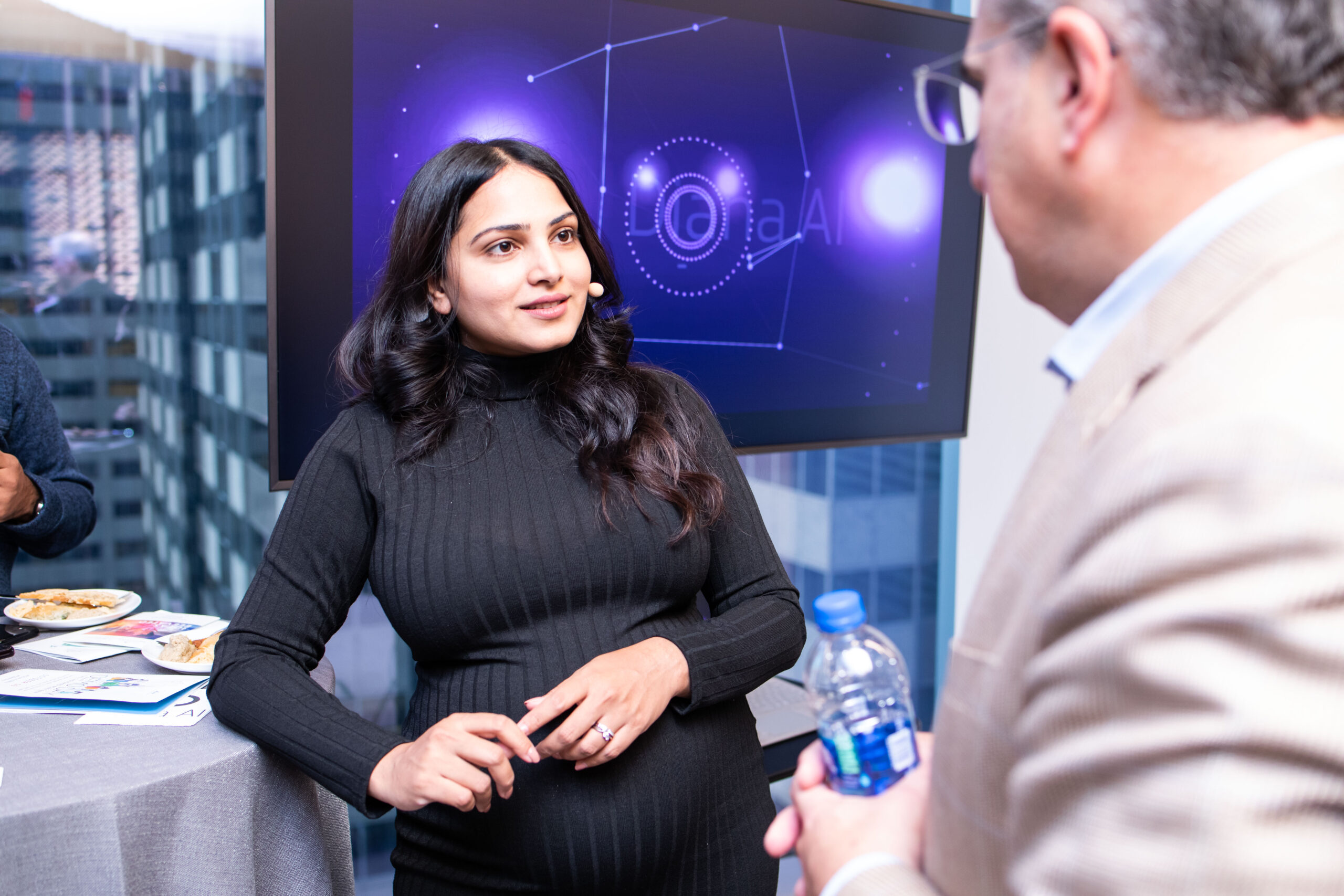 Startup founders ink partnership deals using templates and know-how from the LEARN@LIFT: Startup-Corporate Partner Bootcamp. 
When Marguerite Pressley Davis landed her first corporate partnership deal, she knew why.
As Founder and CEO of edtech/fintech startup Finance Savvy CEO, Pressley Davis believed there was one corporation that was a perfect fit. The organization seemed aligned to her startup's goal of closing the gender and racial wealth gap through profitable entrepreneurship. But who was the right corporate contact to approach? What specific language would make her cold-call email stand out? How might she structure a potential deal without a team of lawyers?
Pressley Davis got those answers and more during the LEARN@LIFT: Startup-Corporate Partner Bootcamp. The program provided detailed lessons on enterprise deal-making, valuable resources, and discussions with startup founders and corporate decision-makers.
After the program, she reached out to her dream client — and quickly closed the deal.
"I landed my first corporate partnership using the exact templates and methods that the LIFT Labs team taught us through the program," said Pressley Davis. "I'm definitely more well-equipped to navigate the nuances of being a small business approaching a corporation. I have a lot more confidence in being able to speak to the value that I can provide."
The bootcamp also offered templates for contracts and other important documents — and that's especially helpful to startup founders working on tight budgets. 
"It's like having a support team without having to pay the hundreds of thousands of dollars it takes to do it," said Pressley Davis.
Closing Three Partnership Deals "Just Like That"
Chris Paterno, Founder and CEO at HEARD, also saw immediate success after completing the bootcamp. His company offers a digital marketing suite designed for the music industry, meaning he must pitch to decision makers in a notoriously competitive industry. Paterno saw immediate success with the bootcamp's tried-and-true email and contract templates, and tracking tools. Paterno credits the program with helping him land three partnership deals with record labels and management companies.
"It inspired me to go out and get some pilots because it crystallized how to talk about potential pilot programs and gave us the paperwork to actually execute it," said Paterno. "Just like that, we are working with three B2B music industry businesses." 
During the program, Paterno and the rest of the bootcamp cohort got to meet with the very people who make corporate partnership decisions for large companies. They explained what prompts them to open cold emails or take a meeting with a startup founder — and that inside info was particularly helpful for Paterno.
"The network of people and their actionable advice was incredible. We got to talk to people in all different stages of the startup and corporate worlds. Those conversations brought new insights because we got to learn how they succeeded or failed," said Paterno.
Jo Lynn Clemens, CEO & Founder of RiskKarma, a startup that helps organizations predict, prevent and mitigate worker risks, said she particularly enjoyed the self-paced schedule with a mix of on demand video lessons, library of downloadable resources, and live sessions. 
"The fact that you could progress at your own pace was extremely helpful," said Clemens. "It wasn't overly burdensome to get assignments done, and that flexibility was extremely helpful. I felt like LIFT Labs understood the workload of startups and planned this program accordingly," said Clemens.
Being a startup founder can be a lonely endeavor; however, the bootcamp empowered founders like Clemens to work productively with one another.
"By virtue of being startups anyway we're creative in our approaches. Each person may have a different method of addressing an issue," said Clemens. "The breadth of opinions was very valuable in addition to the comradery of having someone taking the same journey."
Think your company is a fit for the LEARN@LIFT: Startup-Corporate Partner Bootcamp? Get more information or sign up here.


To read more inspiring startup stories and to stay connected to Comcast NBCUniversal LIFT Labs, sign up for our newsletter and follow us on Twitter.