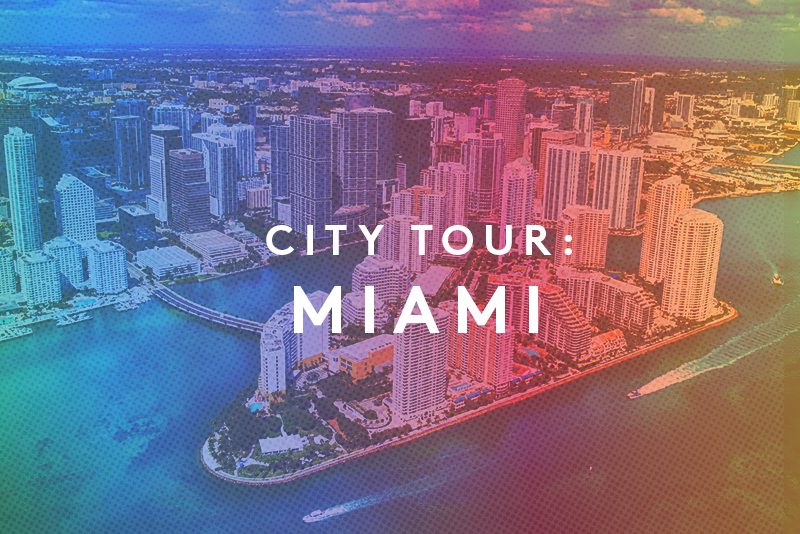 ---
The LIFT Labs City Tour is a multi-city event featuring discussions with more than 200 founders, funders, and startup leaders.
---
With no personal state income tax and a tropical climate perfect for remote work, Miami is attracting tech talent from traditional hubs like Silicon Valley and New York. Money is pouring in, too. Softbank Capital announced a $100 million venture capital initiative to support Miami-based businesses and relocating tech startups. Add a gateway to Latin America, an enthusiastic mayor, and exciting nightlife — Miami has all the attributes of a burgeoning tech hotspot. 
"We are in this extraordinary moment with COVID. We're all thinking about where we want to spend our time — and increasingly, people look at the map and choose Miami. That presents an enormous opportunity for the Miami startup ecosystem to take a huge leap," said Matt Haggman, head of One Community One Goal at the Miami-Dade Beacon Council, a strategic initiative focused on shaping Miami's economic future. 
Haggman shared his thoughts during the LIFT Labs City Tour, a virtual visit with members of Miami's startup ecosystem. Founders, funders, and community leaders agreed that Miami is poised for serious growth, with early-stage investments and corporate partnerships on the rise.
» Here are some takeaways from our conversation:
Miami's Startup Ecosystem
Welcoming to newcomers. Matt Bailey moved his fan engagement startup GameOn (a LIFT Labs accelerator company) from Brooklyn. The Miami startup community embraced him right away.
"There really is a welcoming committee. It's like a digital version of people waiting for you with signs at the airport," said Bailey. 
Collaboration between stalwarts and newcomers is key to the city's growth. 
"We're at a phase where opportunities are endless," said Melissa Medina, President at eMerge Americas, a popular Miami event and connection organization. "If we are able to create meaningful connections between those who have been here for a while and newcomers, we benefit tremendously as an ecosystem."
Growing talent pool. With promising technologists, founders, and professionals moving to Miami as more people worked from home, startup founders have a larger pool of qualified candidates to choose from.
"In the last six months, everybody seems to be moving here," said Rakesh Mistry, CEO of RamRak Recruiting, a startup recruitment partner. "We're attracting a lot of talent that, over the last five years, we couldn't attract before. Hopefully, those trends are here to stay."
Engagement with grassroots organizations. Startups want and need more opportunities to pilot their products and technologies with big companies — and grassroots organizations can help. For example, LaToya Stirrup, a Charter Member of the Black Girl Ventures Miami Chapter, said they help many corporations partner with women-owned businesses from underserved communities. 
"Having that corporate partnership not only provides access to founders like myself but also provides resources, intel, funding, and access," said Stirrup, also co-founder of hair care company KAZMALEJE. "There are a lot of great opportunities that can happen when businesses work with grassroots organizations, like access to founders who aren't on the radar because they don't have the public relations or publicity to get the proper recognition." 
What Miami Needs
Early-stage venture capital. In 2020, companies in the Miami-Fort Lauderdale area received $1.9 billion in investment capital across 70 deals. Still, Miami founders and funders agree that more dollars need to flow to companies at the earliest stages, said Kevin Cadette, Executive Director of Black Angels Miami, an early-stage investor. 
"The companies I get most excited about are too early for VC money. Investors need to see a team, minimum viable product, and some traction. The newest companies don't have the resources to necessarily get there," said Cadette. "There is so much wealth in Miami, but people aren't thinking about investing in a startup or don't think they can invest in a startup. Giving them exposure and getting more people involved will move the needle."
Buchanan said she is "seeing more angel funds and venture capitalists land here. The challenge has been making sure the caliber of local companies is on par with the amount of capital that is beginning to concentrate here."
Connective tissue for the startup community. With so many newcomers arriving, Miami's startup leaders have a unique ability to develop a high-level, cohesive strategy to keep people connected. Leigh-Ann Buchanan, president of aīre ventures, a nonprofit venture studio, said creating a playbook in a socially equitable way is crucial to the ecosystem's development.
"In this new stage, one of the largest gaps is the overall strategy for our ecosystem, so we can not let things fall through the cracks, especially racial equity, diversity, and inclusion," said Buchanan. "How do you engineer the serendipity — the natural and helpful catalyst to creating a more intimate and thoughtful deep relationships and community?"
Angel investment from underrepresented communities. More angel investors mean more startup founders get a shot at funding. When those angels come from underrepresented communities, it leads to a more inclusivity.
"There are plenty of Black investors out there who are accredited investors but who are not educated in the startup space. I can talk to someone worth tens of millions but won't have a clue about investing in startups," said Cadette from Black Angels Miami. "We're trying to reach them. It is a riskier asset class, but if you don't invest a little bit of your portfolio in it, you're missing out."
---
Did we miss anything? We know it's impossible to learn everything about a particular startup community from just one event. If you'd like to add any attributes or challenges — or tell us about startups doing incredible things, drop us a line. We'd love to hear from you.