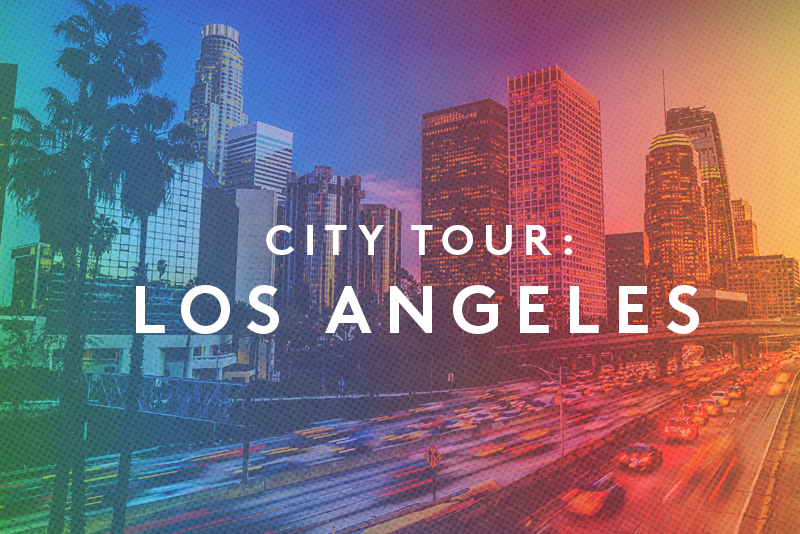 ---
The LIFT Labs City Tour is a multi-city event featuring discussions with more than 200 founders, funders, and startup leaders.
---
Laura Colagrande doesn't take the sunshine for granted. As a startup founder in Los Angeles, she works long days. While her startup benefits from LA's abundance of tech talent and collaborative ecosystem, the weather is an important refuge. 
"L.A. is just so nice. You can walk outside and feel good. You can't do that in many other cities. It impacts your productivity and mental health," said Colagrande, the cofounder of Chippin, which makes natural, eco-friendly dog treats and food.
» Here are some takeaways from our conversation:
Los Angeles Startup Ecosystem
Talented technologists. When the pandemic took hold, many people fled big cities to save money and gain more space. Andre Sanchez, chief operating officer of Rently, which provides self-guided tours for renters, said his organization considered closing its  Los Angeles office. Still, the incredible pool of tech and business talent made them stay. 
"It was really hard to hire for certain positions in our Camarillo or Thousand Oaks offices not in L.A.. It made sense to keep operations open here in L.A. The talent pool is great," said Sanchez. "Plus, hosting clients in L.A. is excellent. You can't beat it."
Colagrande agreed. Los Angeles talent is a difference-maker for early-stage companies.
"The universities in L.A. enable a very vibrant startup ecosystem. It's also a function of people moving to L.A. from other places," said Colagrand. 
International connections. People flock to Los Angeles from all over the world to be part of the business community, weather, and vibrant entertainment industry. That international vibe is a valuable differentiator for startups hoping to break into markets abroad or diversify their workforces.
"One of the most attractive things about Los Angeles is the number of people from different nations, all speaking different languages. It's an international city," said David Adi, Co-Founder, and CEO at Allyable, which helps businesses be more digitally accessible. "It helps the growth of any business dealing not only in the United States but also abroad."
Elysia Whitis said LA's international community helps provide unique business opportunities. 
"There are so many opportunities to meet different types of people from all over the world. You might run into someone who turns into a mentor or a business partner or who can give you advice. Or a new client. It is the land of opportunity, and it lives up to its name," said Whitis. Her startup Ollovus makes access to alternative health and wellness more affordable, convenient, and inclusive.
A wide accelerator and incubator network. If startups in Los Angeles are looking for mentorship or know-how, they have plenty of options. There are incubators and accelerators for almost any industry, serving various demographic groups — programs for female founders, underrepresented founders, early-stage startups, pre-seed companies, and more. Molly Crete, Portfolio Coordinator at Los Angeles Cleantech Incubator (LACI), said incubators and accelerators in Los Angeles have solid connections to investors, corporate partners, and experts.
"Of course, fundraising is going to be probably the number one challenge, but the next is building a customer pipeline, and a lot of that starts with partner relationships," said Crete. "I always encourage startups to look to incubators and accelerator programs for support."
What Los Angeles Needs
Tech talent that chooses startups over big jobs. While the city is producing extraordinary talent, convincing them to join a startup isn't easy. There are incredible opportunities with major tech titans like Google and Facebook, which have offices in the city. Or they go to San Francisco or Silicon Valley, where they know the job market is robust, said Kevin Winston, CEO & Founder at Digital LA, a popular networking group for tech companies and startups.
"In L.A., oftentimes when you are competing for tech talent, you are competing against companies like Google or Facebook either locally or in the Bay Area for jobs that are higher paid," said Winston. "We're getting better at it, but it's always been a little tough to retain our tech talent."
Investors with deeper pockets. Los Angeles investors typically don't have the same deep pockets as investors from Silicon Valley. That means founders must find several to join a round or entice startups from the Valley to invest. 
"If you get one VC, maybe a couple of others come in and join. That happens a lot. It's not a pro or con, just a different way of working. In San Francisco, one VC has enough money to give you a lot," said Winston. "But that makes L.A. more collaborative. A group of VCs making investments in one company feels more like a community that's helping to support and lift you."
Wintston said that the influx of people moving to Los Angeles from San Francisco has helped bring more investors to town. 
"Money from New York and San Francisco has started to come into town, so that's helpful," Winston said. "People realize they are spending a lot for a small San Francisco or New York apartment when they could be spending the same amount or less and getting three times the space and some sunshine in Los Angeles."
---
Did we miss anything? We know it's impossible to learn everything about a particular startup community from just one event. If you'd like to add any attributes or challenges — or tell us about startups doing incredible things, drop us a line. We'd love to hear from you.