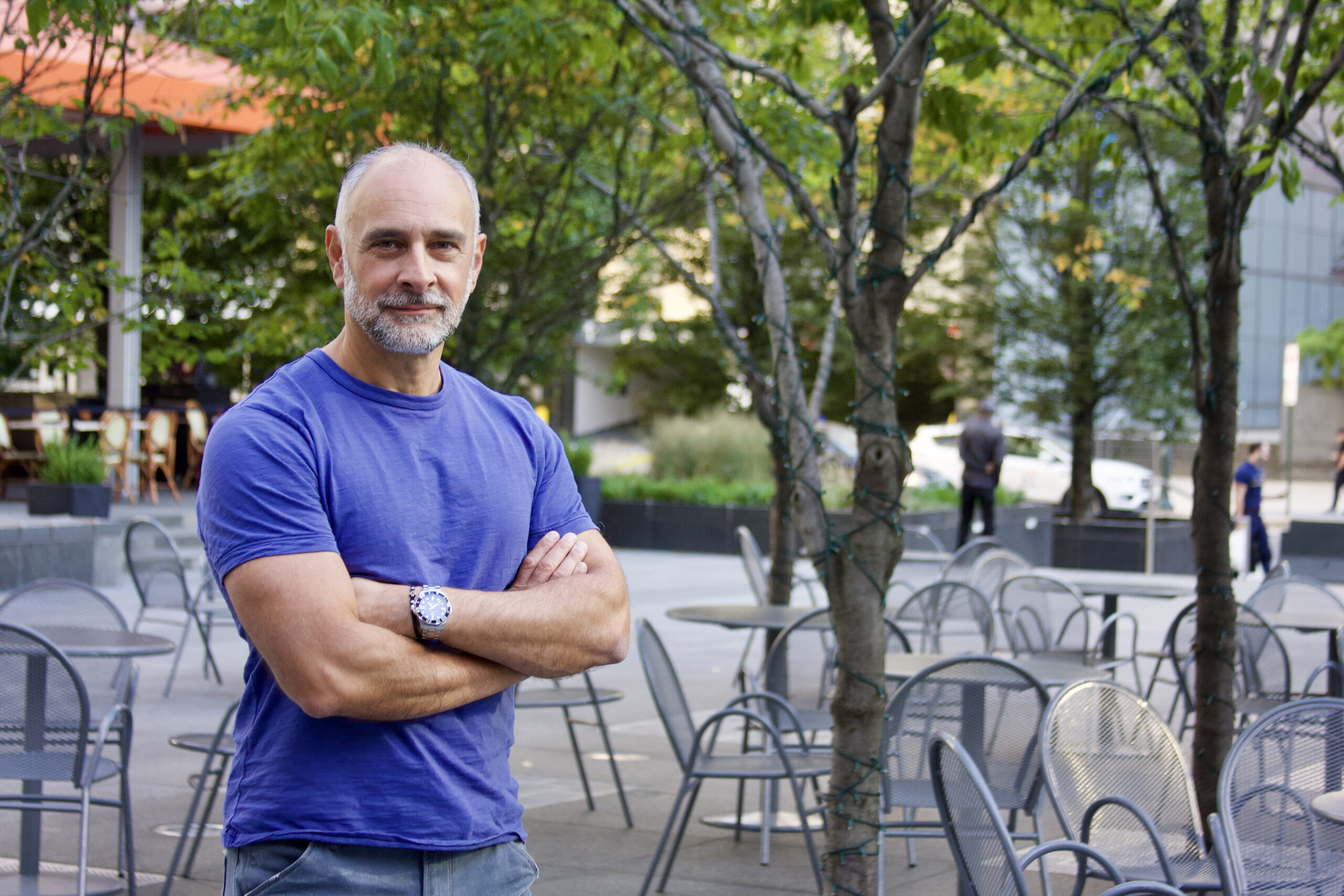 Shahin Lauritzen, Co-Founder & CEO
Holodia is part of the 2021 class of the Comcast NBCUniversal LIFT Labs Accelerator, powered by Techstars. The 12-week accelerator helps startups in connectivity, media, and entertainment grow their companies and develop partnerships with Comcast NBCUniversal.
Bojana Knezevic can't help but smile when talking about her uncle George. After years of unhealthy living, the 67-year-old finally stuck to a fitness regimen, lost more than 75 pounds, and no longer needed two powerful prescription medications.
His secret? Holofit, a virtual reality workout system developed by Knezevic's startup Holodia. After connecting his home elliptical machine to a VR headset via Bluetooth, George explored the rings of Saturn, dodged incoming projectiles on a space run, and broke a serious sweat. He even used the program to exercise "alongside" his sister, helping them stay connected during the COVID-19 pandemic.
"My uncle turned his life around, and virtual Saturn is his weapon of choice," said Knezevic. "I love him so much and couldn't be happier that he transformed his health."
The Zurich, Switzerland-based startup connects rowing machines, stationary bicycles, and elliptical machines to virtual reality headsets and transports users to a number of virtual environments for physical activities. Players can bike down the streets of Paris, sail through the icy waters of Antarctica, or run through snowy mountains. They can also compete against other players online, try to surpass their own cardio goals, and simply explore.
Army Leadership Brings Startup Success
Holodia co-founder Shahin Lauritzen spent 12 years in the Danish Army before transitioning to a career in business. His army experience taught him leadership above all else. He worked with troops in combat and helped ensure his teams had the discipline to solve complex problems. Those skills have translated well to the business world. 
"Leadership has been a red line through my entire career dating back to my military days. I enjoy helping people perform better and training the troops. Soldiers are like raw material in Bootcamp. Afterward, they walk out stronger, better, more capable, and self-confident."
After Lauritzen and Knezevic met,  they embarked upon a string of successful business partnerships. They started a consulting company and taxi-hailing app together. Now focused on fitness, they find themselves in a crowded marketplace. From connected exercise bikes to online classes, people have plenty of options to work out at home. 
Holofit stands out because of its ability to keep people engaged as they exercise. Indeed, biking through ancient Babylon is certainly more intriguing than staring at the same four walls in your house. And, it's working. After six months, people training with Holofit use the platform almost five times per week. Over that timeframe, their average session time tripled. The company also boasts a 90-day retention rate of 93%.
A big reason people are engaging longer is gameplay. Rather than following along with a trainer on a monitor, users become immersed in a completely foreign world with real-time graphics that move as they move. 
"Things are happening in your workout in real-time. It is not played in front of you; it's happening while you work out. The user becomes part of the story ,and that's proven very compelling," said Lauritzen.
Virtual Coaches and the Birth of V-Sports
In the future, Lauritzen and Knezevic plan to launch virtual fitness coaches who can analyze workout statistics, make training plans, and motivate players to push their limits. They also plan to launch in China by 2022 and will soon add activities that don't require fitness machines, like calisthenics and boxing.
They also plan to expand the content offerings by adding recognizable intellectual property to their virtual worlds. Imagine running through the streets of Paris while helping a famous superhero chase down a bad guy. That's why the team is excited to be part of the Comcast NBCUniversal LIFT Labs accelerator. Not only are they talking with experts about distribution and exploring new sales funnels, but they are also connecting with entertainment executives who deeply understand intellectual property partnerships.
"We are very happy to be part of the accelerator program," said Lauritzen. "It is a testament to Comcast's strategic foresight and vision. They see something in us and see that VR technology is here to stay."
As VR exercise expands, workout competitions are a logical next step. Much like esports made competitive video gameplay reality, Holodia hopes to make virtual reality exercise tournaments mainstream. 
"Our vision is to create V-sports — esports combined with real sports, with different levels and spectators. We are already starting with smaller tournaments and think the future is very bright."
All the effort is for one more significant purpose: helping people feel better and live healthier lives.
"If a customer tells us they are having fun and improving their fitness," said Lauritzen, "then we are doing our jobs."


To read more inspiring startup stories and to stay connected to Comcast NBCUniversal LIFT Labs, sign up for our newsletter and follow us on Twitter.