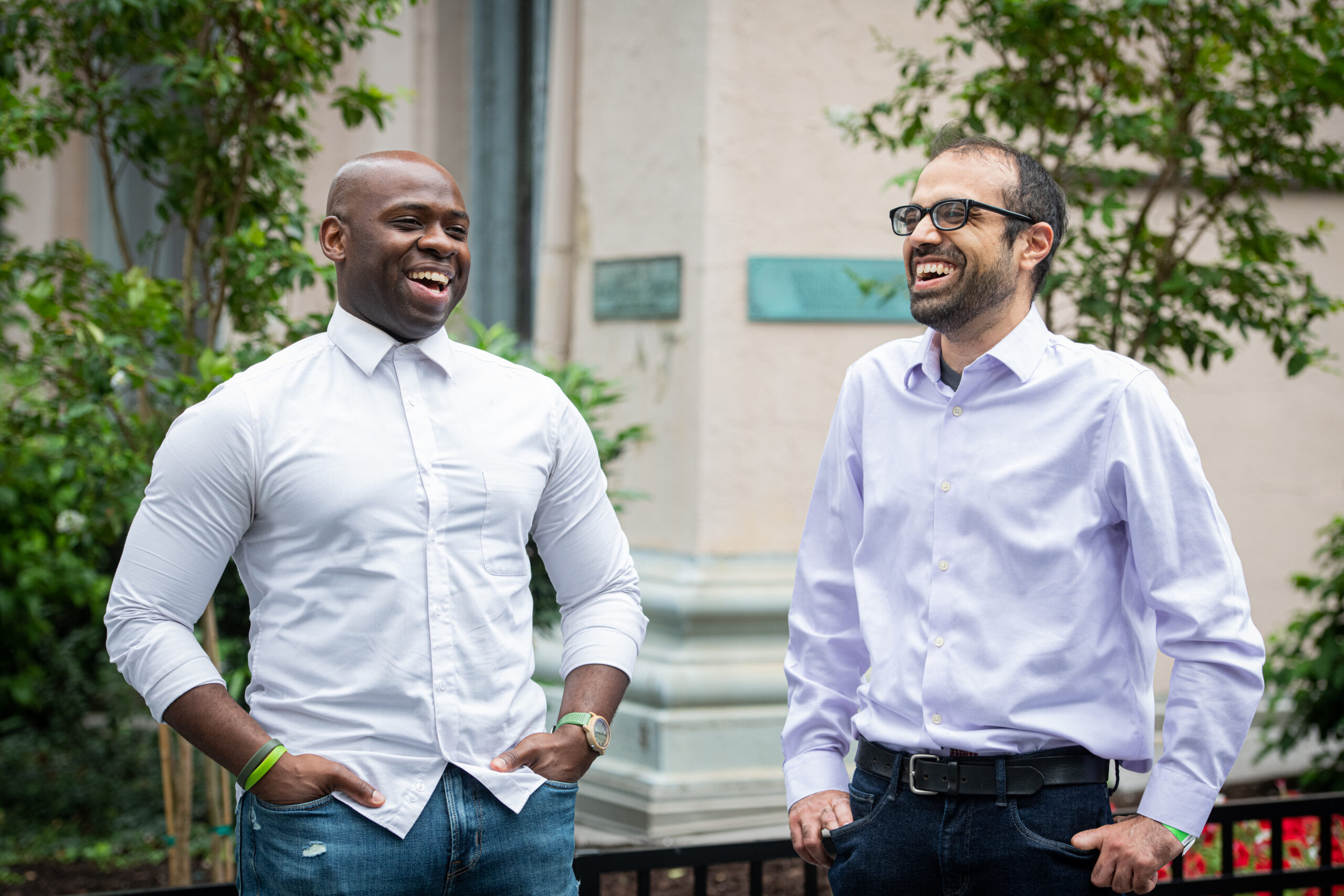 Bruce Marable, Co-Founder & CEO and Salas Saraiya, Co-Founder & CTO
Employee Cycle is part of the 2021 class of the Comcast NBCUniversal LIFT Labs Accelerator, powered by Techstars. The 12-week accelerator helps startups in connectivity, media, and entertainment grow their companies and develop partnerships with Comcast NBCUniversal.
The most valuable lesson Bruce Marable learned in college is this: he has what it takes to be a startup founder. Annoyed by the high price of textbooks, Marable created a service that allowed students to swap books for other goods, like clothes or video games.

"We didn't know what we were doing, and it failed spectacularly," Marable admitted. "But it gave me the perspective that I had the stomach, passion, and grit for startups."
It led Marable to pursue a career as a serial entrepreneur. He launched a web design company, an app development business, and a hiring software firm for the high-volume, high-turnover hourly space. (It eventually merged with another HR tech company.)
"I love to assemble a team of really smart people ready to build amazing B2B products that make work faster, cheaper, and better," he said.
While networking at Philadelphia startup events, Marable became friendly with Salas Saraiya and was immediately taken with Saraiya's skill set. Not only was he a Stanford grad and computer science whiz, but he also had a way with people and a passion for building community. Soon they sat on the board of a business networking group in Philly and talked about starting a company together. 
They are now cofounders of Employee Cycle, a startup empowering companies to automate HR reporting and analytics processes and pull all the data into one real-time people dashboard. Companies use Employee Cycle to connect disparate software systems for payroll, applicant tracking, recruiting, employee engagement, performance management, and other tasks. 
The startup helps businesses identify potential problems uncovered through data analysis. For example, a company may not have diverse talent in its recruiting pipeline or a gender gap among management-level employees. Employee Cycle helps leadership dissect problems quickly and work toward solutions.
"Companies say people are their greatest asset, but it's the area they know least about," said Marable. "The earlier they can focus on people data, the earlier they identify potential issues before they become large, systemic workforce problems. HR is more strategic and proactive."
Saraiya argues that business leaders want to make meaningful changes like diversifying their workforces or achieving better employee engagement, but they struggle due to disparate HR tech systems.
"We make it easy to put their efforts where their morals already are," said Saraiya. 
Hometown Team
While other participants joined the accelerator from Europe, Israel or across the United States,
Marable and Saraiya are based in Philadelphia — just a short distance away from the LIFT Labs office inside the Comcast Technology Center. 
"We were already familiar with how Comcast and LIFT Labs help startups. We were excited to work closely with their team," said Saraiya. "Meanwhile, Techstars is providing access to content and great people. We knew what to expect, but the program has blown us away."
Marable continued: "As the only Philly-based startup, there is a certain level of responsibility in representing our hometown. We have been able to help the international founders navigate the city and make sure they get a cheesesteak from the right place."
Philly is an underdog, blue-collar city, and Marable thinks that is a perfect analogy for human resources. While other departments typically get credit and have advanced tech systems, HR is often moved to the back burner.
"I am from Philly. I root for the underdog. In business, HR is the underdog compared to sales, marketing, and other departments. I want to help HR go from a cost center to a people success center," said Marable.
As the Employee Cycle team builds and gains market share, data and privacy are a crucial layer of security protocols. Handling external company data is a big responsibility that they don't take lightly.
"We want to become the default platform to manage and analyze HR data for small and medium-sized businesses," Marable said.


To read more inspiring startup stories and to stay connected to Comcast NBCUniversal LIFT Labs, sign up for our newsletter and follow us on Twitter.