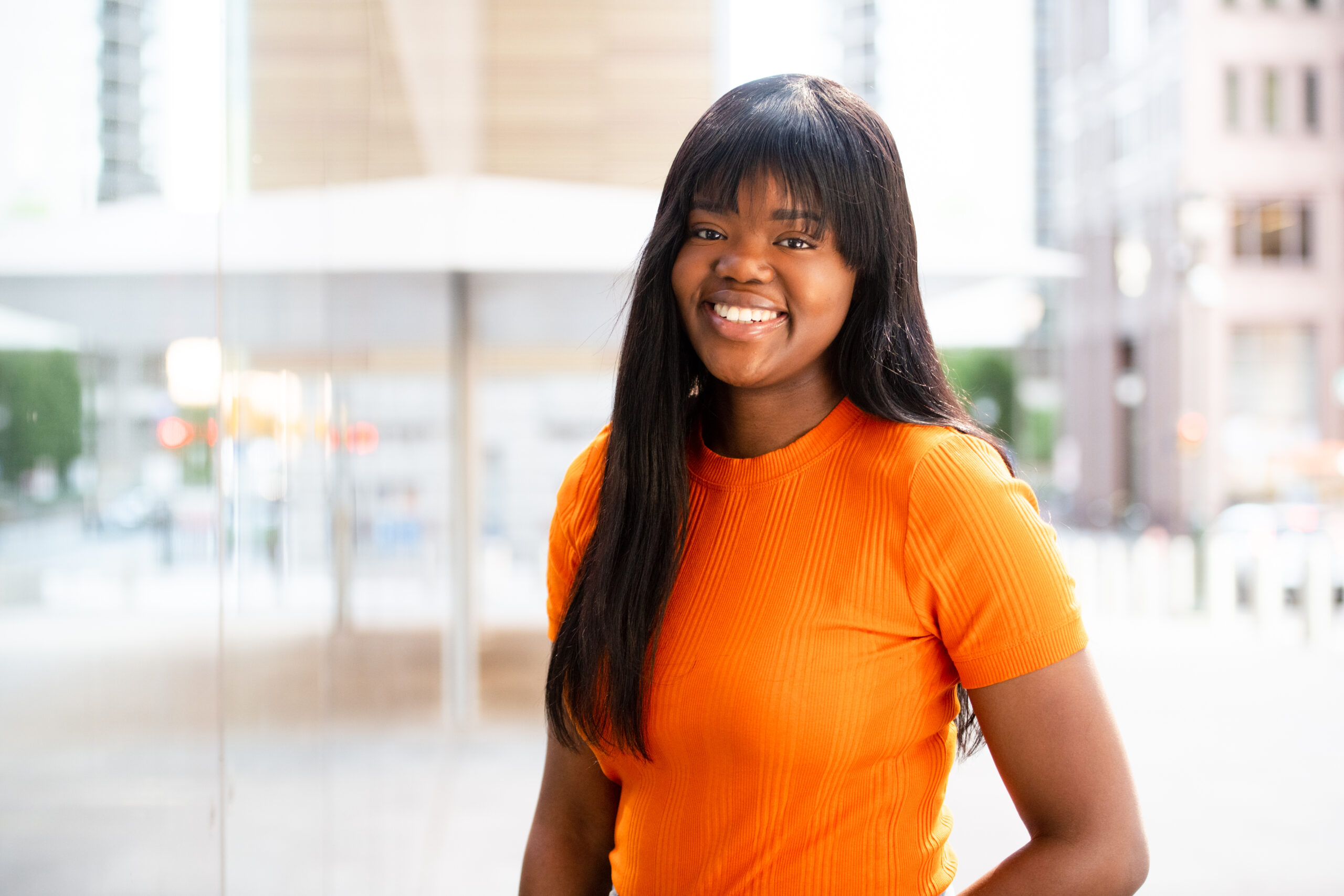 Deborah Igunma, Co-Founder & CEO of Peek
Peek is part of the 2021 class of the Comcast NBCUniversal LIFT Labs Accelerator, powered by Techstars. The 12-week accelerator helps startups in connectivity, media, and entertainment grow companies and develop partnerships with Comcast NBCUniversal.
Emmanuel Ojo loves reading. Yet digital distractions had gotten in the way. As texting, viral videos, and social media feeds took up more of his free time, literature languished on the shelf. 
"I used to get him books for his birthday until I realized I was wasting my money," said Ojo's friend and business partner Deborah Igunma.
"I missed reading, but I really missed the conversations about reading," said Ojo. "Deborah is always sending book recommendations and having conversations with friends about what she is reading. Not being involved in those discussions hurt." 
It led them to launch Peek, a startup empowering readers to have conversations inside their books. Users can download an electronic book on a phone or tablet and tag friends with thoughts on particular passages. They can even communicate directly with authors and reading influencers. Peek also helps readers link up with other book lovers to explore favorite genres for real-time discussions. 
"All consumer entertainment experiences are becoming multiplayer, community-driven, and creator-led. We've seen it happen in gaming with Twitch and fitness with Peloton. Yet the earliest form of entertainment — books — has been completely left out of this transformation."
Peek helped Ojo rekindle his love of reading, and he's betting it will attract others to do the same. 
"Many people have fallen out of love with the activity because they can't engage with it the same way they engage with everything else in their lives," he said. "We're changing that paradigm."
For Igunma, Peek is a chance to share opinions on books with wider audiences.
"I always share my hot takes, my gems with other people," she said. "Now I am empowering people to do that at scale."
A Love of Reading Turns Into a Career
Igunma grew up reading Jacqueline Wilson's Tracy Beaker books and Nigerian authors like Chinua Achebe and Wole Soyinka. Ojo loved Rick Riordan's Percy Jackson series so much that he would bug the librarian to find when the next edition might be available. 
That love of reading made them fast friends in college. Ojo studied economics and later taught himself software development, full-stack programming, and mobile coding. He even spent time as an angel investor working with startups led by underrepresented founders. Igunma's career took her into banking and television. She also developed an app enabling musicians to get investments directly from fans.
Now, as the cofounders build Peek, they see incredible results. Thousands have joined the waiting list for the company's beta launch, and early users are extremely engaged. Peek has partnerships with major publishers and is working with influential content creators who review books and have discussions on the Peek platform. Some are even angel investors in the company.
Peek is well-positioned because people typically have in-person book discussions or social media exchanges — but there isn't a platform that lets them discuss their thoughts line-by-line.
"Instagram, Reddit, and YouTube are not platforms for book lovers and don't cater to them," said Igunma. "Peek offers the tools to create an intimate reading relationship with like-minded people."
New Revenue For Publishers and Authors
The benefits to publishers are apparent: increased book sales and more engaged readers. Peek is particularly attractive to Gen Z and millennial readers who are used to reading on electronic devices.
The platform benefits authors by allowing them to engage with readers and actively sell more books. 
Peek also provides crucial feedback to authors and publishers about which parts of a book generate the most conversation or how people react to specific passages.
"Authors say the one place they can never explore is the reader's mind, but now they finally have a channel to learn what readers are thinking," said Ojo.
The founders have ambitious plans. They want Peek to become the hub for social reading and believe they will help facilitate a new set of literature content creators and influencers.
"In the future, we hope people will always come to us when they start reading a book because of the meaningful conversations they can have with others," said Igunma. "Why read alone ever again?"


To read more inspiring startup stories and to stay connected to Comcast NBCUniversal LIFT Labs, sign up for our newsletter and follow us on Twitter.