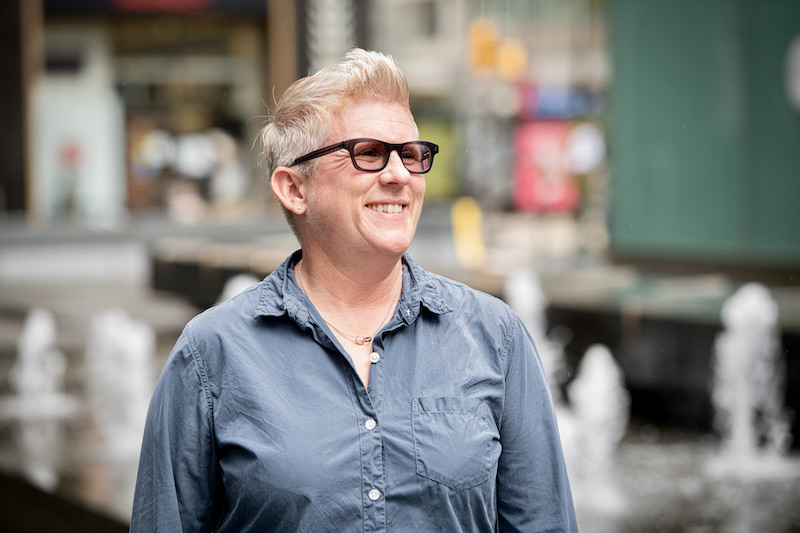 H Schuster, Founder & CEO
HUSSLUP is part of the 2021 class of the Comcast NBCUniversal LIFT Labs Accelerator, powered by Techstars. The 12-week accelerator helps startups in connectivity, media, and entertainment grow their companies and develop partnerships with Comcast NBCUniversal.
Breaking into the entertainment business is no easy task. Writers, producers, directors, and editors clamor for creative jobs in TV and movies, yet according to HUSSLUP founder H Schuster, executives still often rely on one-to-one relationships and personal circles to find talent. The narrow pipeline is inefficient for executives and puts new and diverse talent at a serious disadvantage for getting work.
"If you talk to 100 creatives, you'll get 100 stories about how they broke into the business," said H Schuster, who worked as an executive producer and full-time executive for production companies like Ryan Seacrest Productions, Amazon Studios, and Reveille/Shine. Most are moments of serendipity. Like a person waiting tables and a big director sat in their section and listened to an idea pitch."
Schuster became an expert at finding talent, particularly diverse talent and women. Many colleagues turned to Schuster when sourcing diverse talent for TV, film, or other creative projects. 
"I couldn't keep a Rolodex deep enough without a better tool. I needed a way to democratize and diversify access to the industry," said Schuster. "That's when I decided to build a vertical network for creative talent at all levels in media and entertainment to connect and be searchable by companies looking for them."
Schuster launched HUSSLUP, a talent discovery platform connecting creatives to producers and executives in media and entertainment. Creators make professional profiles with work samples and job history. They can use the platform to find jobs, search for events, and connect with collaborators. Members can also showcase recommendations from people they worked with or for in the past (called vouches) and set their work availability — crucial in an industry where many jobs are freelance and only last a few months. The platform is open for vetted professionals who are already in the business and aspirational creators hoping to break in. 
Employers use HUSSLUP to search the centralized talent pool for potential hires, and track diversity in recruiting and hiring. The platform is also available to agents and managers who use the platform to search for new clients. 
"People think there is a talent shortage, but there is a pipeline problem due to searchability and discovery," said Schuster. "Creatives have no place to aggregate all their professional information so they can own it, and companies have no efficient way to search a large freelance talent pool."
Diversifying Hollywood
HUSSLUP helps media and entertainment deal with one of its most pressing issues — diversity. Statistics in the industry paint a bleak picture. Women hold only 24% of TV showrunner jobs; and only 12% are held by people of color, according to the Hollywood Diversity Report 2019 by UCLA. Meanwhile, less than 20 percent of film directors are people of color and less than 20 percent are women. 
The industry is at an inflection point when it comes to diversity. Major media companies have robust diversity equity and inclusion teams and are searching for tools to help them source diverse talent. Awards organizations require more diverse lineups of cast members, and the public is demanding more diversity on screen. 
"Hollywood is waking up to the idea that they want to find rich, diverse stories but they need a tool to do so. We can provide that tool," said Schuster. "We want to be the network for everyone, and we believe while doing that we are creating a lot more opportunities for diverse candidates."
Attracting People to a Platform by Removes Antiquated Processes
Creating a platform that people consistently use is a tall order. But Schuster has a terrific head start, describing the response to HUSSLUP waitlist for invitations as "overwhelming." After the first users join, they will get five invitations they can pass along to others.
"The goal is to drive a really robust community of creators and enterprise partners to give us lots of feedback in the private beta."
Sourcing talent on a robust online platform is far more efficient than the old model of using face-to-face meetings to build a network. 
"When I was an executive, I would have a breakfast, lunch, a happy hour drink and dinner on my schedule. That's how it works but it's just not efficient," said Schuster. "Building a network on a platform like HUSSLUP allows you to meet 100 people and maybe 10 of them will lead to something meaningful to advance your career and build success. It's also the place to find a talented editor if you need one tomorrow and don't have time to make 40 phone calls."
In the next five years, Schuster sees HUSSLUP expanding internationally to help creatives all over the world connect and advance their careers.
"There is a huge space race for creative talent in every local territory around the world," said Schuster. "There are companies in LA trying to find great creatives in India, but it's still a game of telephone. We are creating a more efficient way to do that with HUSSLUP so you can staff creative projects and build communities globally."


To read more inspiring startup stories and to stay connected to Comcast NBCUniversal LIFT Labs, sign up for our newsletter and follow us on Twitter.