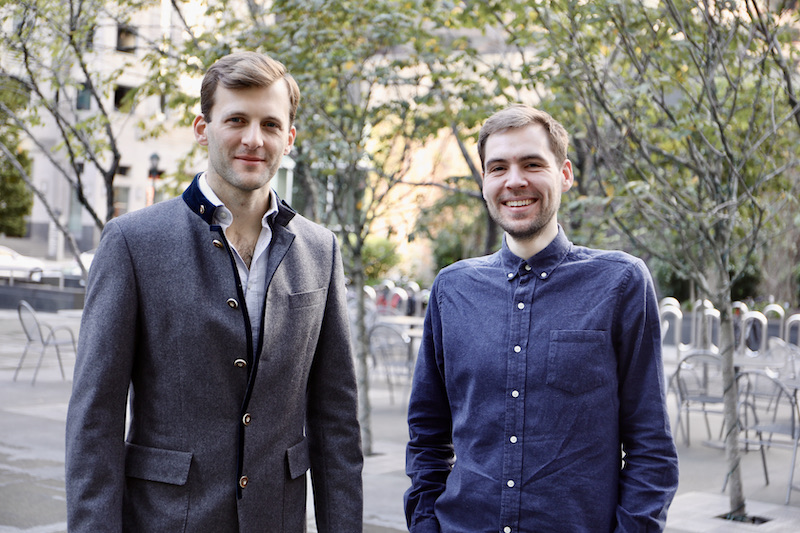 Alexander Bergendahl, Co-Founder & CEO and Andreas Stokholm, Co-Founder & CTO
LootLocker is part of the 2021 class of the Comcast NBCUniversal LIFT Labs Accelerator, powered by Techstars. The 12-week accelerator helps startups in connectivity, media, and entertainment grow their companies and develop partnerships with Comcast NBCUniversal.
As a kid, Alexander Bergendahl loved video games, specifically Metal Gear Solid 2 for Playstation 2. He became fascinated by an accompanying DVD showing behind-the-scenes footage of the development team in action.
"I watched that thing over and over. It was really in-depth and opened my eyes to game development," he said. "From then on, I knew I would be in the games industry no matter what. This was it."
His business partner Andreas Stokholm grew up playing World of Warcraft and Counterstrike. Stokholm's love of gaming led him into computer programming and software development. 
When they linked up as adults, Bergendahl and Stokholm launched a game studio, and their open-world snowboarding game Snow became a hit. After attracting millions of players, they wanted to capitalize on monetization opportunities but realized that features like in-game commerce and user-generated content were challenging to build. Emerging developers can be at a severe disadvantage compared to large studios whose teams of developers can quickly create and deploy multiple new features. 
The pair launched LootLocker, a set of valuable back-end services that provide small studios with the same tools as the largest video game companies in the world. For example, emerging teams can use LootLocker APIs to monetize games by adding commerce features and empowering players to share code or models they construct. LootLocker's tools free up designers to do what they do best — create great games.
"I couldn't build these tools when I had my own game studio. Most other game studios couldn't either. That's why we built LootLocker," said Bergendahl. "It's very complicated and time-consuming. You need back-end developers. Big companies have budgets for that but not smaller ones."
A Win for the Underdogs
Bergendahl spent his career in games. Without formal technical education, he got a job in quality assurance and worked his way up to becoming a video game producer at an indie studio.

Stokholm has a similar career arc. Rather than finishing college, he threw himself into back-end development, working for years in e-commerce and gaming. 
"We're underdogs. We are not coming from highly educated backgrounds. We worked our way up," said Stokholm. 
It's a big reason they are so passionate about leveling the playing field in the video game industry, removing limitations, and making development as efficient as possible for smaller studios.
"I believe that the next big games will be coming from emerging teams, not major studios. We can help drive that evolution," said Bergendahl.
Game developers create entire worlds with physics, art, animation, and more. Then they have to find an audience. They also have to think about monetization opportunities, which can be the difference between wild success and failure. Far too many emerging studios have created popular games but were not able to fully cash in. 
"There was a team of three people who got half a billion people to play their game. They did all the hard stuff — got multiplayer working and made an awesome game. But they didn't have a back-end for cross-platform player accounts, in-game commerce, and progression," said Bergendahl. "But they missed out on millions of dollars in revenue."
The democratization of tools for game developers is similar to what's happened in the video and film industry. Before everyone had high-quality cameras in their pockets and editing software on their computers, making videos was complex. Now people make high-quality videos easily and distribute them quickly on social media platforms.
Stokholm and Bergendahl see LootLocker as breaking down similar barriers for emerging creators. 
"With the App Store, Steam, PlayStation, Xbox and Switch, nearly anybody can release a game on the same platform as the major hits. That means anybody can make the most successful game in the world," said Stokholm. "They just need LootLocker to give them the ability to add important aspects that make the game better and help them monetize." 
Right now, the founders are focused on increasing users, growing their team, and raising investment capital in the near future.  LootLocker is partnering with influencers on YouTube and reports that users are growing at a rate of 40% month-over-month. 
"We want to become the go-to platform for game developers," said Bergendahl.


To read more inspiring startup stories and to stay connected to Comcast NBCUniversal LIFT Labs, sign up for our newsletter and follow us on Twitter.