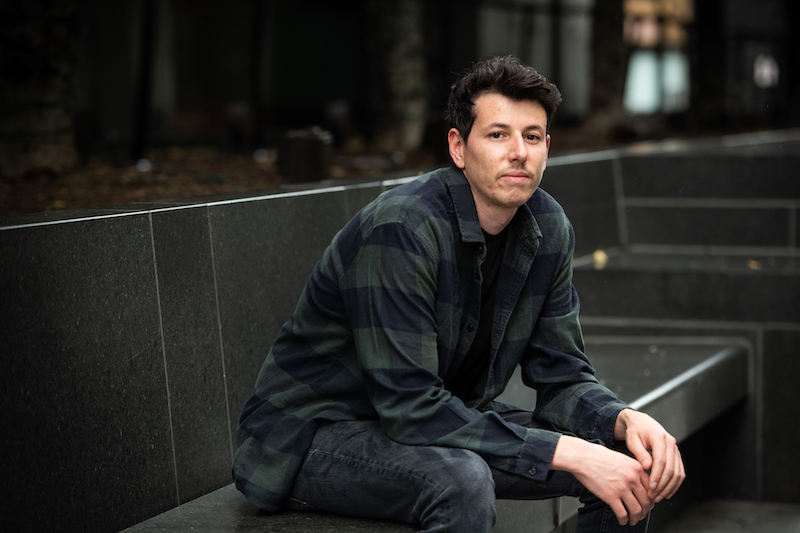 Tomer Aharoni, Co-Founder & CEO
Nagish is part of the 2021 class of the Comcast NBCUniversal LIFT Labs Accelerator, powered by Techstars. The 12-week accelerator helps startups in connectivity, media, and entertainment grow their companies and develop partnerships with Comcast NBCUniversal.
When Tomer Aharoni learned how deaf and hard-of-hearing people make phone calls, he was stunned. They usually have to rely on the use of human interpreters to communicate from American Sign Language into English — a manual, time-intensive, and outdated system in today's automated world. Not to mention the lack of privacy most people expect in one-on-one phone calls. 
"The process seemed really slow, not private, and inaccurate too," he said. "It made me want to see if I could solve the problem."
During his mandatory duty in the Israel Defense Forces, Aharoni learned software development and other technical skills and went on to earn a computer science degree in the United States. 
With this experience, Aharoni launched Nagish, which lets people make phone calls using text. Nagish (which means accessible in Hebrew) converts text-to-speech and speech-to-text in real-time. The platform makes it easy to place and receive calls without hearing or speaking. Instead, users just type and read.
"We are making telecommunication more accessible to people who are deaf or hard of hearing," said Aharoni. "With Nagish you don't need to rely on a third party to interpret. We convert calls into text in real-time significantly faster and more accurately than a human transcriber." 
A Mission-Driven Startup
A milestone moment came when Aharoni met Taliah, an 18-year-old who is hard of hearing. She needed an interpreter service to make phone calls and regularly declined calls in favor of texting. That limited her interactions with family, friends, customer service representatives, and others. Aharoni brought Taliah an early version of Nagish, and she used it to make her first phone call — to her mother. 
The emotional experience reinforced for Aharoni why he pushes so hard to make Nagish a success.
"How many founders can say they are building something that makes people's lives better?" he asked. "We could always create another SaaS company or help people sell more products to consumers, but when we see someone who uses Nagish, it's so touching and fills me with joy."
Empowering Accessibility
Nagish is not just a consumer application. The tool brings more inclusion to workplaces, too. With Nagish, employees who are deaf or  hard of hearing can chat with coworkers more naturally and efficiently. HR teams can be more inclusive in their hiring process by allowing deaf or hard of hearing candidates to communicate by typing responses.
"At one job, I had a deaf intern, and every time I wanted to chat with her casually, I had to make sure an interpreter was available," Aharoni recalled. "I had to set up a meeting, but with hearing teammates, we just talked normally. I hated it. It wasn't fair to her."
Another use case is receiving deliveries or meeting with a ride-share driver. 
"We all take it for granted when someone calls, and you can say 'meet me at the corner' or 'I'm walking outside," he said. "When you are deaf, you just decline the call, and there is no way to know where the driver is."
Working with the Community 
Nagish's user rate is growing by about 15% per week. Many people learned about Nagish through word-of-mouth recommendations from others in the deaf and hard of hearing community. Nagish's focus on working hand-in-hand with the deaf community to understand pain points rather than making assumptions is a big reason for its success.
"Instead of imposing a solution on the community, we ask them what they need," he said. "We are growing organically because Nagish users tell their friends, and they start using it, too."
In 2020, Aharoni learned that COVID-19 was particularly difficult for the community. Pandemic lockdowns made people feel isolated due to the lack of in-person events and meetups, which are particularly important to deaf and hard of hearing people because they can sign with one another. Without the same interactions in the outside world, they were left with just text, email, and chat — but they missed the synchronous communication that only in-person or live phone calls can bring. It made Aharoni even more passionate about bringing Nagish to more people.
As the startup completes  the Comcast NBCUniversal LIFT Labs accelerator, Aharoni hopes to expand its roster of clients and attract more users. In the future, Aharoni wants Nagish to become the go-to solution for real-time closed captions calling.
"We want to be the number one service for accessible phone calls in the world," he said.

To read more inspiring startup stories and to stay connected to Comcast NBCUniversal LIFT Labs, sign up for our newsletter and follow us on Twitter.