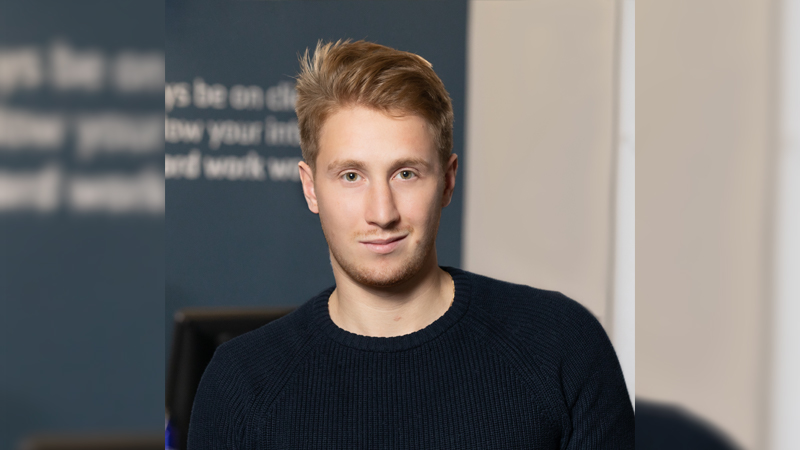 Thomas Moussafer, Co-Founder & CEO | Hollo
Hollo is part of the 2021 class of the Comcast NBCUniversal LIFT Labs Accelerator, powered by Techstars. The 12-week accelerator helps startups in connectivity, media, and entertainment grow their companies and develop partnerships with Comcast NBCUniversal.
After college, Andy Mpondo Black and Thomas Moussafer applied for jobs in their native France. They were struck by the inefficiencies in the process. Recruiters took weeks to respond. Some never responded at all. The application process felt unnecessarily arduous. Recruiters didn't talk about basic qualifying information upfront. The existing system made it difficult for candidates to target top job choices and pick which opportunities to pursue.
They learned that human resource professionals were dealing with inefficiencies of their own. Recruiters struggled to give candidates timely responses. They couldn't easily pre-qualify new candidates or match previous applicants with currently open roles. 
The hiring process is the earliest indication of what it's like to work at an organization, and it is leaving a poor first impression. In fact, 60% of job seekers say they have had a negative candidate experience, and 72% of them report sharing that information online. That can be devastating to a company's reputation.
"Understanding why you are not a fit for a certain role teaches you what to work on," said Mpondo Black. "But if you don't get any response or feedback, it's really frustrating. [It feels like] HR has been using the same processes for the past 20 years. It's time to change the recruiting process for the better." 
Past Job Candidates = Future Hires
As a solution, Moussafer and Mpondo Black launched Hollo, a talent experience platform that makes the recruitment and hiring process simple and intuitive. 
Before launching the company, the founders interviewed HR professionals about their pain points. One answer was resounding: they needed an efficient way to nurture past job candidates. That pool of qualified, passive candidates could help recruiters quickly fill future positions. In fact, 70% of the global workforce is made up of passive candidates and nearly half of all applicants don't meet skill requirements for the jobs they seek.
With its matching technology, Hollo pairs recruiters with potentially hundreds of qualified job seekers sitting in their candidate database. It reduces the time to fill positions by 75%, according to the founders.
"Recruiters should never start from scratch when there is already plenty of talent they have talked with in the past," said Moussafer. "They should be more efficient by engaging with past job applicants instead of just waiting for new applicants." 
Streamlined Applications and Reducing Hiring Bias
Hollo helps recruiters nurture job candidates in a fully automated way. It sends candidates messages on their platform of choice and at their desired frequency. Without any additional effort, recruiters keep candidates up to date on the process. 
"Companies realize they have to treat candidates better. That's even more true now that many people have resigned from their jobs and talent is at a premium," said Moussafer. "People tell us that our application process is amazing. That's really motivating for us."
Hollo can also help reduce bias in the hiring process. With a score for each applicant based on skills, experience, and how they match the job requirements, recruiters hire based on facts, not subjectivity.
"If a recruiter looks at a resume and thinks something doesn't look right because of their implicit bias, they may reject a qualified candidate and choose another one," said Mpondo Black. "That's just not fair."
Coming to America
Mpondo Black and Moussafer hope the connections and knowledge they attain in the Comcast NBCUniversal LIFT Labs accelerator helps them bring their offering to the American market faster than expected.
"We had an objective of expanding into the U.S. market in 2022, but being in the LIFT Labs program accelerated that expansion," said Mpondo Black.
They also hope that connecting with executives at Comcast NBCUniversal and other companies helps them test their assumptions and business models.
"It is the perfect opportunity to have initial touchpoints with U.S. companies and see if their needs match with the product we are offering," Moussafer added. 
As they build Hollo, the founders can't help but reflect on the negative job application experiences they had in the past. Had the employers used Hollo to be more responsive and match them with great opportunities, they might have never found the problem they are dedicating their lives to solving. Now they obsess over ways to make hiring better for recruiters and candidates. And that's just the way they like it.
"When I leave my bed in the morning, I don't go to work," said Moussafer. "Instead I have fun building something I love."


To read more inspiring startup stories and to stay connected to Comcast NBCUniversal LIFT Labs, sign up for our newsletter and follow us on Twitter.