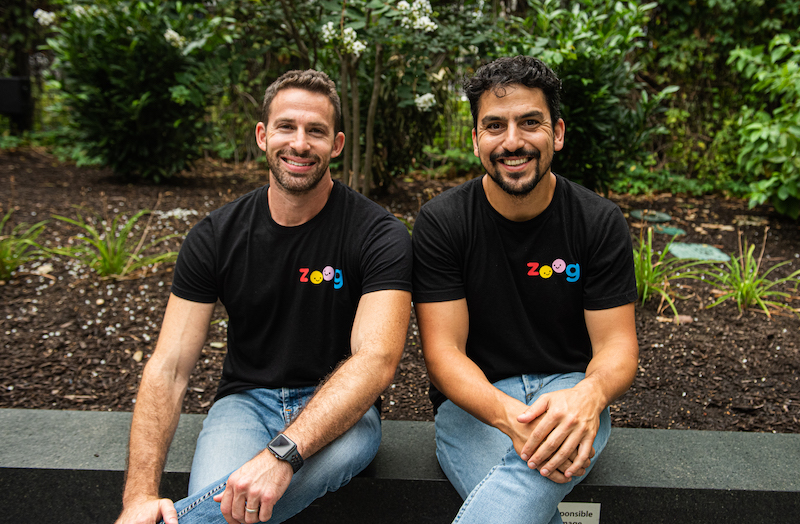 Zoog is part of the 2021 class of the Comcast NBCUniversal LIFT Labs Accelerator, powered by Techstars. The 12-week accelerator helps startups in connectivity, media, and entertainment grow their companies and develop partnerships with Comcast NBCUniversal.
For Yoav Oren, family is everything. At home in Israel, family get-togethers are common. When COVID-19 forced people to stay home for long stretches in 2020, his parents missed out on spending time with Oren's three young children, all under age seven at the time. 
They tried video calls, but the kids lost interest quickly. Seeing the disappointment on his mother's face made him wonder if there was some way to create a compelling experience where kids could connect in an engaging way with family. Oren's business partner Matan Guttman was having the same problem. His two-year-old son just wouldn't sit still long enough to spend time on a virtual call with family in Israel and the United States.
"There was a deep personal pain we both felt in our own homes — from our parents and our children. We knew there had to be a better way for everyone to communicate virtually," said Oren. "During COVID, we learned that our kids hate video calls. They can't do small talk. To be engaged, they have to be entertained."
They weren't alone. In fact, 59% of grandparents plan to spend more time with their grandchildren after the pandemic than before. Nearly seven in 10 (68 percent) use video calls regularly, but interactions typically last less than 30 minutes on average.
It led them to launch Zoog, a mobile app empowering anyone to bring a book to life and become part of the story using AR masks, filters, and other visual overlays. Now grandma can record a video of herself using entertaining face filters. For example, if she's reading Humpty Dumpty in Zoog, grandma's face appears inside Humpty Dumpty's egg body.
In the end, grandma has a fun, engaging video of herself reading a story — and the grandkids have a memory they can keep forever. 
"People oceans and generations apart can enjoy meaningful moments through immersive storytelling," said Guttman.
Zoog is for aunts, uncles, friends, traveling parents, and any other people who want to connect in a captivating way. And while augmented reality may sound too technical, Zoog is designed to be simple and intuitive to use. Just open the app, and your face automatically appears inside any book you choose. With one click, you can begin recording yourself reading. No technical knowledge is required.
"We are democratizing AR and making it so easy that anyone can use it. We enable grandparents to become AR content creators for the first time and make it super intuitive. Plus, they love it because their grandkids think it's cool," said Oren.
Snap Partnership
Zoog has a very impressive partner helping to provide face filters and visual overlays — Snap, the parent company of Snapchat. A pioneer in vertical video, Snap offers a select group of companies access to Snap's Lens Studio technology. 
The intro to Snap came from a connection made during the Comcast NBCUniversal LIFT Labs accelerator. 
"We have been trying to work with Snap for the past year, but they only open their technology to a small number of companies. Most are huge enterprises. After a connection from our accelerator, they said yes. We are one of the only startups with access now," said Oren. 
Inspiration & Collaboration
After working in early-stage startups most of his career, Guttman always knew he'd start a company of his own, and he's not naive to the fact that it's a lot of work.
"I always wanted to do my own thing at some point. Some days working in startups, I saw the founders under stress and thought this was too much. This lifestyle is too crazy," he said. "But the bug never left me. I knew I'd always be a founder."
Guttman and Oren had been chatting with potential co-founders for a while before finding each other. But before agreeing to start a company together, they wrote down answers to 50 questions about their vision for the company and personal values. Then they spent two long days discussing their solutions to make sure they were aligned. In the end, it was a perfect fit.
"It's very similar to finding your significant other. This is a person you will spend the vast majority of your time with, and you are going to go through significant hardships on the journey. Outside of finding someone who has a matching skill set, you have to find someone you actually want to be with and spend your time with and who will be amazingly courageous," said Oren. "Taking the extra time to make sure we fit was perfect."
A Bright Future
As they continue building Zoog, the founders see an opportunity for expansion. Speech therapy could be a fit because that requires kids to record themselves reading books — so why not do it in a fun way? Another use case is helping kids stay engaged while learning to read. 
"My son just finished first grade," said Oren. "It's impossible to get him to sit down and read a book with me, but if I give him a phone, it's a different discussion. Of course, he wants the phone and wants to see himself in the story. It promotes literacy and a love for reading."
Zoog launched in late February 2021 and is growing active users at a rate of 20% week over week. In the next six months, they hope to foster brand partnerships, raise investment funds, and work on getting popular intellectual property onto the platform. In the next few years, they plan to empower authors and others to create digital AR experiences.
"We see ourselves maturing into a platform where we enable any content creator, whether it's a publisher, author, or illustrator, to come to Zoog and produce a digital AR experience with their content."


To read more inspiring startup stories and to stay connected to Comcast NBCUniversal LIFT Labs, sign up for our newsletter and follow us on Twitter.